Storage Sheds
When you have a smaller house, a shed is a storage lifeline. However, this area can easily become a mess if not well organized and laid out. Prevent clutter in your shed by adding shelves, cabinets and organizers for each tool and piece of equipment. For the lucky families who don't need extra storage, convert this shed space into a full-fledged living area such as an office, playroom, guest bedroom or family room.


Should I get a shed?

If your garage can't keep up with your accumulations, you might want to consider adding a shed to take on some of the storage load. Because of its backyard location, sheds are convenient spaces to house gardening equipment, pool accessories or outdoor cushions, but can also work as a detached living space for work or play. Thanks to their small sizes, variety of price points and wide range of uses, sheds are smart and affordable additions to any home.


What materials should I use for my storage building?

As you sort through the wide range of shed remodeling ideas, it may be difficult to determine which particular shed material would be right for your needs. In general, sheds are made from either metal, vinyl, plastic, wood or particle board/plywood siding. Read below to learn more about each.
• Metal: Most commonly built with either aluminum or steel, metal units are protected with a tough enamel finish and are easy to maintain. However, they're susceptible to rust: if you're drawn to metal, consider using rust-free aluminum.
• Vinyl: Vinyl units are solidly constructed with double-wall vinyl panels for dent and weather resistance. They're easy to maintain and come with steel doors for additional security.
• Plastic: Plastic sheds are the most affordable option, but they also aren't as durable and might not stand the test of time. These are ideal for storing smaller gardening supplies and can even act as an outdoor playhouse for children.
• Wood: The most common material used, wood storage buildings are built from solid-dimensional lumber framing and come in many designs and siding options. However, be aware that certain wood over time can be prone to rotting.
• Particle board/plywood: Composed of pieces of wood that have been pressed and glued together, this type of siding should be avoided in rainy regions since water can seep into the cracks and enhance deterioration.


How do I organize my shed?

Your shed layout is crucial — because this is a space that is primarily used for organization, it needs to be carefully planned out. One of the best ways to keep this area tidy is by adding built-ins; they allow you to organize all your items so they're easy to find and put away. To achieve truly stellar shed organization, add cabinets along the walls, a built-in workbench for ample counter space and wall hooks for hanging brooms, shovels and other oddly shaped tools. Stow pricier, cherished tools in a locked toolbox, and use wall-mounted racks to keep bikes out of the way. Think about your ceiling too; many manufacturers make overhead ceiling racks for seasonal and infrequently used items.


Will my property's building codes allow a shed?

Certain zoning ordinances, deed restrictions and building codes may restrict outer buildings being built on the property. It's possible you'll need a building permit, or that there are specifications as to where you can place the unit.
Featured Reviews of Storage Sheds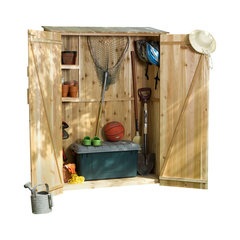 Cedar Storage Hutch, Storage Shed
Storage Sheds
GREAT SHED (But....): But, it does require a lot of assembly. Every cedar board must be connected by a ship lap system, so you must assemble each side, back, roof, and doors. That being said the finished product came together beautifully... well designed!! If you need a small storage outdoor solution, this is a great piece. So far very pleased.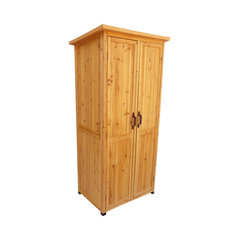 Storage Sheds
Just the right size: I needed an outdoor shed for just a few tools -- and I did not want a plastic one that would bleach and crack in the California sun. My husband was able to put this together quickly, and it seems pretty sturdy. I'm giving this a 4-star review since a couple pieces arrived cracked, and my husband had to repair them. Still -- it's just what we needed, and it looks great.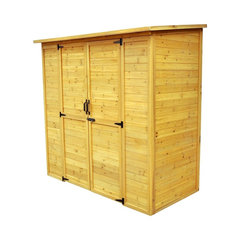 Austin Extra Large Wooden Storage Shed
Storage Sheds
Great Product poor packaging: I ordered two of these units to organize my garage and had two of the four shipping boxes contain broken pieces. I salvaged one good unit from the lot and put it together rather quickly. The pieces fit perfectly and the doors swing and close perfectly. They need better packing materials.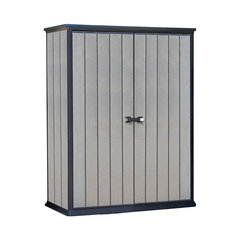 Keter Duotech High Store Vertical Storage Shed
Storage Sheds
The box containing shed components came in a timely manner. Although the box appeared a little ripped and torn, everything inside was fine because it all was well packed. My son had the shed put together in a couple of hours. It looks great! I cannot: Pro's - Size, available storage space, relatively easy to assemble, sturdy and lockable Con's - a slight flaw in the closing edge of one of the front panels. Overall grade of a B+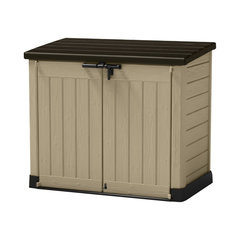 Store-It-Out MAX Outdoor Resin Horizontal Storage Shed
Storage Sheds
storage shed: It is exactly as pictured and arrived ahead of schedule. Requires assembly but with no special tools - took about an hour following clear instructions provided. Appropriate size for outside porch. Now used to store wild bird feed and supplies...we added a shelf. Would also easily hold 2 large garbage cans or flower/potting pots and soil. Reasonable price and good quality for outdoor use.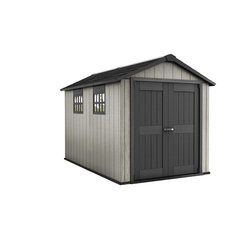 Storage Sheds
Good shed at a good price: Houzz beat the competition on price for this shed by a couple of hundred bucks. So, props there. The shed itself is both better and worse than you might expect. The individual components are well made, and individually light enough for anyone to move around; the instructions are lengthy but very clear and easy to follow; the fit and finish are--if not ideal--at least above reproach. However the resulting structure feels pretty flimsy: give the long wall a thump and the whole thing ripples. There are metal beams on the doors to reinforce them, but a strong kick would probably get you in any door and a bat-swing would blow a window straight out of the wall. The structure is quite water-tight, but there are myriad passageways for bugs to enter. There's a nice, well-interlocked floor--but the individual panels aren't very strong and even with a plywood underlayer there's a lot of flex. All in all I'm pretty content with this purchase: it will suit my needs, and the price was adequate for the amount of effort it saved me. Those looking for a sturdier build quality or more design flexibility would be well-served to just buy lumber at a depot store and build something from scratch.