1 - 36 of 139,933 products
Featured Reviews of Traditional Rugs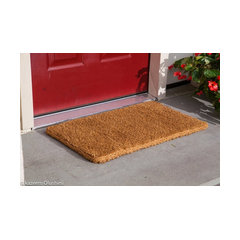 Outdoor Coco Coir Natural Doormat 1" Thick, 18"x30"
Traditional Rugs
Perfect size!: Arrived quickly and looks great! I shopped for weeks looking for a doormat that was 72" x 24" and this is the ONLY one I could find. Most 72" doormats are closer to 36" in depth which didn't work for me as it would have stuck out a foot past my brick inset. All in all, this is a really nice quality mat...just wish it came with the option of a simple border as it looks a little too plain. I feel like it needs that pop of color. I had such a hard time finding this size I'm ordering a back up so I have one when this one wears out!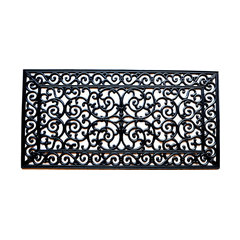 Traditional Rugs
So far so good: The mat look very nice and I like the large size, but it hasn't rained since I received it so I cannot tell how well it works at removing "stuff" from shoes. It has more open space in the pattern than mats of this type I've had in the past; I believe that improves the aesthetic but I don't know yet if it affects how well it works.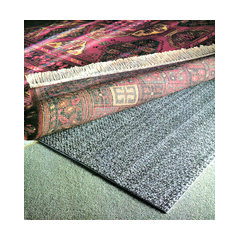 Nonskid Rug Underlay, 8 x 10 ft.
Traditional Rugs
Non-skid rug pad: We have # of these pads. They are very effective at keeping the rugs in place. There is a slight sticky reside on the floor when the pad is removed, which is easily removed with a damp mop. I imagine there is residue on th back of the rug as well, though I can't feel it. Manufacturer claims it is harmless to the rug, and I guess it would be easily cleaned away as well. It's not very thick but does add moderate cushioning.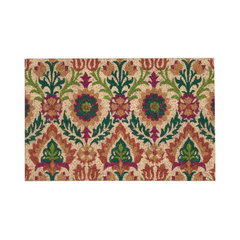 Waverly Greetings Santa Marie Doormat, Clay, Clay, 2'x3'
Traditional Rugs
Nice Door Matt: Very nice door mat however the colors are slightly different than shown. The blues are more purple/lavender than blue. I purchased because it looked like cobalt blue. I am going to keep it but that was my only complaint.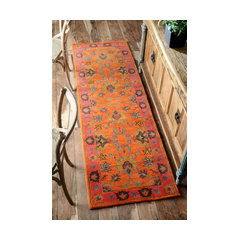 NuLoom Remade Hand Tufted Montesque Rug, Orange, 2'6"x8'
Traditional Rugs
One tough Entry Hall Rug: This is the second Nuloom Hand Tufted rug we bought. Both of them are adjacent to doors with major use. We have a lot of traffic through our house, teenagers, a large and dirty Wolfhound, and of course normal folks coming and going. These rugs are thick and look like they will "go the distance" with our use. They are attractive and fit nicely in our 1899 Victorian House along with our hand knotted Orientals. By the way, we have badly worn some hand knotted Turkish rugs placed in the positions that the Nulooms now have. I am sure the Nulooms will last and after all, they were really inexpensive so even if they succumb to kids and dog, we are not broken hearted like we get wearing out our hand knotted rugs!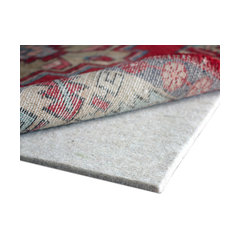 Eco Plush 100% Rug Pad, 5'x8', 1/2" Thick Felt
Traditional Rugs
Nice and Thick: I got this rug pad for a playroom. So far it's nice and thick and comfortable to sit on. It doesn't have the rubber grippers on the bottom, but I haven't had any issues with it sliding around.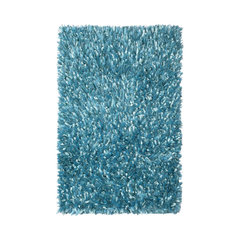 Shimmer Shag 30"x50" Rug, Aqua Blue
Traditional Rugs
Softttt: I love this rug. When it arrived I wasn't sure. It was a little stiff and prickly, and shed a lot of scratchy fluff all over the place right out of the bag, but then I washed it in a huge washer at the laundry and threw it in the dryer and all the scratchy stuff went away and no more fluff. Now it is just delightfully soft and it stays where I put it and it doesn't creep all over the place when I walk on it.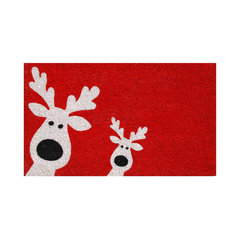 Traditional Rugs
This doormat was such great fun this past Christmas season.: This doormat was such great fun this past Christmas season. I had seen it offered for sale in previous years and finally convinced myself that I NEEDED IT! Many smiles came about as a result of this doormat. How great is that?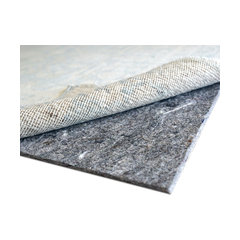 Contour Lock 1/8" Felt and Rubber Rug Pad, 7'6"x9'6"
Traditional Rugs
Just what I needed: I bought this to go under a huge, wool area rug in my great room. I didn't measure but, either the pad is slightly larger than stated, or my rug is slightly smaller. I plan to trim it down when I'm sure my rug has completely flattened out. Prompt delivery.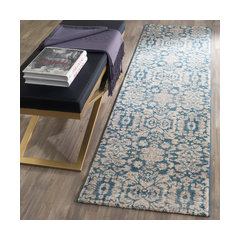 Safavieh Sofia Woven Rug, Blue/Beige, 2'2"x6'
Traditional Rugs
Luv these rugs!!: Was trying to find a contrast rug which wouldn't overpower the master bath. I purchase one runner for the double sink and then 3 separate smaller rugs for the tub, shower, and toilet. The blue provides color while the beige is the grounding color to tie it together. My home has an Arts & Crafts look and these rugs fulfilled the purpose.