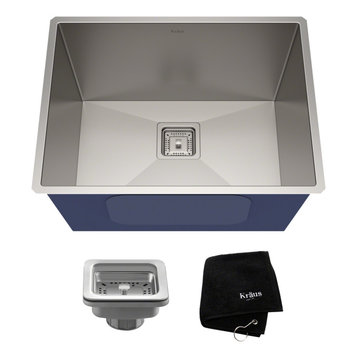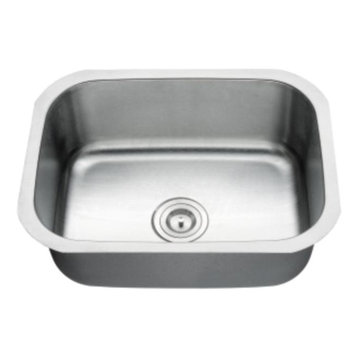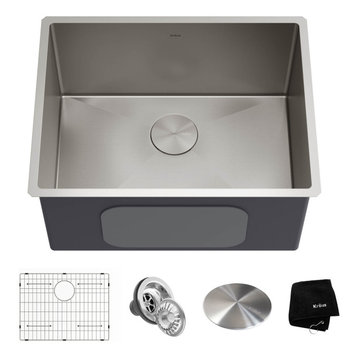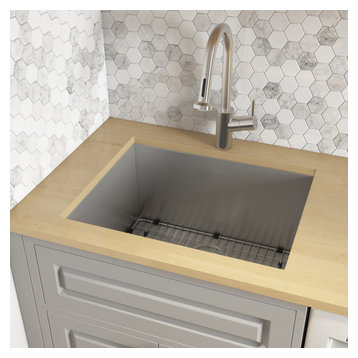 A utility sink is a helpful addition to your laundry room, garage or anywhere you might find yourself washing things other than dishware. Utility sinks feature a larger, deeper basin than your typical kitchen sink, making washing pets or laundry easier. Similarly, a mop sink provides a place to rinse out your mop after a cleaning spree. If you think a laundry sink would be a beneficial addition to your home, here are a few things to keep in mind as you shop:


What utility sink styles do I have to choose from?

You'll want to keep in mind how you plan to use your new laundry room sink when deciding which style is best for you. Some common designs include:
• Self-rimming or over-mounted: This style is easy to install by dropping it into a hole cut out of your countertop. Drop in utility sinks are compatible with multiple counter materials.
• Undermount: By installing underneath your countertop, this style provides a seamless flow between your counter and the sink basin.
• Wall-mounted and floor-standing: These designs feature a freestanding basin that's installed separately from your counter. They sometimes offer unique features like adjustable legs, extra basins or a hose hook-up.


What materials can my laundry sink come in?

While practicality and durability are important, don't feel like you need to forego a pleasing design that complements the style of your home. Here are some of the top materials you can choose from:
• Acrylic: Stain-resistant and durable, an acrylic laundry sink will feature a glossy finish. Acrylic also has natural antibacterial properties, however it is less heat resistant than some other options.
• Cast iron: A classic choice, a cast iron washtub is very durable. However, this material is heavy and prone to scratching and a dulled finish over time.
• Stainless steel: A stainless steel laundry tub is an affordable, easy-to-clean choice. This material is impact resistant and durable. If the noise of running water is of concern, however, this may not be the option for you as stainless steel tends to amplify the noise.
• Vitreous china: This is a fired ceramic coated with a glaze. These laundry sinks are durable, resistant to abrasion and easy to clean. They can, however, be damaged by heavy impacts.

Find where to buy Utility Sinks and get inspired with our curated ideas for Utility Sinks to find the perfect item for every room in your home. With such a wide selection of Utility Sinks for sale, from brands like Elkay, American Imaginations, and Royal Purple Bath Kitchen, you're sure to find something that you'll love. Shop from Utility Sinks, like the Transolid 25"x22" Stainless Steel Laundry Sink With Wash Stand or the Transolid 25"x22" Stainless Steel Laundry Sink With Wash Stand, while discovering new home products and designs. Whether you're looking to buy Utility Sinks online or get inspiration for your home, you'll find just what you're looking for on Houzz.