About Us
Brooklyn Architect |
12x Best of Houzz Award Winner
Ben Herzog Architect, PC would love to hear about your project and help you create the best results possible with spaces designed specifically for the needs of you and your family. Whether you plan to gut renovate a townhouse, maximize the efficiency of your apartment or open your living space to the outdoors, BHA can help. Each client brings different goals, priorities and budgets to a project. We believe that the architect's role is not to dominate the process, but rather to guide it to completion with the client's top priorities in mind. This successful collaboration between client and architect will result in gracious, efficient and comfortable spaces in which to live and work. BHA offers full services for our clients from pre-design through the completion of construction. We specialize in brownstone and townhouse renovations and additions as well as co-op and condo renovations. Our Interior Designers also offer full interior design and decorating services.
Services Provided
Architectural Design, Architectural Drawings, Building Design, Custom Home, Energy-Efficient Homes, Floor Plans, Green Building, Home Additions, Home Extensions, Home Remodeling, Home Restoration, House Plans, Kitchen Design, Kitchen Remodeling, New Home Construction, Project Management, Sustainable Design, Remodeling
Areas Served
Brooklyn, Manhattan, New York
Awards
Ben Herzog is licensed in NY and CT and NCARB-certified for licensing in other states. He is also a Certified Passive House Designer.
Back to Navigation
Our Stories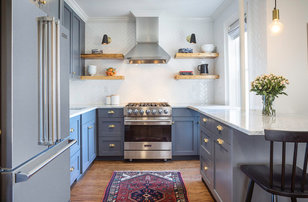 Sponsored story
A New York City architect shares how to make the most of what you have
Item 1 of 1
Back to Navigation
Back to Navigation
Back to Navigation
Write a Review
24 Reviews for Ben Herzog
We worked with Ben and his team to remodel our kitchen, dining room, entry and two bathrooms in our Victorian house in Ditmas Park. We specifically wanted the spaces to reflect the Victorian style and character of the house, and Ilva and Meredith were able to exceed all of our expectations with their beautiful designs and decor choices. The GC they found for us did wonderful work, stuck to the budget and was committed to ensuring we were satisfied with every detail. The house looks beautiful and we wholeheartedly recommend working with BHA.
Ben and Ilva and really, the whole staff were great to work with and always available if any problems arose.
Ben and his team helped us combine two pre-war apartments on lower 5th avenue. Their vision, attention to detail, efficiency and accessibility made our project move forward seamlessly. They worked well with our contractor and building management and have intimate knowledge of the code and landmarks issues we faced during the course of our project. I could not recommend Ben Herzog more highly, and if we do a renovation project in NYC in the future, they will be our first call.

I hired Ben to be our architect for a full gut renovation of a brownstone in a historic district in Brooklyn. He was innovative, patient, thorough and his team were excellent project managers. He is really knowledgeable when it comes to brownstones and we were in great hands when we hit a few snags with the building department. It was daunting to design a home from the ground up, but Ben and his team guided us through all of the millions of choices and helped us select a great contractor as well. We love our home so much and would recommend him and his team to anyone who is doing a renovation big or small.

Ben and his team were wonderful to work with. They created several design options with varying execution/build costs. It was nice to have some cheaper and more expensive options to choose from - each was really neat and would have worked great. The team was extremely responsive - they would answer questions quickly via email and always picked up the phone when I rang. The interior design work they helped us with was extremely helpful and beautiful - we used every suggestion. They sent us light fixture, hardware, countertop, and furniture suggestions. They used eloquent language when describing what they were trying to get across in the design. We will definitely use them again and would recommend them to anyone who needs an architect / designer.
Working with Ben has his team was a great experience from beginning. His approach was far more professional and pragmatic than other firms that we met with, specifically in regards to timeline, potential obstacles, and cost. His experience with other projects in NYC and all that comes with that (space restrictions, regulations, board approvals) was evident as he and his team reimagined our home in a way that extremely well thought-out and captured exactly what we were looking to achieve: create a space that maximizes on functionality and storage while maintaining a sophisticated look that preserves the art-deco feel of the building. Ben and his team were responsive, creative, and a pleasure to work with. I would absolutely recommend them and hope to have the opportunity to work with them again.
I utilized Ben Herzog Architects for a gut renovation in Park Slope and highly recommend their services. The design work on this house was extensive as we changed the entire layout of the house and added floors and components that did not previously exist. They also brought in highly experienced structural engineers and expeditors to facilitate the project. I worked mainly with Heather Mangrum and she was extremely responsive to the many issues that arose throughout the design process and construction. She and Ben brought innovative and creative ideas to the table that helped me build a dream home. I interviewed multiple architects prior to choosing Ben's firm and am thrilled with the decision. The rates were reasonable and the work ethic is superb. They were an amazing resource throughout the whole project.
We hired Ben to help us gut renovate a wood frame house in Brooklyn. We completely redesigned the layout (flipping the top and bottom apartments), replaced all interior walls and most exterior walls, added all new plumbing and electrical, redid the front façade, replaced the roof, and added a metal deck in the back. We had a great experience working with Ben and his team. They gave thoughtful suggestions for design decisions that helped to keep us within budget and their attention to detail paid off handsomely. With their help, we were able to squeeze every last inch out of our narrow home and make it feel clean and open. We ended up with a beautiful house that would not have been possible without the creativity of Ben and his team.

It had been a fantasy of my wife and I to buy and renovate a nyc historic townhouse. Even before buying our house we would peruse sites like houzz to gather ideas and inspiration. We would routinely see Ben Herzog's projects and agree that we definitely liked his firm's style and design work. Naturally, when we purchased our home, it of course needed extensive renovation. We called Ben Herzog to pitch us his services and vision for the project. We interviewed roughly 4-5 architects before settling on Ben. The reason we ultimately decided to award him the project was two fold; he is very knowledgeable with much experience in townhouses and personable but he also had strong opinions and was not afraid to let that show, even at the first meeting. I had immense respect for the fact that he made his differing opinion known even though it was counter to what we indicated we wanted. He was right and I knew it. That sort of personality trait in my opinion is paramount to a good architect and something you want your "team members" to possess. He was not and is not a "yes guy", if it means the project and the clients best interest may suffer. Ben paired us with a new Project Manager at the firm, Jeremy Vealy, who's attention to detail and organization is unwavering. Ben also suggested we use a GC that he regularly works with. His opinion was that this particular GC and I would work very well together and he was right. From the first meeting to the punch list Ben and his firm have been knowledgeable, professional, and able to keep what seemed like an endless project on track and organized. Something that I need to note is Ben's commitment to his word. Ben's integrity really shined when this project went over budget. My particular house was unique with some unexpected challenges that were hard to account for when Ben estimated his fees. We ended up going over budget with the architectural fees out of necessity because of various reasons. However, Ben stood by his fee structure estimate and made good on the budget. These sorts of projects can be a pandoras box and things can easily get out of control, but with Ben Herzog and his team on board I never had a doubt. I would most certainly recommend Ben.
We hired Ben's firm to be the architects for our brownstone renovation. We did a gut renovation on a four story Park Slope, Brooklyn townhouse. BHA was wonderful throughout -- very knowledgable about the particulars of victorian brownstones and able to deliver a feel that was more contemporary while still retaining some of the classic feel of an old home. They were able to navigate the world of city plan approval and Heather, or project manager, was great to work with during construction. We have just moved in and we are thrilled with our new home.
We hired Ben in 2013 to do a gut renovation of a Brooklyn brownstone. Hiring Ben has been the single best decision we made in this project. Ben and our fantastic project manager Ilva have a tremendous amount of knowledge and creativity about all aspects of this process (materials, design, soliciting bids from contractors, submitting plans to DOB...) They walked us through every step of the process, listened to what we wanted, gave great guidance in the (many) areas where we didn't know what we wanted, were patient and helpful when we went back and forth on what we wanted, etc. When we first met Ben, we were worried that our budget was on the low side for this kind of project, but he was very encouraging and confident about what we could do with our budget. He remained sensitive to our budget throughout the process, sticking to his promised fees. Ilva really got what was important to us and where we wanted to save money, and always kept our budget-consciousness in mind when making suggestions. Ben and Ilva always replied to our calls and emails promptly, and always with a can-do attitude, willing to help with whatever we asked, and a sense of humor. They excel at communicating effectively with the GC, and really helped us push the project along when it lagged at the end. In a process as expensive and daunting as this, it is a tremendous comfort to feel like you are being led by people who are 100% professional and trustworthy, and that is what Ben and his team are.
We used Ben Herzog Architects on a partial gut (2/3rd) of an already converted Brooklyn ex-industrial building. It is 3 stories tall with an English Basement and the lot measures 25x75. I will tell you two things about my experience with Ben. 1] He listened to what we we wanted and helped us attain the best version of our needs. We were not looking for the kind an experience where the Architect treated our project as if it was his personal playground and future marketing piece. We have done that and it is not our style. He was practical as he brought the artistry of his craft to bear on our home. Great. We loved that. 2] We chose a contractor with which friends had a good experience. We did not have a good experience with this contractor, so much so that we fired him. A very unpleasant thing to do. We were nervous about this and, to be certain, out of our depth, in figuring out how to maneuver through this process. Ben and his team were with us through the experience every step of the way and helped us not only find a new contractor to take on someone else's botched job, not an easy thing to do, they found us a good one. They worked with him and got us back up and running. It was certainly a situation where people could have sat around pointing fingers at each other and put us in stasis for a long time. This did not happen because Ben et al helped us move forward when they could have cut and run. I appreciate his character and enjoyed him as a person, which made the process that much easier.



Back to Navigation
Back to Navigation
| | |
| --- | --- |
| | Ben Herzog |
247 Prospect Ave #2
Brooklyn, NY 11215
Typical Job Cost $400,000 - 4,000,000