About Us
Leading Tahoe & Truckee Architect & Designer
Best of Houzz 2014 & 2017
I am an award winning architect that specializes in custom home design utilizing the latest techniques in digital presentation. My portfolio encompasses commercial, residential and publicly funded projects. All of my projects are developed in virtual 3d environments, documented to a very high level of detail. Using tools such as hand drawing, SketchUp, and excellent verbal communication, I can clearly convey my vision to clients, government agencies and contractors. As a long-time resident of Truckee-Tahoe, I understand the unique design decisions needed for structures in the environment of heavy, wet Sierra Nevada snow. My work has been internationally recognized for my unique approach to design and documentation and featured by various leaders in the industry on YouTube; by Google, Trimble and Eon Software. To purchase a copy of my latest book written for other designers, visit www.sketchupbook.com/sonder
Services Provided
3D Rendering, Basement Remodeling, Bathroom Design, Building Design, Drafting, Energy-Efficient Homes, Floor Plans, Green Building, Historic Building Conservation, Home Additions, Home Extensions, Home Remodeling, House Plans, Kitchen Design, Kitchen Remodeling, New Home Construction, Site Preparation, Space Planning, Sustainable Design, Universal Design, Custom Homes, Construction Drawings, 3d Animation
Areas Served
Tahoe Vista, Nevada County, Lake Tahoe, Greater Lake Tahoe Area
Awards
I am licensed in both California and Nevada.I have received numerous local awards in the region.
Back to Navigation
Our Stories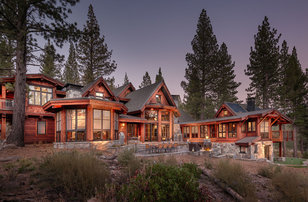 Sponsored story
A Tahoe-area architect shares how to create an incredible home that complements your land
Item 1 of 1
Back to Navigation
Back to Navigation
Back to Navigation
Write a Review
13 Reviews for Nicholas Sonder Architect

I would recommend Nick to anyone that wants to work with a Top-Notch Architect. Nicks education and passion for his craft are apparent upon meeting him. His Architectural Process is leading the way in the Industry. His knowledge of local policies and procedures helps the process stay smooth and on track. He is committed through the entire build process, thus ensuring the product is of the highest quality anywhere. A Class Act!

Want a true partner in designing your dream home or renovation? Well look no further than Nick Sonder. My husband and I were looking for an architect that we could work closely with in designing our dream home. Nick listened to what we envisioned, masterfully applied the aesthetic we were after. He also helped us discover the optimal location on our property to build in order to take in the views as well as the sun light. Not only are his designs unique and beautiful but his use of the leading edge technology in architecture makes the design process fun and inspiring. Nick is a joy to work with at every step of the process and we couldn't be more in love with our home plans.

Some of the most detailed plans we have ever worked with at PRD Construction (Truckee). Nick thinks every situation through and draws it as such. A pleasure to work with.
Nick is very easy to work with, uses cutting edge technology and has great architectural insight. We would definitely work with Nick again and highly recommend him as well.
As principal of InterMountain Development I have had the opportunity to work with many of the local Architects in the Lake Tahoe region over the past 17 years. Our projects include, but are not limited to subdivisions, exclusive single family homes, and commercial properties, most of which were designed by Nicholas Sonder, Architect. In recent years Nick has perfected the use of an innovative 3-D software program (SketchUP Pro). His proficiency with the program enables him to provide a unique working design process, which proposes unique and innovative layout and designs concepts. The final work product (plans, digital video and 3-D models) are exceptionally detailed, professional, and grounded in reality. This unique process allows me to envision the interior space, exterior reliefs, and total project layout through various reiterations as we work together to build a combined vision. This heightened level of organization, detail, and professionalism, enables Nick to resolve design challenges efficiently, encourages collaboration in the design/build process and embraces a team approach which ultimately leads to successful projects. Lake Tahoe has multiple microclimates which produce a wide range of weather and snow patterns, each of which need to be considered when designing a project a particular location. Nick has a sophisticated, yet simple and practical down to earth style, which is refreshing. He also listens closely to client's desires and needs and incorporates the technical aspects to produce a superior project. When designing, he analyses practical field construction constraints, which helps keep the building process smooth, efficient, and cost effective. Simply, Nick is able to balance architectural vision and project realities, combine modern sensibility with traditional design, and still maintain a deep understanding our priorities. Nick is also mindful of the economics of development/building, understands our budgets and limitations. He quickly identifies the issues, and promptly solves real world problems. He is particularly detailed oriented, precise and timely, all of which allow us to focus our time on the difficult decisions, rather than on procedural and administrative concerns. Nick's long term relationships with governing agencies (Town, County, HOA, Etc…) along with the sophisticated level of detail within his plans and presentations, take away uncertainty during the permit and building process. Additionally, the heightened level of detail allows material suppliers and subcontractors to provide exact pricing, and are therefore they are able to honor their original proposals. Nicholas Sonder is practical, creative, thorough, reliable, responsive to our needs, consistently exceeds our expectations, and is a pleasure to work with. Our projects are successful, as a direct result of Nick Sonder being part of our team and we recommend interviewing him before you make a final decision on choosing an Architect for your project(s). InterMountain Development Mark David Percin, Principal
Nick's construction document are very complete - all of the contractors we spoke with commented on it. The 3D software he uses is very cool and really helps you get an idea for the space and work through design issues. His design turned out beautifully and was exactly what we were looking for. He did a nice job working within the many constraints of our parcel and budget.
I have worked with Nick on numerous projects which is inclusive of the design and construction of my own home. Nick is an extremely talented architect with the ability to grasp a clients vision and capture it as an artist would a portrait on canvas. His easy going way and no nonsense approach makes for a cohesive process from start to finish. I have 30 years in business as a building contractor and my best and smoothest projects have been in association with Nick.

I am a contractor who has worked with Mr Sonder. His drawings are great to work with and provide the details that makes creating the design simple. Nick is always available for assistance and is extremely creative in his designs.
Love Nick Sonder Trusted him with the entire project and could not be happier with his professionalism and quality of work
Our firm has worked with Nick on almost a dozen homes. We continually comment at each project how well thought out the floor plan is, the attention to construction assembly's and level of detail that is put into the construction documents. Nick has raised the bar.

We hired Nick to design our tahoe vacation home and we couldn't be happier with the final results. He is a very versatile architect capable of designing a very contemporary/modern home to a more traditional one. We had him design a modern mountain home which he delivered with very unique ideas like an open corner to bring the outdoors into the great room. He also designed a fun and functional loft space for our kids that feels like they are living in a tree house. Nick gives great attention to every detail of the house and his ability to design in 3-D enabled us to walk through the house on a virtual tour so we could really feel the space. We could also place our furniture, cabinets and lightining selections into the 3-D model which saves a lot of time and costs in interior design fees! Once the house is in construction, Nick will also oversee that it's being built according to plan. He takes a lot of pride and ownership not just in the design but also in the final result. The best part about Nick is he is a very down-to-earth person and will always give you his honest opinion without forcing it on you. After interviewing a dozen tahoe architects, we are so glad that we ended up choosing Nick Sonder.
After interviewing several architects, we hired Nick Sonder in 2012 to design our mountain contemporary home in Northstar, California, and we couldn't be happier with our choice. In addition to being an extremely talented and experienced architect, Nick stood out to us for several reasons: his process is unique in the industry since Nick uses 3D technology throughout the entire process. Not only did this approach enable us to really envision and understand the design at every stage of the process, but his level of consistency also assured accuracy throughout the building process. Thanks to the level of detail Nick provided, our plans were approved by the Design Review Committee and the Placer County Building Department without comments in less than a week. Additionally, Nick really listens to his clients, and we feel that he designed OUR home rather than forcing his vision on us. Nick is a one-man shop, so he worked on all aspects of our project, which made the design as well as the communication process flawless and efficient. We really enjoyed working with Nick, and couldn't be more pleased with the outcome. We wholeheartedly recommend Nick Sonder to anyone looking for a fantastic architect.
Back to Navigation
Back to Navigation
Contact Nicholas Sonder Architect
| | |
| --- | --- |
| | Nicholas Sonder Architect |
11025 Pioneer Trl
Truckee, CA 96161
Typical Job Cost $800,000 - 4.5 million