About Us
Manhattan Gen. Contractor High-end Renovations & Historic Restorations
United Elite Group (UEG) is a New York City contractor and construction manager that has built an unmatched reputation for turning client's luxury apartment and townhome remodeling visions into reality. The company's high level of personalized service, attention to detail, and veteran staff of highly skilled project managers and artisan tradesmen drive incredible results in timeframes that delight. The builder is routinely called in by architects, interior designers, and homeowners as the contractor of choice to flawlessly deliver their vision. UEG is known for meticulous planning, superb project communication, and conscientious execution. All of UEG's project managers are knowledgeable with latest interior design trends, and the company supports full-gut, kitchen, and bathroom renovation projects. If a client is in the early stages of renovation planning, United Elite Group is happy to make an introduction to its trusted network of interior designers and architects. Alternatively, UEG can seamlessly dive in with your existing team. With a stellar reputation for happy clients, United Elite Group is proud to earn your business.
Services Provided
Baseboard Installation, Basement Remodeling, Bathroom Remodeling, Brick Masonry, Concrete Construction, Concrete Flooring, Countertop Installation, Countertop Refinishing, Crown Molding Installation, Custom Home, Custom Home Bars, Deck Building, Demolition, Drywall Installation, Drywall Texturing, Energy-Efficient Homes, Exterior Door Installation, Flooring Installation, Foundation Construction, General Contracting, Green Building, Home Additions, Home Extensions, Home Remodeling, Home Restoration, House Framing, Insulation Installation, Kitchen Remodeling, Laminate Flooring Installation, Lighting Installation, Masonry, Metal Roofing, New Home Construction, Project Management, Radiant Floor Heating, Range Hood Installation, Shower Installation, Skylight Installation, Sliding Door Installation, Soffit Installation, Stair Installation, Staircase Design, Stone Masonry, Sustainable Design, Tile Cutting, Tile Installation, Trim Work, Wine Cellar Installation, Wood Floor Installation
Areas Served
Astoria, Manhattan, New York, Brooklyn
Awards
United Elite Group is a Licensed Home Improvement Contractor (license #1467962) by the NYC Dept. of Consumer Affairs. Lead-Safe Certified Firm by the U.S. Environmental Protection Agency (license #NAT-F106946-1). OSHABonded and Insured
Back to Navigation
Our Stories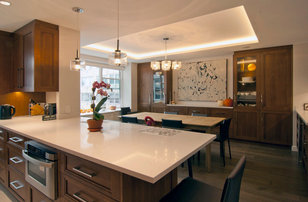 Sponsored story
A Brooklyn contractor explains how to use texture, light and color to open up a world of possibilities
Item 1 of 1
Back to Navigation
Back to Navigation
Back to Navigation
Featured Review
United Elite Group is a team of highly talented professionals, whose #1 goal is to make their clients happy.
Read Full Review
Write a Review
35 Reviews for United Elite Group
UWS pre-war coop gut reno
UEG is an outstanding GC and I recommend them to anyone who will listen. They helped us transform an extremely dated pre-war coop into a breathtaking home worthy of architectural digest. They are highly skilled artisans with extreme attention to detail and real pride in workmanship. They are perfectionists and your reno will show from it. Tolib, Sherzod and Umed are very responsive and client-oriented and a pleasure to work with. Having said all of that, I am just an amateur who has only done this one project, so you should take it from the super of our building who used to have a GC company and who currently has a close friend who has he previously recommended to work on apartments in our building. However, after see UEG and how they work and operate, he now recommends them to the residents in our building whenever someone asks, instead of his personal connection. They are THAT amazing!





United Elite Group is by far the best contracting company we have ever worked with. We have worked with three other companies in renovating previous apartments, and we now know what we were missing. United Elite Group is a team of highly talented professionals, whose #1 goal is to make their clients happy. Tolib, the owner, and Umed the onsite manager of our project, are perfectionists. They have the highest standards and will not compromise. Our project in our pre-war building was complicated: with old plumbing, old electrical, and flooring needing to be completely replaced. In the gut renovation of the two bathrooms, for example, we were faced with countless, unanticipated problems. But Tolib and Umed immediately found solutions to these issues, while losing no time in our tight work schedule. Our weekly meetings were on time and productive; and Tolib was always available for any questions, day and night. Their advice, their work ethic, and our beautifully renovated apartment made this a fantastic experience. We give United Elite our highest recommendation and look forward to working with them again.
As the final touches are made on the gut renovation of my Central Park West pre-war apartment, I am amazed not only at the beauty and quality of the work done by United Elite Group (UEG), but also by the degree of trust and confidence I was able to have in their work and their staff throughout the project. One hears stories about shoddy work and a rotating cast of contractors. Never with Tolib and United Elite Group. Never. Not once. UEG has standards higher than your own, a demand for excellence of every worker on the job, an attention to detail that is ever present and exemplary, a high degree of experience that allows them to anticipate issues and offer solutions, and an ability to communicate clearly, thoughtfully, and helpfully with the home-owner, even a renovations newcomer like me. And they stay on schedule! In fact, ahead of schedule! Tolib and his responsible, reliable, talented team – each of them so good at what they do, and all of them very lovely people too -- took my run-down, 100-year-old apartment and brought it back to life. Their work brought back the elegant elements of the place (high ceilings, molding details), upgraded and improved all that was so worn out (floors, walls, electric etc), and transformed it into a home to be proud of, a place that will be both soothing to come home to at the end of a long work day, and also a fun home to gather friends and family for holiday. My advice to any person planning a renovation is to get UEG as your contractor. But act fast. At least three of my neighbors and the same number of my colleagues are asking for their number! Renovations are demanding. Apartment renovations even more so. Do yourself a favor, don't go into this without UEG on your team.

Comment from United Elite Group:
Dear Claudia,

Thank you for the great 5 stars review. We really appreciate your attention to the small but vital details that we focus on during project implementation. It was a real pleasure assisting you with your Project. In case you will need a contractor in the future, we will be glad to help you out.

Best Regards,
United Elite Group

I can't say enough about these guys except that they probably need to charge more for their services. Great timing, outstanding service and amazing quality of work. If you are looking for someone to build your home or renovate an apartment, stop now and give United Elite Group a call.

Tolib and his crew were all very professional and hard working. His team did an outstanding job to renovate my apartment. Tolib was extremely helpful in assisting us in selecting paint colors, tiles, etc. We would hire his team again if we decide to add on to our current home.

I give United Elite Group my highest recommendation. They have the finest finish carpenters and the finest artisan finish plasterer I have ever encountered or worked with. Stephen R. Connors Architect StephenRConnorsArchitect.com

I can be quite annoying when it comes to choosing the construction company for my next project. My total experience with United Elite Group was so extraordinary positive, that I don't know how to even start to describe it. First of all, every question that I had in a beginning was being answered meticulously with extreme attention to every small detail. Second of all, as the project was advancing, I did not nave to ask any more questions - every question I had was addressed / answered before I even had a chance to ask it. And finally, what stroke the most while working with UEG is their constant desire to understand your ideas and to transform them into beautiful reality. I am truly grateful guys! Thanks for everything that you did for me! It was a tremendous pleasure working with you!
As a designer and project manager, I interviewed and hired Tolib of United Elite Group for a gut renovation on behalf of the client. Tolib and his entire crew performed meticulous quality work not only on time but on budget. During the course of the project, Tolib always had terrific, thoughtful solutions and proved to be a fantastic collaborator. Post construction customer service has been top-notch. Tolib and his team were such a pleasure to work with that I hired them for subsequent renovation projects where they continue their amazing work. I highly recommend them to anyone who insists on high quality work and professionalism.
Excellent workmanship - folks who are proud of their product and will always follow up Very professional, the site is cleaned everyday, workers wear uniforms Very respectful to building staff and super. Type of hassle you don't need to deal with in your renovations especially in co-op buildings Very fair pricing for the quality of work. Highly recommend and will use again on another project without hesitation
We completed a renovation of a classic six apartment on the Upper West Side in a Rosario Candela building. The apartment was not in the best of shape with many layers of paint on walls and doors, and flooring with no refinishing potential. The walls needed to be skim-coated, the floors replaced, and the metal doors and jams had to be restored to the original condition. We were very happy with our general contractor United Elite Group and their staff. They carried out the construction with care; they were diligent and came every day. Any surprises with the construction were taken in stride and completed without hassle. We have a beautiful apartment with exceptional floors, cabinetry, millwork and restoration of the original moldings and other pre-war details. I highlight their careful craftsmanship and attention to detail. They were professional, reliable, and unfailingly courteous. They cleaned up the job and overflow areas every night and abided by the building rules. They were helpful to the resident manager of the building, so much so, that he recommends them to others. I recommend them without hesitation and would absolutely hire them again.
We used UEG to renovate a 1800 square foot apartment in Flatiron. They undertook all aspects of our project except for kitchen installation -- we used a separate company recommended by the kitchen design company for kitchen installation, but UEG also install kitchens (and in fact they have their own line of kitchens that I understand are competitively priced). Their price was very fair and we are very happy with the work they did. In particular the elements where they are very skilled include tile work, floor refinishing (our refinished original ash floorboards are simply stunning -- they patched several areas where the floors were damaged and you can't even tell where the repairs were done), soffits, plumbing, plaster work, painting, closet door installation (and their edge banding on some of the doors to minimize gaps was very well done), all electrical work. The team was led by Tolib who is very decent and fair-minded and easy to work with. Our apartment has a modern style but they can work with any style you prefer and are very knowledgeable on all different aesthetics. Their price was fair and there were several instances when we added or changed things but they accommodated the extra work without added charges. If you are looking for good work, at a fair price and a team of people that are easy to work with, you should strongly consider UEG for your renovation.
I just completed a total gut renovation of a large apartment on the Upper East Side and could not have asked for better contractor professionals than United Elite Group. They led the renovation while I was away from New York and the result is a beautiful apartment with exceptional cabinetry, millwork and tilework. Aside from the gorgeous craftsmanship, they were unfailingly polite, responsive, professional, reliable, eager to please and helpful to my HVAC and home automation contractors. I recommend them without question and would absolutely hire them again.

As an Interior Design Firm our goal is to give all clients the best service possible. In order to do that we must rely on the other professionals that support us . United Elite Group affords me the quick response and professional service my clients expect. JAB Design Group

LEAD Studios - Architecture and Design
We did an apartment renovation with United Elite Group and had an exceptional experience that met time and budget. The project was originally an abandoned apartment that required detailed attention to original finishes that were abused or left without maintenance. They refinished the flooring, installed all new fixtures, and modified the living and dining areas to achieve a very modern and clean aesthetic, while maintaining our details drawn and executing tricky conditions. We recommend United Elite Group without reservations.
We hired UEG after interviewing five contractors and are very pleased we did. As architect owners we are very selective in picking the right contractor on all our work, one who is design oriented and has an excellent track record. UEG meets these qualifications! Their work is beautifully crafted with care and attention to detail. From complex demolition and plumbing to detailed finish carpentry and custom millwork we were impressed with their professionalism and quality. We were happy to work collaboratively with Tolib, Sam, Nazir and their crew and look forward to working with them again on other design projects in the future. We wholeheartedly recommend them to anyone looking for professional high quality builders and a smooth building process.
United Elite did a gut renovation of my living room, bedroom, and two bathrooms, from floor to ceiling, down to the studs. As the building is 90 years old, United Elite ran into issues which were not in the scope of work such as pipes in the wrong place, asbestos wrapped pipes, and poor previous construction. They were able to offer suggestions to make my plans work. They finished on time and on budget.
United Elite group performed a major renovation on my apartment, removing a wall between the living room and kitchen, performing a complete renovation of my bathroom and kitchen, demo'ing my closets, painting, etc. The work they did was wonderful and they made the whole process so easy. They were a delight to work with!
We hired United Elite Group for a complete gut renovation job for our townhouse in Brooklyn. It was a big project, and we had a very specific look that we wanted to execute. United Elite Group pulled through, and we are very pleased with how the work turned out. Throughout the entire process, they were incredibly professional and did a great job. I would highly recommend United Elite Group to anyone looking to renovate - big and small projects, and I will also hire them for any of our future projects.
My wife and I hired United Elite for a full gut renovation of our two bedroom apartment on the Upper West side. The scope of the project included full renovation of the bathrooms and kitchen, floor replacement throughout, moving walls, adding paneling and included updating wiring, lighting and fixtures. The project was complicated, with many details to be taken into consideration. The quality of the work produced by United Elite is top notch. The work ethic and commitment to a high class product is evident from start to finish. United Elite are consummate craftsmen always working professionally and in a timely manner. They met all deadlines, were responsive to queries and attentive to details. They are painstaking in ensuring that they complete aspects of the project to the satisfaction of the client and go beyond the extra mile. It would be impossible to recommend this company more highly than we do.
United Elite Group,Inc is a very professional company that takes care of every aspect of the construction project and supports both architect, designer and client providing an effective link and support between all of them,just the way a contractor should be! They are punctual, caring and resourceful and their reliability makes them a great resource to complete the project on time and on budget.I have worked with United Elite Group, for many years and I'm constantly struck by how different their contracting firm is compared to most of the others working today in New York. The professionalism, honesty, calm demeanor serves their homeowners well on the many complex projects they encounter. Creative solutions and respectful project management results in never doing just one project for a customer - the ultimate endorsement.

I am an Interior Designer and have met United Elite Group through Houzz. We have completed a few projects together. I was very happy with the work of the whole team. They are always courteous and on time and most importantly very flexible with a very positive attitude. I am looking forward working with them again on different projects.
The project was an extensive renovation of a 3-bed co-op in the Lower East Side. From my first communication I found UEG to be committed to the project and understanding of my needs. The entire team consistently went beyond my high hopes and expectations. The quality of their work and the service they provided were both exceptional. I found them to be skilled, dedicated, organized, respectful and extremely trustworthy. When unavoidable issues arose UEG dealt with them sensitively and professionally. They were also proactive and creative in coming up with solutions to potential problems, working in close conjunction with my architect. The project was completed on time and on budget. I found working with UEG to be a genuine pleasure and I couldn't be happier with the beautiful home that they have created for me.
United Elite recently completed a total renovation of our upper east side apartment in NYC. From beginning to end, they were extremely professional. Alex and each worker that we came into contact with was extremely competent, and extremely pleasant to deal with.! One of their real strengths, aside from their work was their accurate and frequent communication with us. We would highly recommend United Elite Group to anyone looking to do a renovation!

I cannot rave enough about how wonderful it is to work with Alisher, Tolib, Elvan and everyone else we have had the pleasure of working with at United Elite Group. They are friendly, exceptionally knowledgeable, and it is quite refreshing how easy to work with UEG is! To be frank, we wish we could give them more than 5 stars. We look forward to working on many more projects with United Elite Group. -Katie Selman
I cannot say enough amazing things about United Elite. This was my first renovation ever and I didn't really know what to expect. They completely transformed my kitchen. These guys were everything you could hope for. Professional, friendly, attentive, trustworthy, clean and timely. Any concerns I had (which were always minor) were attended to almost immediately. My kitchen looks incredible thanks to them. I HIGHLY recommend using United Elite for any home renovations, big or small.
I am in the business of flipping properties in the NYC tri-state area. I first came across Alex at United Elite Group 2 years ago. I was in the middle of a high-end renovation in a landmarked building, and the contractors I had been using were giving me problems (as always). Right after hurricane Sandy, they quit as they found more profitable work in the storm ravaged areas. I hired United Elite Group (by recommendation from someone else in the business) to finish the job, and was immediately impressed with their responsiveness, attention to detail, and quality of work. They aren't the cheapest guys around (nor are they the most expensive), but they are competitive and damn good. Alex (one of the principals) is a true professional. More importantly, he is a man of integrity. He will do what he says for the price he commits to. My general impression of contractors is exactly the opposite; in the end there are hundreds of little change orders with new charges. Not pleasant. Integrity is important, and so is the quality of work. These guys are real craftsmen. From high end tile work, to outdoor decking, and installing exotic spa-like showers -- they get it all done, quickly. Case in point, I just hired them to gut renovate a one bedroom apartment, down to the studs, and they completed the work in 30 days. I run a business, and I need efficient good quality work. Communication is also always important, and I can always text Alex any time and get immediate response. I recommend UEG with the highest level of endorsement. Should you need to speak to me, ask UEG to give you Eric's # and I will be happy to describe their work in detail and show you some of the job sites. These guys do great work for me, and I am more than happy to return the favor and refer them to others. I hope I can help them as much as they help me.
We hired United Elite Group to do some renovations inside the house, install sprinkler system throughout and renovate the facade of the house. Our house is a landmark, built over 100 years ago and has intricate design and ornaments on the outside. Alex, of United Elite Group, was incredibly helpful, always on time, always accommodating all our requests and our budget and most importantly - always accessible. Finished work is amazing. The house is restored to its original luster.
United Elite Group renovated my kitchen, we replaced everything but the cabinets, however, to install a new floor they needed to remove the base cabinets. They were prompt, efficient and very clean. As with most jobs issues come up, they were attentive and made all changes I requested. I was very pleased
We hired United Elite Group for a complete renovation of our apartment and they did a phenomenal job. From start to finish, they were neat, clean and stayed on budget, and were easy to get in touch with at any time, even on weekends. Very accommodating to any change request and very respectful. Overall easy to work with and reliable - would hire them again for sure!
Me and Vanessa we need to improve our loft in the east village , new windows , new central air conditioning . It has been by pure chance that we met Alex ceo of United Elite Group who was renovating an apartment in same building a condo in the east village . The feeling was good but that's when usually things go wrong in construction business a good feeling leading to a poor result . We asked to come down and have a look He did and within few hours we had an estimate and a rough time frame First thought : too good to be true second thought: he must charge us up the nose Well none of the above was true In fact to be safe we called another contractor who came after few days . He immediately told us he was busy and to get an estimate we had to call him in few weeks Roughly e quoted us the same Any way to make the long story short Alex and his company were superb , they even found a way to install an extra air conditioning unit with no extra charge cutting corners where it was possible Incredible but true When i get back from my travel i was expecting to find the job done but the loft a mess It was so clean i thought Venessa called a cleaning company before I was arriving , which she didn't . Alex and his company cleaned after them as it was their home . Now you maybe think that Alex is either my brother or someone related to me ........well believe it or not I don't even remember his family name I am just thinking to get him involved in a new project in my place Also because he is very good to deal with the board and all the paper work........ I highly recommend him .....5 stars he deserve but even 6

Hired to do a complete bath remodel, and partial kitchen upgrade. Overall great job, it was estimated to take about 3 weeks and took 5. Stayed true to the estimate amount, we had to add some materials mid-project but didn't add much. Some items were completed incorrectly, but you have to be explicit with exactly what you want, and provide pictures or renderings - leave nothing for them to guess and don't assume they know, they don't. Lesson learned. My apt was covered in dust everywhere and clean up was minimal, so I had to hire a cleaning service post renovation. They did provide an extra day of a plumber, since the faucet was the wrong size and had to be replaced, which was great. However, we lost a week waiting for the custom bath door, and the project came to a standstill. They could have worked on other areas (kitchen) but didn't, only came back to the job when the door arrived. Overall I would recommend them, the kitchen and bath look awesome and they are easy to contact during the renovation process. Of the three estimates I received, they were the highest.

As an architect and interior designer, I've worked with United Elite Group on several projects. They are professional, well priced, and incredibly fast. I recommend them to all of my clients and have hired them to do work in my own home. I highly suggest any homeowner to meet with UEG to do any renovation.

My husband and I searched for months to find a reputable, reliable, and licensed contractor to work on our front and back yard renovation projects. After being overwhelmed and ready to give up, we found United Elite Group, who stepped in and stepped up to get our project started, and to do it the right way. The scope of renovation entailed a garage repair, concrete work (front and back yard & driveway), drainage systems, and fencing. It took a long time to get all the required paperwork such as property survey, asbestos testing, and permits but United Elite hung in there with us throughout, and stepped in on our behalf where and when needed. Throughout it all, United's team remained respectful and considerate (always showing concern about how the work was impacting our lives). They provided us with great service and gave us what we wanted, and to boot, they didn't go over the budget! My husband and I am glad for the long wait because we probably would not have found United and would not have had the job done right. We look forward to working with them on our remaining indoor projects.

All I can say is "thank you!". The timing, the professionalism and overall consideration couldn't be better. My wife and I bought a house that needed a compete renovation, but we were pressed for time as we were expecting an addition to our family, that was coming in a few short months. We have expressed our concern, demands and urgency, and it was well received and followed from the first to the last day of the contract. I am recommending this contradicting company, as my experience was essentially flawless. And I would use this team once the renovation is needed...the kids can surely make a dent. Thx!
The workers at United elite group definetly surprised me with the outcome and result. The tile in my new bathroom is defintely an eye opener for anyone who visits the apartment. I definetly recommend them for renovation work.
Back to Navigation
Back to Navigation
Contact United Elite Group
| | |
| --- | --- |
| | United Elite Group |
555 Madison Ave.
New York, NY 10022
Typical Job Cost $200,000 - 5 million


Luxury apartment, bathroom, and kitchen renovation experts serving clients across the greater New York City area.