About Us
Westside LA's Well-Respected Interior Designer | Best of Houzz
Created by Genna Margolis. Shapeside is a full-service interior design firm based in Los Angeles. Before creating Shapeside, Genna worked with some of New York and LA's most well-respected designers. Shapeside has been previously featured in Domino, My Domaine, Rue Magazine, among many other publications. She enjoys finding new ways to merge the style of her New York roots with her love for Southern California beauty; resulting in a minimal and fun aesthetic with many classic elements.
Services Provided
3D Rendering, Bathroom Design, Closet Design, Color Consulting, Custom Bathroom Vanities, Custom Blinds & Shades, Custom Bookcases, Custom Built-ins, Custom Cabinets, Custom Entertainment Centers, Custom Fireplace Mantels, Custom Furniture, Custom Home Bars, Custom Kitchen Cabinets, Custom Pantries, Custom Rugs, Custom Shelving, Custom Walk-in Closets, Decluttering, Downsizing, Floor Plans, House Plans, Kids Bedroom Design, Kitchen Design, Lighting Design, Nursery Design, Playroom Design, Space Planning, Sunroom Design & Construction, Universal Design, Wine Cellar Design, Kitchen Remodeling
Areas Served
Bel Air, Beverly Hills, Brentwood Los Angeles, Burbank, Culver City, Encino, Glendale, Hollywood, Inglewood, La Crescenta-Montrose, Los Angeles, Marina Del Rey, North Glendale, North Hills, North Hollywood, Santa Monica, Sherman Oaks, Studio City, Universal City, Valley Village, Van Nuys, Venice, Vernon, Walnut Park, West Hollywood
Back to Navigation
Our Stories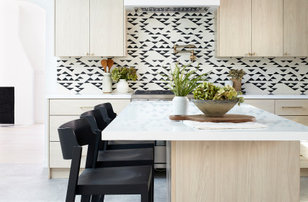 Sponsored story
A Los Angeles designer shares her secrets to fresh style with lasting appeal
Item 1 of 1
Back to Navigation
Back to Navigation
Credentials
8 Houzz Awards
4 Houzz Badges
Back to Navigation
Featured Review
While most designers have a style, Shapeside has a signature. After interviewing many different designers, when I finally met the Shapeside team, I was blown away. Extremely easy to work with, very professional, truly has the clients interest in mind
Read Full Review
Write a Review
19 Reviews for SHAPESIDE
Average rating: 5 out of 5 stars
5.0
|
19 reviews
With all the different options from Pinterest, Instagram, and all other social media platforms, my wife and I had a hard time deciding where to go with our remodel. We tried to take a stab at remodeling our home ourselves, but there are way too many options to pick from and felt we were overwhelmed. It took us around three to four months to narrow down our options on picking a designer. We were not 100% convinced with who to pick as our designer for our home. At the end of the day, we felt it was a 50/50 flip of the coin between Shapeside (Genna) and another designer. I am not a fan of gambling, but its nice to feel like we made the right bet by choosing to go with Shapeside. We believe the most important thing about a designer is listening to client's wants and needs. Genna was able to understand our needs from the initial meeting and we felt comfortable with working with her every step of the way. The process was effortless and felt so easy because she helped us bring our vision to life and we could not be happier with the results. We would use her again for our future needs!
While most designers have a style, Shapeside has a signature. After interviewing many different designers, when I finally met the Shapeside team, I was blown away. Extremely easy to work with, very professional, truly has the clients interest in mind. Loved that we could shop at the most high end places, but also are not afraid to get pieces from the regular big box stores either. Thought it was amazing that I got AutoCAD renderings for all my rooms and for the furniture builders. After working many months together on a very meaningful design project, I am confident I made the right choice. I hope I have another project in the future so we are able to work together again.
I worked with Genna on my very first project and I have to be honest, it was nothing short of a miracle with what she did with my commercial space. Her vision, execution, and project management made what should have been a very stressful experience into an incredible one. I would recommend Genna and ShapeSide to anyone one regardless of project size or budget. She took my dreams and made them into a realty on budget and on time. Do not hesitate, just hire Genna and her team, you will that me later! Enjoy the process!
Genna was recommended to us by our realtor. She was great to work with! She works quickly and efficiently which makes her cost effective when you're working within a budget. She has great taste and the ability to curate items from different non mainstream sources. We were working on a budget and within a tight timeline and Genna met both of those. We receive many complements from friends and family on her design and selection and everyone is impressed with how quickly we were able to furnish our place. Most importantly, we feel very comfortable living in the purposeful and pleasing spaces she has created for us.
Genna is such a pleasure to work with. She is so talented and innovative! She had so many tips and tricks for me, was so on top of things and the end result was beyond beautiful!
Genna was a pleasure to work with from start to finish. She's patient, creative and flexible. Her renderings look exact to her final product. Genna provided several different options, alternatives, and ideas through out the process. Her installation was seamless and neat. I feel confident that with her keen perspective coupled with her outgoing, easy-to-work-with friendly nature she can beautify and brighten any space.
Genna is organized, responsive, thoughtful and really fun to work with. She understands your style and helps you to elevate it to a level that will impress everyone who walks into your home. She has an opinion about things in the best way possible and never steers you wrong! I highly recommend her to anyone I know.
Working with Genna and Shapeside was a dream come true. As someone who is opening a business, I felt inundated with enough stuff, let alone the decorating and furnishing of the space. Genna could not have made the process easier. I felt that she listened to and respected my vision while politely suggesting some modifications. I could not be happier with the end result, and everyone who walks into the space is as impressed as I am! The best part of it all- I gave genna a rather tight deadline, and she not only met it but somehow managed to have the place completed a few weeks early!

Genna did a wonderful job at transforming our home into a bright oasis. We have a small space with several pieces that we were not willing to part with and she was able to work with them to tie it all together. My boyfriend and I had different visions of what we wanted in our new home and I think that she did a great job of appealing to both of our styles and to fit in with our budget. She does a great job of finding a few options at multiple price points. I was always so excited to receive her emails with options for whichever item we were focusing on that day!




Genna is a perfectionist with great taste - what more could you want in an interior designer! She is incredibly responsive and goes above and beyond expectations until the project meets her incredibly high goals. She's also really responsive and is great about giving options so you don't feel like there is only one way to go.

Genna at SHAPESIDE is amazing. She is incredibly talented. Her taste is impeccable, she's opinionated (in a good way), fast, responsive, budget conscious and just overall a pleasure to work with. I couldn't have asked for a better experience!

I met with Genna to go over some ideas for my office. She was very professional and knowledgable. Not only did she come up with some excellent and creative ideas, she kept me from making some mistakes had I been left to my own devices!
Genna from Shapeside was a dream! She has such an incredible eye and sourced options for both a high and low price point which gave me an idea of the market and helped me save money while still getting what I was looking for. She has a great design aesthetic and helped me with planning out my space entirely. She helped move things around so that now my home feels much more spacious. She made the entire design process so easy!! I absolutely love my living room now - it's exactly how I dreamed. She's a pleasure to work with and I would 100% work with her again.

I worked with Genna when my daughter was relocated from Chicago to Beverly Hills. Genna was recommended thru a friend of a friend. We worked together long distance. It was a 2 bedroom apartment with a very generous budget. From the first day she was so organized, laying out various floor plans to see which one we liked most. She asked great questions about her lifestyle and pros and cons of previous apartments. Then the various selections came to our inboxes. She had such a way with texture and fabrics. Her scale of the furniture for the space was spot on. Everything was fresh and youthful, (my daughter is 32). If we weren't sure of something, she sent more choices, but didn't overwhelm us. She knew the important pieces to put our $$$ in ,and was able to fill in more fun pieces on a smaller budget. We used all the vendors she suggested, and didn't feel the need to shop around for a second quote. She was even able to hook my daughter up with handymen in the area who helped with assemblage of various pieces of furniture. Everything was made simple for us. In summary Genna was delightful to work with and very professional, along with fabulous design and taste
Genna is incredible! My apartment looks like it belongs in a magazine. Genna has incredible taste. Not only did she select the perfect pieces, she also taught me how to decorate in the process. It's really hard for me to get rid of things and she walked me through how to curate a beautiful bookshelf. I have a lot of eclectic artwork but through reframing and a gallery wall, they became a cohesive display. Genna was responsive, professional and a joy to work with. I cannot recommend her enough.


I had the pleasure of working with Genna for six months through the GMI 6 MONTH MEMBERSHIP. During that time, she greatly assisted me in furnishing my new house. Genna is passionate, responsive and enthusiastic, and always gave me her honest opinion. She has excellent taste and guided me through choosing furniture, rugs, window treatments, paint colors, and the arrangement of furniture. Another thing I appreciate about Genna is that she does not impose her own taste onto you, but rather tries to understand your own style and guides you accordingly. I look forward to working with her again in the future!
My home is now a place people admire as soon as they walk in the door. It's light, spacious, and full of character. Genna takes your own style and turns it into a fully thought out reality. I highly recommend her for anyone who wants to be a part of their own redesign.
Genna help recreate our living room bring it right up to date using some pieces of furniture that we had reupholstering with fabulous fabrics. She has an incredible eye for fabrics. She selected the most comfortable sleep sofa ever and picked the perfect fabric to cover it with. She made this project fun, economical and has great taste. And of course she was a pleasure to work with!

I created custom lighting for one of Geena's projects. She is an effective communicator and great to work with! Her minimalist style with a traditional twist is refreshing.

Back to Navigation
Back to Navigation
| | |
| --- | --- |
| | SHAPESIDE |