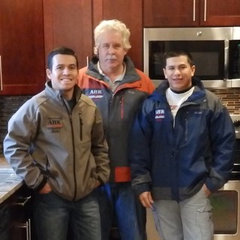 Amazing Home Remodeling
Kitchen & Bath Remodelers
About Us
AHR has been bringing quality remodeling to the area since 1978. Our goal is to give our customers quality work at affordable prices. Our skilled craftsmen treat every home as if it were their own. We are dedicated to value, quality, and complete customer satisfaction. We work hard to build a company that is unlike the rest. It is our intent to accomplish this by positioning our company as your "partner" during the remodeling process. In that capacity, we not only serve as contractor but also as friend and professional consultant. Our objective is to earn the customer's complete trust, confidence, and respect by providing the highest degree of service possible. Furthermore, once you become a client, you will remain a client.
Services Provided
We specialize in Kitchen, Bathroom, Basement, and Deck Remodeling.
Areas Served
At Amazing Home Remodeling we have been remodeling homes throughout Baltimore County for over 20 years.
Back to Navigation
Back to Navigation
Business Details
Business Name
Amazing Home Remodeling
Phone Number
(410) 655-2500
Website
Followers
Back to Navigation
Contact Amazing Home Remodeling