About Us
Global Dedicated Wine Cellar Specialists
3x Best of Houzz Winner
IWA Wine Accessories (IWA) is dedicated to helping our customers create a rich and cultured wine lifestyle. With decades of experience, our seasoned team of IWA wine and cellar specialists provides our valued customers with unparalleled access to the widest array of quality wine accoutrements on the planet. Sonoma County Showroom and Warehouse We invite you to visit to our Sonoma County showroom and warehouse in Petaluma, California. Our business hours are 9-5 Monday through Friday. Our showroom and warehouse are conveniently located off the 101 Freeway, as follows: International Wine Accessories 1445 N. McDowell Blvd Petaluma, CA 94954 (800) 527-4072 (707) 794-8000 Certified Designers: VintageView, CellarPro, Le Cache, WineKeeper View our online catalogs: http://www.iwawine.com/online-catalog http://vintageview.com/vintageview-certified-designers/ http://www.iwawine.com/storage-cooling/cooling-units-cellar/cooling-units-cellarpro/ http://www.iwawine.com/storage-cooling/wine-cabinets/le-cache-wine-cabinets/ http://www.iwawine.com/wine-accessories-iwa/wine-openers-and-preservation/winekeeper/
Services Provided
Wine Cellar Design, Wine Cellars, Wine Cabinets, Wine Storage, Wine Coolers, Wine Refrigerators, Wine Racks, Custom Wine Racks, Custom Cellars, Wine Accessories, Wood Wine Racks, Wine Cellar Racks, Personalized Wine Accessories, Le Cache, CellarPro, Wine Luggage, Wine Glasses, IWA Design Center
Areas Served
Petaluma, Los Angeles, San Francisco, San Diego, Houston, Dallas, Austin, Orlando, New York, Chicago, San Jose, San Rafael, Napa, San Antonio, Miami, Tampa, Philadelphia, Atlanta, Columbus, Boston, Phoenix, Charlotte, Raleigh, Seattle, Denver, Minneapolis, Nashville
Awards
2018 Winner of Residential & Restaurant Design from VintageView 2017 Winner of Best Modern Commercial Wine Cellar from VintageView Included in Northbay Biz 2016 Top 500 2015 Winner of North Bay Business Journal Top Manufacturer Nominated for SBA Small Business of the Year for 2015
Back to Navigation
Our Stories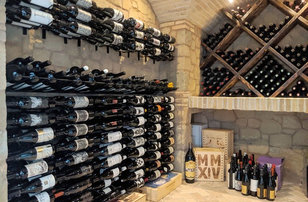 Sponsored story
A Sonoma County expert offers advice on adding wine storage to your home
Item 1 of 1
Back to Navigation
Back to Navigation
Credentials
3 Houzz Awards
4 Houzz Badges
Back to Navigation
Write a Review
15 Reviews for IWA Wine Accessories
If you thinking about creating a wine cellar, I highly recommend checking in with the folks at IWA Wine Accessories. With a fairly valuable wine collection at stake, I was particularly concerned about finding the right cooling unit, and my sales consultant, Bryan Adams, at IWA was super knowledgeable and just as helpful. He got the proposed dimensions of my cellar, ran an analysis, and recommended the CellarPro 3200VSi. When the cellar dimensions increased significantly, Bryan advised me against the more expensive 6200VSi I thought I needed and recommended the cheaper 4200VSi. The cellar is for a vacation home so Bryan made sure I had CellarPro's network ready unit combined with a networked thermostat, making remote monitoring and control of the cellars temperature and humidity a breeze. I couldn't be happier. It took me a few years after I first contacted IWA to find a contractor and get the cellar going and Bryan couldn't have been more accommodating--always ready to answer my MANY questions, always patient, I knew I was in great hands. Once I finally made the decision, the purchase went like clockwork and was delivered exactlyon time. I received a call from the shipper to arrange drop off. This precision was invaluable in lining up my insulation and installation contractors. If only all transaction ran this smoothly and precisely. Additionally, IWA has been there after the sale -- I really feel that throughout this process Bryan and IWA have been a trusted partner. They also offer expert cellar design, custom or via kits.
I used IWA to design a complete cellar with racking, refrigeration, glass doors, the whole thing. There were a few mishaps along the way but in all they did a decent job.
Excellent Customer Service!!! They called back with the information that I had requested in a timely matter. They also allowed me to place the order with a live person (Betsy) rather than having to fill out a lengthy entry form.

I am the owner and principal designer for Talie Jane Interiors. We designed a wine cellar for a client using products from IWA. It looks fantastic! I would recommend IWA to clients and plan to use them for upcoming projects as well. It's a custom look without the custom pricing. We added lighting panels for better "label viewing" which adds to a customized look.

I ordered a leather handle T-corkscrew,its a very good developed product, the leather is good quality, and a durable piece, I will use it hole my life.Its also very good for gift because its packed in a nice wood box.I can recommend to everyone.

I recently purchased the loft 800 series 94 bottle dual zone wine fridge from IWA. I was disappointed when the fridge came damaged and was non functioning, but I understand these things happen from time to time so I reached out to the IWA team in hopes of finding a resolution and having a replacement unit sent out immediately. This is when the real frustration and inconvenience started. Instead of replacing the unit and sending a new one out I was asked to send photos which I did (albeit a week after, as I was away from the house traveling and then life got busy with my 16 month old daughter). Once I did send photos I was then told they'd be sending someone to pick the unit up and they wouldn't be able to refund or replace until the damaged/ failed unit was received back at thier wherehouse. Mind you during this time my wine was sitting unrefrigerated throughout a heat wave. No one so much as acknowledged that btw. From there the team at IWA including a partner in the business dragged things out so long that I ended up finding a comparable unit from a competitor as I needed something to house my wine and has by this point lost confidence in the IWA folks and thier ability to service the customer. Maybe I was too small of a customer as my unit was $1300 compared to some of the larger cellar installs they do? In any event I would advise any one considering using IWA to think twice as thier service is subpar at best. The partner I'm referring to even had to audacity to point out that return frieght for the damaged unit was being 'covered' by them! Wow what a gesture 5 weeks after purchasing the unit. I'm now taking the issue up with my credit card company due to their inability to assist in any reasonable amount of time despite selling me a bill of goods!! To all Consumers I highly recommend considering other suppliers i.e some of the big box retailers as they offfer great units and wonderful service!!!!





Comment from IWA Wine Accessories:
Justin, here's the review you posted on our site, and our reply:
I recently purchased a loft 800 wine fridge from IWA. The unit while advertised well came damaged and inoperable. When I brought this to the attention of thier CS team I was asked to document before they'd assist. After documenting they said they needed to pick the unit up and recieve it back at thier facility before they'd refund my purchase. Much better optIons and service on Costco.com if something goes wrong with a costco order they own it and make the customer whole. I emailed with Bruce one of the owners and he told me as a courtesy they'd be paying the return freight on the damaged unit, wow what an offer!! Horrible experience would not reccomend to anyone shopping for a wine storage solution!!!!

Reply from IWA
Justin, we're very sorry that your wine cooler was damaged during shipping. Because you waited almost a full month to report the shipping damage, we were unable to file a freight claim for the damaged unit. Nevertheless, we agreed to arrange for the return shipping of your damaged wine cooler and issue a full refund upon receipt of the return. Unfortunately, we cannot issue the refund until we receive the returned unit. This delay in issuing your refund shouldn't be more than a few days, and as far as we know our policy is standard for all retailers, including Costco. If there's something more that you need from us, please let us know.
This is the second time I have used Jimmy Simmons at the IWA Design Center. He helped me design, create and supply my first cellar, so he was a natural choice for my second cellar at our new home. He acted as a resource in the selection of the cooling system, the rack design, the wood and stain selection and the overall design of the system. I would highly recommend him for your next cellar.

Bruce Bennett and IWA Wine Accessories were extremely helpful in assisting me to create my wine cellar. They gave me with a ton of different ideas and provided me with different sketches of what the cellar would look like; they revised the drawings every time we wanted to change or add something. Bruce and his team were always available to answer any questions and I had a great experience working with them.

Our client was very specific with their needs for wine storage. We went through numerous layout revisions and each time the staff was very helpful. In the end we got a product we are happy with that is good quality. We would use this company again and would recommend to other professionals.
We have been in contact with IWA about our issue and have come to a resolution- one we feel will successfully resolve the problem.

Comment from IWA Wine Accessories:
Thank you very much for your feedback. We are really sorry that your sales rep left during your project, which we understand caused delays, but unfortunately the transition was unavoidable. We will contact you this week to see if there's anything we can do to make up for your past experience.
Excellent service provided by true professionals in this field. They have helped me with several projects and I will use again in future to help service my clients!
We used IWA to design, build, and install our wine cellar at home and couldn't be happier with their service. They were extremely knowledgeable and offered valued insights into what would work best for our space. The quality and craftsmanship is excellent and we highly recommend them.
Back to Navigation
Back to Navigation
Contact IWA Wine Accessories
| | |
| --- | --- |
| | IWA Wine Accessories |
1445 N McDowell Blvd




Petaluma

,

CA

94954
Typical Job Cost $5,000 - 100,000