Bathroom Cabinets
Bathroom cabinets, not to be confused with vanities, are ideal for adding extra storage to your space. Forget cluttered countertops and overflowing medicine cabinets — a freestanding or
wall-mounted bathroom cabinet
will give you back the clean and organized look you once had. Whether you have a large or small space to fill, there's sure to be a bathroom storage cabinet that meets your needs. Read on to learn which cabinet will work best for your bathroom.
What are my mounting options for bathroom cabinets?
Depending on the size and layout of your space, you may have multiple bathroom cabinet options — these four types are the most common:
Bathroom floor cabinets: If you have floor space available, freestanding bathroom cabinets will be the most versatile option. You can move them around if you decide to change your layout, or easily swap them out without the hassle of unbolting them from the wall.


Bathroom wall cabinets: When floor space is limited, look to the walls for extra storage. With a little muscle, or the help of a handyman, you can have your walls working double time by mounting a simple wall cabinet.


Corner bathroom cabinets: If both wall and floor space are sparse, you may be able to squeeze some function out of an underutilized corner. Corner cabinets fit neatly into these nooks, whether mounted on the wall or freestanding on the floor.


Over-the-toilet bathroom cabinets: The space above the toilet tends to get overlooked, but is a goldmine for extra storage. Bathroom cabinets over the toilet combine the ease of a freestanding fixture plus the space-saving power of a wall cabinet all in one. Just make sure you anchor it to the wall!
Which features should a bathroom storage cabinet have?
At minimum, a good bathroom cabinet should have enough space to for the items you plan to stash there, plus a little wiggle room for extras that might make their way in over the years. Any other features are personal preferences, but may feel like a necessity to you. When shopping for bathroom storage cabinets, be on the lookout for features like these:
Towel bar: To have your new furniture work double duty, look for a bathroom cabinet with a towel bar. This way you can hang a hand towel or two from it and skip having to take up any more space than needed from the rest of the room.


Mirror: Make your space look bigger and your hair look better by scooping up a bathroom cabinet with a mirror. You can use it to replace a medicine cabinet or just to add another mirrored surface to the room.


Glass-panel door: Want to see all those lovely curated products you are storing? Opt for a glass-panel bathroom storage cabinet to show off the goods while keeping out the dust.


Shelving: You may want an open shelf or two for easy access to products that you use everyday or to place a few decorative objects to spruce up an otherwise plain bathroom cabinet. Also, adjustable shelving is handy to be able to move up or down depending on your storage needs.
Featured Reviews of Bathroom Cabinets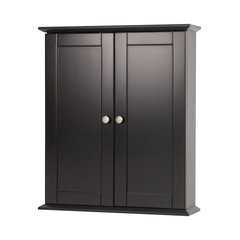 Columbia 21" Espresso Wall Cabinet
Bathroom Cabinets
Perfect little cabinet: This was the right size for what I needed. I replaced the handle with a set of antique ones I'd held onto for a few years (having to drill a second hole in each door) and they look really cute with this cabinet. We use it as a true medicine cabinet. A great buy.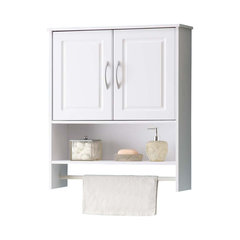 Bathroom 2-Door Wall Cabinet
Bathroom Cabinets
We like it: It is as described, no surprises here. Looks elegant and very practical. The only difficulty we had was fixing it to the wall. But we eventually did it, and are happy with it.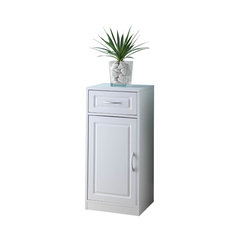 Bathroom 1-Door, 1-Drawer Base Cabinet
Bathroom Cabinets
Another thought: I thought of a plan to change the doorway on my cabinet and although this cabinet is engineered well this might help. The door was opening in the wrong direction so I carefully drilled holes on the other end of the door(very carefully) and in the cabinet and changed the opening. I need some of those little fillers and everything will be just like I want. I would think this might be a consideration for the manufacturer.. Everyone has a better idea - maybe. I am purchasing another for the other end of my vanity.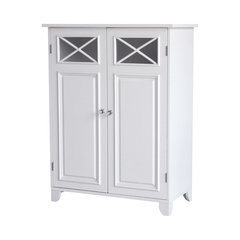 Dawson Floor Cabinet With Two Doors
Bathroom Cabinets
2 door cabinet: I really love this cabinet.. slim but 3 shelves that Fit in a bathroom, bedroom or kitchen. It's attractive with small glass opening . It was easy to put together and is serving as a makeup cabinet for a small guest bedroom!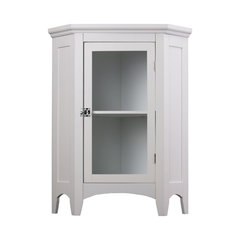 Madison Corner Floor Cabinet
Bathroom Cabinets
Nice product: This came quickly, well packaged, with clear instructions and easy enough assembly. Decent quality, good for the price. I purchased it as additional bathroom storage and it's perfect for that. Matched the description, I would definitely recommend this item as an affordable storage option.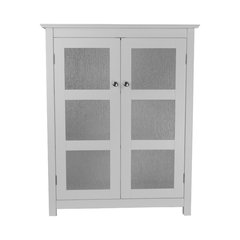 Connor Floor Cabinet With 2 Glass Doors
Bathroom Cabinets
Love my cabinet: It came on time in great condition, was easy to put together and fit perfectly in my very small bathroom. Really love the choices I had also. Found what I wanted and much cheaper than at a competitors site. Thanks Houzz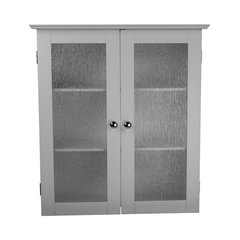 Connor Wall Cabinet with 2 Glass Doors
Bathroom Cabinets
As shown and easy to assemble: The cabinet is exactly what I thought I was getting. It's sturdy enough (not solid wood, or anything, but perfect for a medicine cabinet). Easy to follow assembly directions and goes together with little effort.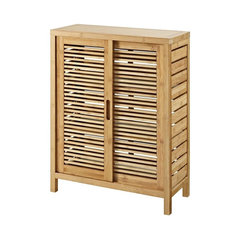 Bamboo Cabinet, Natural Bamboo
Bathroom Cabinets
Perfect little bamboo towel cabinet: This is a gorgeous looking floor cabinet. It looks beautiful from all sides. It was not hard to put together. I was able to fit about a dozen bath towels and a few hand towels and wash cloths folded in the cabinet. I am very happy with the purchase.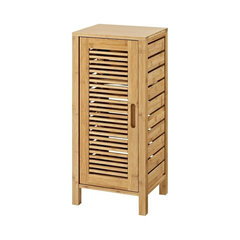 1-Door Floor Cabinet, Natural Finish
Bathroom Cabinets
Nice little cupboard: Love the cupboard; very useful in my bathroom for overflow items. What I was displeased about was the description said there was very little assembly. I had to put the whole thing together! (not an easily understood task with all the components.) I'm not good at putting things together. All in all, it was made well. I do like the bamboo. Shipping was fast, too. NH Buyer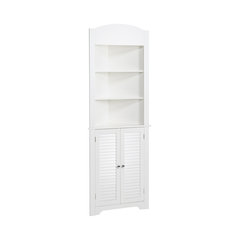 RiverRidge Home Ellsworth Collection, Tall Corner Cabinet, White
Bathroom Cabinets
This was exactly what I was looking for; perfect for the powder room.: This was exactly what I was looking for; perfect for the powder room. The shipping was timely. The instructions were very easy to follow. Highly recommended if you need a corner storage unit.