Bedroom and Makeup Vanities
Since the eighteenth century, dressing tables have graced the bedrooms of many a lady. Originally used to store cosmetic items, today's vanity table hasn't lost much of its functionality. If you're looking for a space to do your hair and makeup without being accused of taking over the bathroom, a makeup vanity desk is the perfect solution. Even if you don't spend much time on makeup or hair styling yourself, a dressing table can be used to display heirloom combs, jewelry boxes and hand mirrors, along with a collection of perfume bottles and makeup sets. Their small drawers are perfect for storing away small items, as well. If you've decided a mirrored vanity is now on your shopping list, here are a few hints to get you started:


What should I look for when choosing my new dressing table?

Before you even begin shopping, consider how much storage space you'll need and whether you'd like a mirror attached to your vanity table. Most dressing tables feature three to eight drawers, and you can purchase a vanity set if you require a mirror and stool or chair to sit on. Also consider how certain styles and colors will fit in with the rest of your bedroom decor. Would a white dressing table pair perfectly with your traditionally-styled bedroom, or would you prefer a mirrored dressing table for a glamorous look?


Are there any special requirements when it comes to caring for my mirrored vanity table?

As with any piece of furniture, you'll want to keep your makeup table clean and dust-free. A pine, maple or oak dressing table will require regular polishing with beeswax, and you should ensure your bedroom vanity desk isn't in direct sunlight to prevent discoloration. If your vanity set includes a mirror or if you've added your own, clean it with paper towels or newspaper and a window cleaner or vinegar for a smudge-free shine.
Sponsored Products
Featured Reviews of Bedroom and Makeup Vanities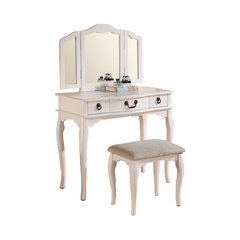 Enchanting Mark up Table Vanity Set Tri-Folding Mirror Bench 3 Drawers, Whit
Bedroom and Makeup Vanities
LOVE IT!!: NOT TOO BIG AND NOT TOO SMALL!! Its a perfect size. The side drawers hold my lipsticks and face lotions. The center holds make-up. Room on top for my make-up brushes and some photos too! Very sturdy and really beautiful lines.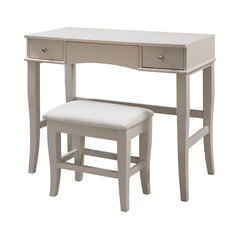 Linon Jackson Vanity Set, Cream Finish
Bedroom and Makeup Vanities
Perfect vanity for a small space: Very pleased with this vanity set! Color is a bit lighter than how it appears online, however, it is a nice cream finish. My husband was more than pleased with how smoothly the assembly went, everything lined up perfectly! This is a very sturdy and functional piece of furniture and exactly what I was looking for in my price range.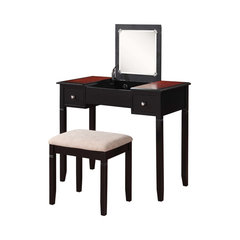 Bedroom and Makeup Vanities
The vanity is just as described and was supper easy to put together (about 45 minutes and we are not the brightest when it comes to putting things together).: The vanity is just as described and was supper easy to put together (about 45 minutes and we are not the brightest when it comes to putting things together). The only complaint I had was that the packaging was discraceful. One of the packages that contained screws was open and when we carried in the box all the screws fell out of the box (it took us about 10 minutes to gather all the screws). But otherwise it is beautiful and I would recommend this product.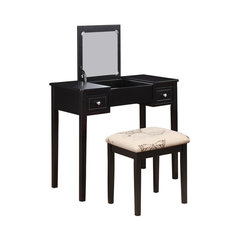 Linon Vanity and Stool, Black
Bedroom and Makeup Vanities
Love Love Love!!!: This vanity is perfect for the space I had in my master bath! It is sleek and sturdy and I love the pattern in the cushion on the stool. It hides all my makeup essentials and the mirror is at the perfect height. The assembly was not difficult at all.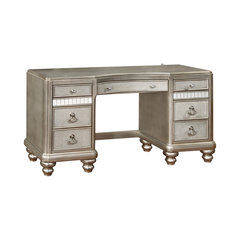 Bedroom and Makeup Vanities
vanity: love the vanity, however one drawer was damaged inside. Let's see how quickly HOUZZ resolves this issue. Again, beautiful......plus stool is beautiful as well! Heavy piece of furniture....well made.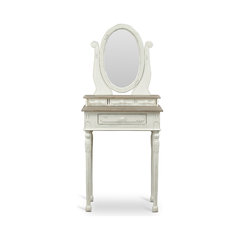 Anjou Traditional French Accent Dressing Table With Mirror
Bedroom and Makeup Vanities
Beautiful!: I was very skeptical due to the reviews I read about houzz but the vanity I wanted was $45 more expensive everywhere else so I thought it was worth the risk. I ordered this product on Saturday night and I received it on Tuesday so I was very impressed by the super-fast shipping! The product went together extremely easily and I didn't even glance at the directions. It seems very sturdy and well-made. I could not be happier with this purchase or with my first experience with houzz!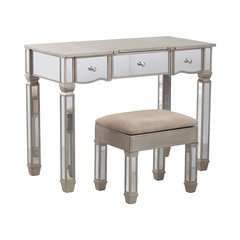 Bedroom and Makeup Vanities
Great Vanity: This vanity is solid! It came quickly and well protected in shipment. The instructions were very clear with segmented hardware making it very easy to assemble.. It is a great addition to a teen's room.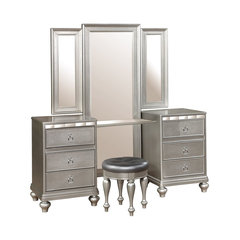 Dutchess Vanity With Tri-Fold Mirror and Stool
Bedroom and Makeup Vanities
So in love...: I love this vanity set! It's so beautiful & elegant. The drawers don't open very far, but far enough. The chair broke the first week I got it. It's easy to tip over in it a bit wobbly. But I planned to purchase a different one anyway. So that didn't deter my review of my table. I absolutely adore it! (I added the lighting myself from amazon)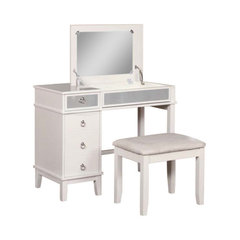 Winselm Makeup Vanity Set
Bedroom and Makeup Vanities
Great vanity: The price was right for the quality. It was easy to put together and quality is very good. Just note that there is a cabinet on the left side, not drawers as it states in the description. A couple of reviewers said that there's didn't come with a mirror, but ours did just fine. We are happy with the purchase.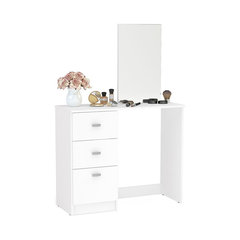 Boahaus Dressing Table with Mirror, 3 Drawers, White
Bedroom and Makeup Vanities
Just what my daughter was looking for: This is a great size for a small room and my daughter loves it. Only 4 stars for two reasons- 1. One left side drawer assembly piece did not have the holes pre-drilled as all the other pieces did so we had to do that on our own. 2. This assembly would be difficult for someone who did not have experience.