Cabinet and Drawer Pulls
When it comes to a remodel, selecting drawer pulls or handles may not seem as important as what you choose for your countertops or cabinet style. But it's the pulls that you will use to access everything, and changing out the handles on your cabinets is a simple way to upgrade your space. Shop for appliance pulls, bar pulls and drop handles for sale on Houzz today, and find your ideal set of pulls!


Which drawer pull is best for me?

Unique pulls are a great way to add decorative flair to a space, and display your design aesthetic and style. Whether or not you're into clean modern hardware or rustic traditional, there is a cabinet pull for you.

If you're unsure about what kind of cabinet pull to get, consider the following ideas. For the rustic kitchen, oil rubbed bronze, brass or cast iron may be the perfect pick, especially if it looks hand forged or carved. If you're looking for a cleaner and more understated material, then nickel — either polished or with a satin finish — or chrome are great to consider. The finishes and materials pair well with a variety of cabinet colors and styles and brings a polished elegance to any home kitchen.

Once you have selected the finish material for your cabinet or drawer pulls, picking out the shape comes next. While you can really use pulls on any casegood in the kitchen or bathroom, drawers and pullouts lend themselves best to pulls. Whether the classic yet rustic bin pull suits your style, or the open and geometric bar pull is the perfect finish for your sophisticated contemporary space, it's smart to be consistent. Since these pulls are very visible, a cohesive collection makes for appearance. If you really don't like the idea of your hardware dominating the scene, consider a cabinet edge pull. Only the tip of the hardware is revealed enough for a metallic glimmer and to get a finger hold on the drawer.
1 - 36 of 24,304 products
Sponsored Products
Featured Reviews of Cabinet and Drawer Pulls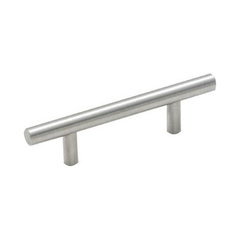 Cosmas European Bar Pull, Satin Nickel, 305-030
Cabinet and Drawer Pulls
Great value: Updated! What? The sizes are inconsistent? Yes, they are. The distance between the holes for installation varied as much as 1/2". Additionally, the bars aren't always straight. Luckily we had enough to move the more obviously misshapen ones to a lower drawer. I didn't want to send them back as my project is several weeks behind. Note to those considering purchase: buy several extra to allow culling of less than good pieces. Original post: These pulls are heavy duty! They don't feel wimpy and the size is substantial. We've not yet installed the cabinets to which they'll be attached but they look terrific even sitting in the box. We shopped high and low for this product but couldn't find any for a reasonable price. That is, until we located them on Houzz. Woohoo!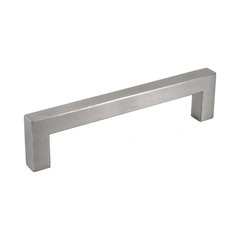 Celeste Square Bar Pull Cabinet Handle Brushed Nickel Stainless 12mm, 5"
Cabinet and Drawer Pulls
Kitchen pulls: I needed over 50 pulls for my kitchen so for the money, these look great. However, they were lighter in weight than their competition and I was disappointed in that. Less expensive too though.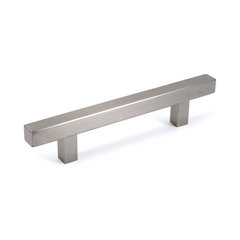 Celeste Pi Square Bar Pull Cabinet Handle Brushed Nickel Stainless, 3.75"x6"
Cabinet and Drawer Pulls
Excellent Product: We purchased these for our new kitchen - 5 pc front shaker style doors. The pulls are heavy duty and great quality with a very nice finish. Great way to blend our traditional and industrial styles.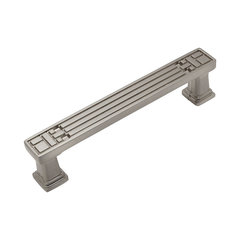 Cosmas 7155-96SN Satin Nickel Cabinet Pull
Cabinet and Drawer Pulls
Good value for the money: Overall, pretty good quality. Color is close to what is on the product photo. I'd give it 5 stars, but there were some 'strange' spots on the surface of the hardware - not sure what they are from, but we were able to remove them with just water.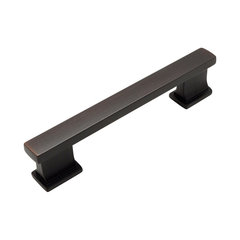 Cosmas 702-4ORB Oil Rubbed Bronze Contemporary Cabinet Pull
Cabinet and Drawer Pulls
Love these cabinet pulls: These worked out beautifully for my newly renovated kitchen design. They look beautiful against the rustic grey cabinets and white countertops we installed. We would definitely purchase these again.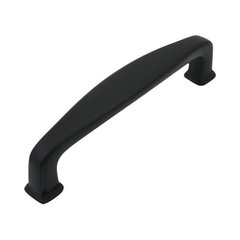 Cosmas 4389CH Polished Chrome Cabinet Pull, Flat Black
Cabinet and Drawer Pulls
Solid pull. Very reasonable price.: I wanted to update an old sideboard. The pulls I located in the local big box store were $7.49 each. These were similar but half the price. So I topk a chance. They are well made. I couldn't be happier.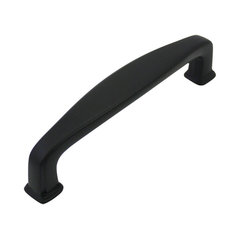 Cosmas 4392CH Cabinet Pull, Flat Black
Cabinet and Drawer Pulls
Nice handles: We bought these for our dark blue/grey cabinets for our new kitchen and they look beautiful. Not overpowering and shiney but classic, clean and compliments the cabinets. Very happy with these and highly recommend for anyone wanting to upgrade the look of their kitchen.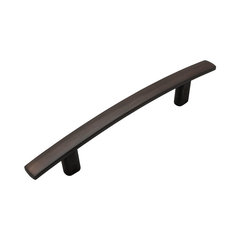 Cosmas Oil Rubbed Bronze Subtle Arch Cabinet Pull, .44"x5.25"x1"
Cabinet and Drawer Pulls
Very pleased. Love the color and the weight. Nice jewelry for my cabinets.: These pulls are perfect in weight and color. Can't wait to finish my kitchen and they go up officially. The seven inch was smaller than I wanted so returning for the 13". Couldn't have made a better choice.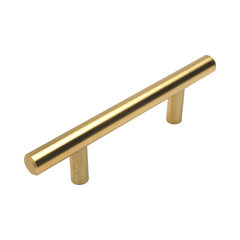 Cosmas 305-030BB Brushed Brass Cabinet Euro Style Bar Pull, Set of 5
Cabinet and Drawer Pulls
Great quality and value!: These pulls are just what I was looking for. I ordered a couple samples at first to see how heavy they were, if they seemed like good quality. They didn't disappoint. I most like that you can buy them in sets of 5, 10 and 25. That saves a little more money when you need a lot of them. I bought 3 different sizes and look forward to seeing them in our new house in the summer.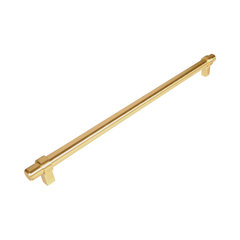 Cosmas 161-319BB Brushed Brass Euro Style Bar Pull
Cabinet and Drawer Pulls
Probably not the most common use of your beautiful products, but I build electronic audio amplifiers.: Probably not the most common use of your beautiful products, but I build electronic audio amplifiers. I used these "pulls" to give my project some cosmetic class and have an industrial look.