Cabinet and Drawer Knobs
When it comes to hardware, knobs are one of the most popular pieces. Not only just for kitchen and bathroom cabinets, but knobs can find their way into the bedroom, home office, and even the foyer. From dressers and closets, to basically any case good with drawers or doors. Because knobs only attach with a single screw, they can easily be used on the smallest of furniture items.

Transforming a salvaged chest of drawers or nightstand is as simple as adding a fresh coat of paint and some new knobs. The knobs are like the jewelry for the piece — adding a sparkle of glass and a glimmer of gold. Without even so much as a screwdriver, converting a generic big box store desk into a treasured heirloom is inexpensive and done in a flash. Find a big enough knob, and you have yourself a coat or umbrella wall hook.


What knob material would look good in my space?

One of the benefits of knobs mounting with one screw is the fact that there is usually no right side up for a door or cabinet knob. In kitchens and bathrooms especially, knobs are extremely useful for cabinets because they can easily be attached to the corners. You can mix and match cabinet hardware types for an eclectic look. There are so many available options for knobs than with other cabinet hardware pieces, have fun with your selection. Your drawer handles and pulls can be in a subtle nickel or oil rubbed bronze while the knobs may be a hand painted ceramic or smoked diamond cut glass.
1 - 36 of 18,116 products
Sponsored Products
Featured Reviews of Cabinet and Drawer Knobs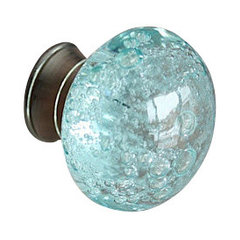 Glass Bubble Drawer Cabinet Knob, Blue
Cabinet and Drawer Knobs
Blue glass knob is beautiful!: The light reflects thru this blue glass knob makes it sparkle! It is so pretty! I couldn't find anything for my bathroom and kitchen that suited me from the cabinet designer, so I turned to Houzz & found what I was looking for. The hardware on the knobs are more silver then the pics show. According to the pic, I thought it was kinda bronze. But I will use them because they are so fab!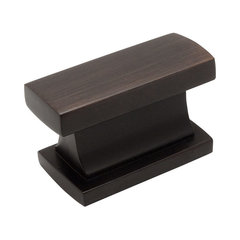 Cosmas Contemporary Cabinet Knobs and Drawer Pulls, Oil Rubbed Bronze, Knob
Cabinet and Drawer Knobs
Bathroom Cabinets: Amazing quality & price. Purchased through Houzz at 1/3 & 1/6 the price for same product at Restoration Hardware. I couldn't be more satisfied! Excellent experience for my first purchase through Houzz.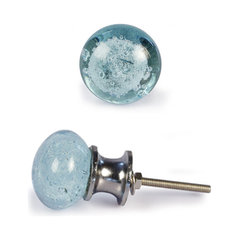 Glass Knobs, Light Turquoise, Set of 2, Silver Base
Cabinet and Drawer Knobs
Couldn't be more pleased: I love my pale turquoise glass cabinet knobs. They are beautiful, substantial, and well constructed, (I've had the decorative portion of knobs separate from the base in the past). They were packaged extremely well so they arrived without a flaw. I recommend these highly.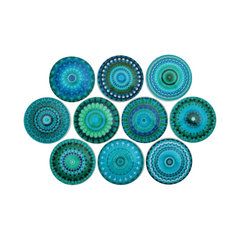 Turquoise Mandala Cabinet Knobs, 10-Piece Set
Cabinet and Drawer Knobs
Adorable: I just received these and they are awesome! Really nice that they came 10 to a pack most only come 6 to a pack and I needed 8 so was great and love that they are just a little bit different but in same color scheme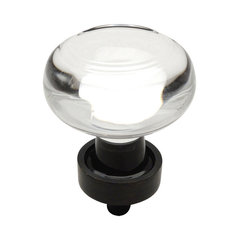 Cosmas 6355ORB Oil Rubbed Bronze and Glass Round Cabinet Knob, Clear Glass
Cabinet and Drawer Knobs
Love the look: Love the look, but the screws were either too short or too long to attach to our cabinets. We had to go buy new screws, which are metric threaded. Once we bought the right size screws it was easy to assemble and looks great!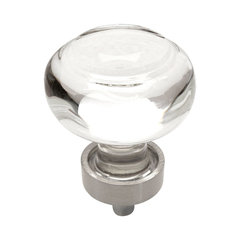 Cosmas 6355SN Satin Nickel and Glass Round Cabinet Knob, Clear Glass
Cabinet and Drawer Knobs
Love the cabinet pulls!: Love the cabinet pulls! The only downside is that they have this little piece that warrants a hole in the cabinet that is bigger than just your typical screw. So each cabinet had to be drilled to hold a larger handle.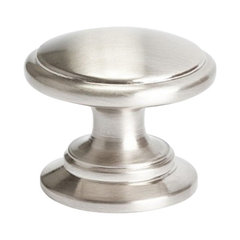 Advantage Plus 5 1-3/16 Inch Diameter Brushed Nickel Cabinet Knob
Cabinet and Drawer Knobs
Nice: Beautiful knobs. Very substantial. The only problem was that the enclosed screws were too short, so I had to make a trip to the hardware store for longer screws before I could put them on my drawers.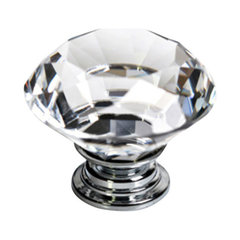 Audrey Drawer Pulls, Set of 8
Cabinet and Drawer Knobs
Beautiful hardware for our master bathroom.: Got more than we expected! This knob is beautiful, heavy and worth every penny. Price was right! Be sure to note that the knob is sold in quantities of 8! Much prettier than the acrylic look a-likes!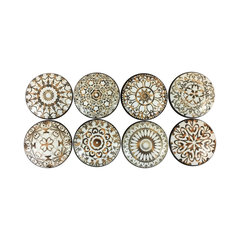 8 Piece Set Gold and White Mandala Cabinet Knobs
Cabinet and Drawer Knobs
Perfect!: These beautifully designed and crafted drawer knobs arrived well packaged and in a timely manner. They are the perfect counterpoint for my vintage 1800's dresser, and bridge the gap between old and new in this transitionally decorated guest room.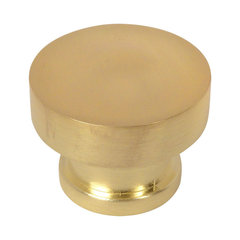 Cosmas 704BB Brushed Brass Round Contemporary Cabinet Knob, Set of 10
Cabinet and Drawer Knobs
The knobs arrived days earlier than expected.: The knobs arrived days earlier than expected. That was great. The knobs were used to replace old and dull kitchen cabinet hardware. The gold tone of the knobs gave the cabinets a needed facelift and also brightened the appearance of the overall kitchen. That was also great. I love it.