1 - 36 of 13,884 products
Sponsored Products
Featured Reviews of Contemporary Patio Furniture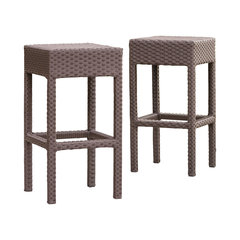 Rudolfo 2-Piece Outdoor Backless Bar Stools
Contemporary Patio Furniture
Great outdoor bar stools: I received the shipment timely and well packaged. The bar stools were just as described and pictured on the website. They feel sturdy and safe for sitting and relaxing. The paperwork with the stools recommended keeping them out of the sun and rain as much as possible in order to preserve their performance.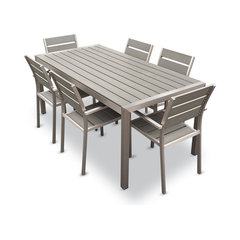 Outdoor Aluminum Resin 7-Piece Dining Table and Chairs Set
Contemporary Patio Furniture
outdoor dining: The set came quickly and seems sturdy. I love that the chairs stack for the off season. There was some damage to a table leg in shipping, but the Houzz customer service was excellent. A new piece is being sent, so the best was made of the situation.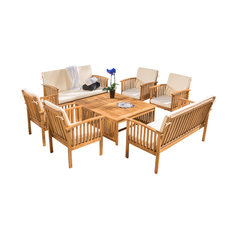 Beckley 8- -Piece Outdoor Wood Sofa Seating 8--Piece Set
Contemporary Patio Furniture
Awesome!!: Absolutely fantastic! I was a bit apprehensive after reading some negative reviews on other sites about this vendor, but my experience was 100% positive. Great Deal Furniture was professional, super fast delivery, and GREAT quality furniture. We ordered the 8 piece and loved it so much we ordered an additional 4 piece set! It arrived in TWO days! Easy to follow instructions and great quality. Will definitely use again!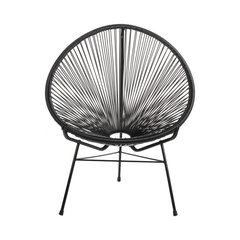 Acapulco Lounge Chair, Indoor and Outdoor, Black
Contemporary Patio Furniture
Great chairs, packing sketchy: The chairs are great and surprisingly vert comfortable. My only complaint is that they arrived in boxes that were part smashed and the chair legs were sticking out through the boxes. Packaging & handling could have been so much better, especially since these chairs are not cheap.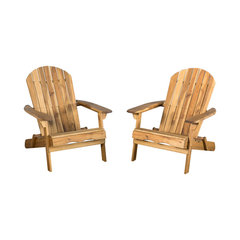 Denise Austin Home Milan Outdoor Folding Adirondack Chair, Set of 2, Brown
Contemporary Patio Furniture
Great chairs at a great price: These chairs are exactly what I was looking for. They were delivered promptly, packaged well, and assembled easily. They are solid, comfortable, and the finish is smooth and attractive. I'm looking forward to enjoying years of outdoor use with them.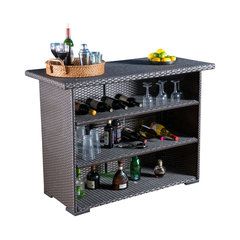 Germar Contemporary Outdoor Dark Brown Polyethylene Bar
Contemporary Patio Furniture
Outside rattan bar: I wrote one review geared to the selling expierence which was excellent so now let me take a moment to review the actual product. It looks exactly like its picture. We set it up on our lanai and filled the shelves. It is extremely well built and not the least bit flimsy...I actually could sit on it, why I would I don't know but I could! My husband and I usually hire someone to put together out furniture that we order on line but this was very easy for the two of us to assemble. I would highly recommend this outside bar.. Enjoy!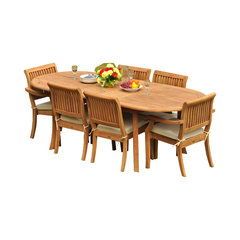 7-Piece Teak Dining Set, 94" Ext Oval, 6 Arbor Stacking Arm/Armless Chairs
Contemporary Patio Furniture
Perfect: Stunning set, well packaged - while taking the chairs out I mentioned that if everything came this well packaged, nothing would ever arrive broken. The teak is just lovely, even my 11 year old kept running her hands over it saying "It's so smooth!" We will be enjoying dinners on the patio this summer!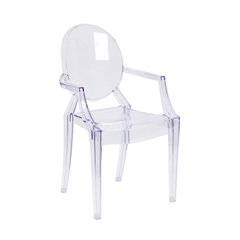 Ghost Chair With Arms In Transparent Crystal
Contemporary Patio Furniture
Good Quality: I ordered this chair because of an idea I had for new dining room and I wanted to inspect the quality vis-a-vis the Kartell "real" thing before I bought a set. I was impressed. It is sturdy and not super chintzy (for a lucite chair). I will probably move forward with buying a set.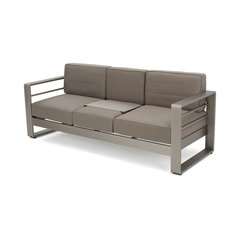 Crested Bay Outdoor Aluminum 3-Seat Khaki Sofa With Tray
Contemporary Patio Furniture
Nice looking: Nice looking. Firm seating that doesn't bottom out like similar couches in the big box stores. A couple of the end pieces were partly crushed but I think it was the shippers fault. We used a crow bar to straighten the ends and it went together nicely.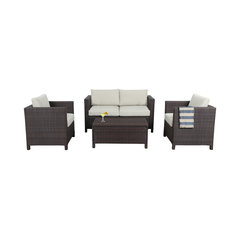 Phoenix Outdoor Wicker Lounge Set With Storage Box, 4-Piece Set
Contemporary Patio Furniture
Cadiz Wicker Outdoor Lounge Set, 4 Pieces: This outdoor set is very stylish. I love the contrast of the dark wicker and the light beige fabric. My favorite part has to be the fact that the table opens up for storage. Would be great to store backyard/deck games or even plastic dinnerware and cups. Every piece is labeled with a letter which makes assembly simple. There are easy instructions for each piece in the set.