Cooktops
If your kitchen is a bit on the small side, a cooktop is the perfect solution for cooking up hot, fresh meals. Cooktops offer lots of flexibility when it comes to placement and customization to fit your cooking needs. Determining the size of the space available and your gas or electric preferences is a great place to start when figuring out the best style for you. Read on to discover some valuable tips before you begin your hunt for the perfect cooktop:


What type of cooktop should I get?

There are many different types of cooktops, including gas, electric, modular, halogen and induction. We've put together a list of pros and cons for each to help you determine which one best fits your cooking lifestyle:
• Gas: A gas cooktop creates quick and controlled heat. While they tend to be more expensive, they can be cheaper to operate. Try to select a model with sealed burners to prevent cooking debris from getting underneath.
• Electric: An electric cooktop comes with either coil, radiant or solid disk heating elements and provides a wide range of heat levels. Coil elements heat up quickly, radiant elements are hidden beneath a glass or ceramic surface, and solid disk elements provide consistent heating by being embedded in a cast-iron burner.
• Modular: This type of cooktop lets you customize it to your needs by providing both gas and electric burners. They're also compatible with custom cooking accessories like woks, griddles and deep fryers.
• Halogen: Featuring a sleek glass or ceramic surface, these cooktops glow when they're turned on to indicate they're ready to get cooking. Their smooth surface makes them easy to clean, plus they cook food quickly.
• Induction: An induction cooktop emits a magnetic field that only heats compatible magnetic cookware. They're very energy efficient, and since the heat is limited to the area that your cookware is resting on, the rest of the heating surface will be cool to the touch. They heat up quickly and clean easy, but you'll pay a little bit more upfront for them.


What size cooktop is best for me?

Cooktops generally range from 30 to 45 inches in width, however the size that's right for you will depend on the size of your family, your cooking needs, and, of course, the size of your available counter space. Be sure to carefully measure the height, width and depth of the area where you want to fit your new appliance before making your final decision.


What features can be added to cooktops?

Avoid the need to install an overhead range hood by installing a built-in downdraft vent, or choose electronic touchpad controls for precise temperature selection. You may want to mix in simmer or high-heat burners for cooking variation. Also consider dual or bridge burner elements, which allow you to heat both small and large cookware depending on your selection.
Sponsored Products
Featured Reviews of Cooktops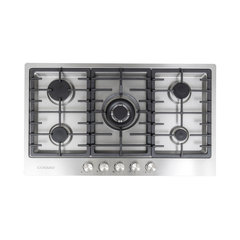 Salcedo Gas Cooktop With 5 Italian-Made Burners
Cooktops
So far so good!: So far so good! We received it in great condition, and it is beautiful!! We are waiting for our renovations to finish up so I haven't use it yet, but it is exactly what I wanted so far!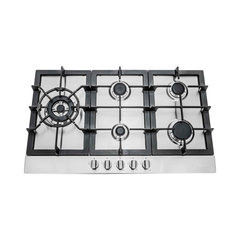 Cooktops
After waiting years for a new cook top I was very pleased with this cooktop: We got ours professionally installed. Knobs are metal not plastic like in my other cooktop which kept snapping. I make pancakes and breakfast every weekend and its held up great. Beware of cheap cooktops which have plastic knobs that eventually melt because of heat. Its been a year and zero problems from the start.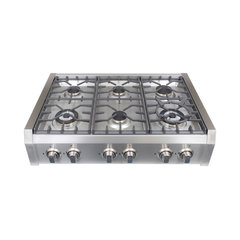 Stockton Gas Cooktop, 36"
Cooktops
So far so good: It arrived just as expected and was fairly simple to install. We like the sleek look and it is easy to use. We debated a more well known model but ultimately liked the look and price of this one the best. It's only been a couple of weeks but we are pleased so far.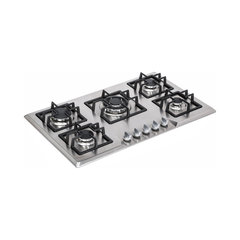 Empava 34" Stainless Steel Built-in 5-Burner Stove Gas Cooktop
Cooktops
Stainless Steel 5-Burner Stove Top: This is a great stove top. It looks good and it works great. We received the product as promised and we had no issues with the order. It was exactly what we expected and the price was good. We would definitely recommend this product.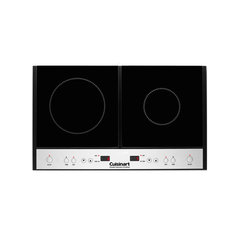 Double Induction Burner for Countertop Use
Cooktops
Great extra burners.: We purchased this unit for use in a makeshift kitchen while we are under renovations. It's my first time using Induction, and I have found this unit easy to use. I had to purchase a couple of new pans for it but once we had the right equipment we were up and running.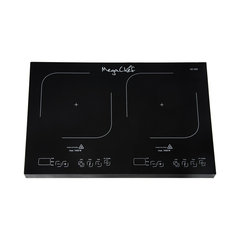 Megachef Portable Dual Induction Cooktop
Cooktops
Fast: Delivery was very fast just a few days. Product was in perfect shape. Found out you must use a metal pan not aluminum. I boiled water set the timer and it auto shut off when time was up... This was my first time using an induction stove top and I am amazed it only heats the pot. Beware the stove top will get hot from using only because the pot or pan is hot. It is suppose to be very energy efficient as it uses magnetic induction that's why you use metalic cookware.