Display and Wall Shelves
Display shelves are both a perfect decorative accessory and a clever storage solution. You can use them to keep your endless book collection in line, showcase your favorite trinkets or even as stand alone decor. Worried about using up precious floor space with a freestanding design? Wall shelves and picture ledges will do the trick and you won't have to part with an inch of floor. As you shop for new display shelves, ask yourself the following questions to help determine which styles and designs will work best in your home.


How do I choose the right shelf for my space?

For most spaces, the location will help you select the right unit to purchase. For example, if you are looking to hang wall shelves in an entryway, units with hooks and cubbies for hanging keys or storing mail would be helpful for eliminating clutter. Make sure to consider the depth of the shelf relative to the room size though. If it's in a narrow or high traffic area, shallower is better — the last thing you need is someone bumping into it! Perhaps you have tight living quarters but would love to show off your treasures or photos? Corner shelves, both freestanding and wall mounted, make great use of otherwise useless corners. Alternatively, make use of the area above your sofa by mounting some decorative shelves to accent your existing furniture.


When is it appropriate to use a floating shelf?

Floating shelves (meaning any hardware or brackets are hidden), aren't designed to hold a lot of weight. So depending on what you want to display, check the weight capacity on the product to make sure it will accommodate your plans. If you want to display framed artwork or classic books for example, a floating shelf with a picture ledge would be best for keeping prints in place. The lip on the front will prevent the frames from sliding off and perfectly angle the art for viewing. For displaying collections, you best option might be wall mounted or freestanding tiered shelves that keep all of your valuables in a single line of vision. Heavier and more substantial objects will likely require strong brackets and quality materials in order to prevent sagging. Remember: it's always a good idea to mount shelving of all kinds on wall studs for safety.


How can I make a wall shelf look decorative?

Shelving with decorative mounting brackets are more rustic and can even border on utilitarian. By exposing the hardware that makes them work, you create more of an industrial and architecturally driven space. Box shelves or cubbies allow you to easily design miniature wall vignettes throughout your home. If looking to create more of an eclectic and collection-driven home, than these designs are perfect solutions. One of the greatest things about wall mounted shelves is that they get your things off the floor and organize them at eye level. Not only do you keep your floors clutter-free, but you are then able to admire all of your acquired and collected precious trinkets at a closer glance.
Sponsored Products
Featured Reviews of Display and Wall Shelves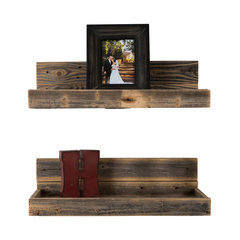 Reclaimed Wood Floating Shelves, Set of 2
Display and Wall Shelves
These products were exactly what I wanted!: When I received the floating shelves and barn wood shelves they had the same look and quality as the photo. I was not disappointed. The refined barn wood shelves are my favorite. They mounted easily as instructed. The floating shelves were fantastic as well, and mounted easily, however they are not as stable and clearly cannot hold much weight without further reinforcement. I still highly recommend them as long as you don't plan on loading them up with stuff. They are just beautiful and I received many compliments on them!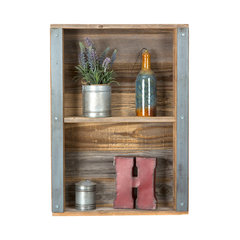 Industrial Reclaimed Wood Wall Shelf, 24"x17.5"
Display and Wall Shelves
Awesome shelf: Shelf is just as it says. It is handmade from actual reclaimed barn wood. We put this shelf in our bathroom and it looks great. Would definitely recommend this shelf for anyone looking for rustic home decor.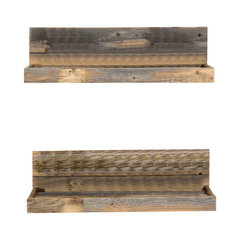 Reclaimed Wood Floating Shelves, Set of 2, Natural
Display and Wall Shelves
rough cut: I did not release how rough this wood was going to be. It works for what I am using this for. Have not hung it yet so I am a little worried about how sturdy it will be. Also, a lot deeper than I than I expected.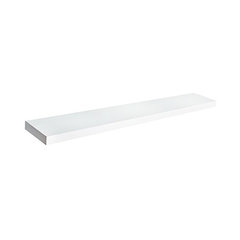 Mission Floating Shelf, White, 60"
Display and Wall Shelves
excellent shelves, just like ikea: wanted to buy ikea white floating shelves for my kitchen, but they don't have the right size. these shelves are just like ikea, same material, but come in different sizes. arrived in time, very easy to install, if you have Electric screwer.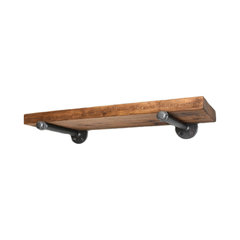 Urban Industrial Rustic Floating Shelf, 36"
Display and Wall Shelves
Great Quality!: These shelves are perfect for that rustic industrial look. Sure, you can actually make them yourself by going to Home Depot or the like but why? It's all ready for you to install without having to hunt down the parts.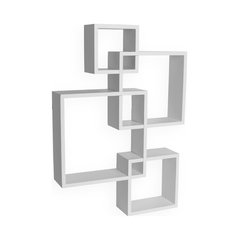 Intersecting Cube Shelves, White
Display and Wall Shelves
Cute Shelves: These are cute, but not a high end quality. I assumed this because of the price, but they are very easy to put together and mount. They even come with a guide for the holes. Be sure to use a level. I bought 2 for my daughters room and they are great for all their weird little toys. Smaller than depicted with a book on it, but still a decent size for accent pieces. Good buy, if you want high end keep shopping.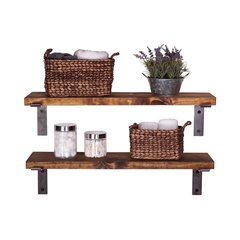 Industrial Shelves With Metal Brackets, Set of 2, Walnut, 36"
Display and Wall Shelves
Open Shelving: These shelves work perfect in my kitchen. Only issue I had was they only sent 1 and had to ship the 2nd one later. Although they sent it right away!! Great looking and serve the purpose.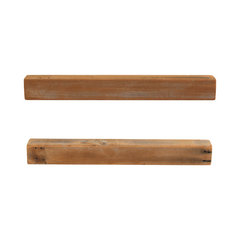 Cedar Floating Shelves, Set of 2
Display and Wall Shelves
Just what we ordered: Exactly what we ordered. Arrived on time and in tact. Came with directions to install and all hardware needed. I like that each piece is unique and real wood, so it has some character. We bought three sets so we could put 3 on each side of our mounted television.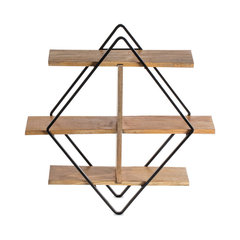 Display and Wall Shelves
Wall Shelf: I bought 2 of these shelves and like the design of them but one of them was not completed properly. There is a gap in the front of the shelf where the wood does not meet up properly.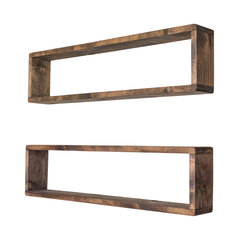 Floating Stackable Box Shelves, Walnut, Stain, Set of 2
Display and Wall Shelves
Love these.: These shelves are awesome. Perfect for the rustic, but not too rustic look. They've been up a week and we've already gotten 2 compliments. Great size for holding small trinkets / plants. There are holes on the back of the shelf to hang from, but these shelves do not come with any hardware. We had screws lying around the house that worked great.