Game Tables
There's no doubt that gaming tables make excellent additions to any rec room. The challenge comes when deciding which one to get. Billiards, ping pong, poker and chess tables are only the beginning — you name it, there's a game table designed specifically for it. To make your decision a little easier, take a minute to evaluate your room and think about which table games you and your family enjoy playing the most.

Since these can be bulky or awkward pieces to fit into your home's layout, consider whether or not you actually have the space for a 10-foot pool table or 12-foot shuffleboard table (and the necessary room to maneuver around them). If not, look for something a little smaller and more manageable, like foosball or air hockey tables. For those that want the casino vibe without the loud noises and crowds, a poker table or card table will surely be a hit with friends and neighbors. If you're lucky enough to excel at more than one of these activities, a multi-game table is the perfect way to crush your unsuspecting opponents at multiple games without ever having to get up.

Browse our game table section to find the products you love.
Sponsored Products
Featured Reviews of Game Tables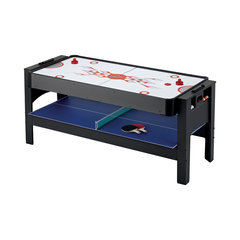 Game Tables
Lots of Fun!: We were so excited to receive the table, we stayed up until midnight on a school night to test it out :) The table is delivered strapped to a wooden pallet - something to consider for those who don't get the 'white glove' service where the delivery guys take the packaging away with them. My delivery guy was lovely but would not bring the item through the front door for fear of scratching my floorboards, so he walked all the way around the block with the pallet on a trolley to get it to our garage (alley entrance). I was worried about damage to the item as the box kept scraping along the cambered road! The packaging was very good, however, and everything seemed in top condition - even with the obvious footprints and dents on the top of the box!! My 17-year-old son took the table from the garage to the upstairs room in pieces and needed my help to relocate the heavy table top. It took him 4.5 hours to put it together with an electric drill and hammer (i didn't watch what he was doing but i did hear him tinkering away!). I love that the table is a smaller size; all the better to hone fine skills! Everything was in excellent condition, no missing pieces and no dead spots that we have noticed! I would order this product again and highly recommend. Hopefully it stands the test of time!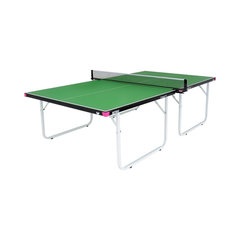 Butterfly Compact 19 Table Tennis Table, Green
Game Tables
Exactly what we were looking for.: We needed a good outdoor table that was easy to maneuver, could fold up tightly, yet was quality for outdoor conditions. We have played outside every day since we got it. The net is easy on easy off.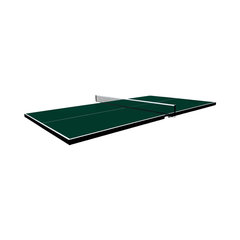 Martin Kilpatrick Pool Table Conversion Top, Green
Game Tables
Solid product; great value; excellent service and shopping/shipping experience: Very substantial (i.e. heavy) materials and solidly constructed. 2 person set up for sure. But very easy to assemble and we were up and playing in less than a half hour. Converting to play pool and back is relatively simple since the table splits easily into 2 pieces. But you'll need ample room to store everything (again...heavy). Also make sure you have some padding/protection for your pool table since there's none built into the underside of the unit. Comes with very thin adhesive pads, which were basically useless. We have leather pockets on the pool table, so in addition to protection, the padding also helped to get everything level. All told very happy from start to finish.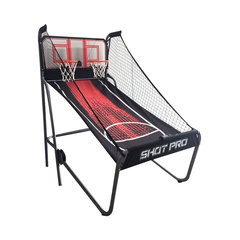 Hathaway Shot Pro Deluxe Electronic Basketball Game
Game Tables
Love it!: We bought this for our church's youth ministry and needed something that will last. It has only been two weeks, but so far so good. The students love it! And score keeping is accurate. The way it holds scores is there is a little lever that is pushed down whenever a ball goes in the hoop. Sometimes the net gets caught on this lever and you need to fix it, but I'm thinking adding little weights to the netting may resolve the issue. The color of the metal frame looked black to me in the photo on Houzz, but it is actually silver in person. I wish it was black, but it still looks good and is better than anything else I found after researching all over the place. Delivery was amazingly quick, just 2-3 days! I was surprised and thrilled! Fabric is sturdy and holds up well. So does netting. Backboard is strong, and it is clear. Putting together took sometime but it was relatively easy. Overall glad I purchased this one. I looked at so many other options.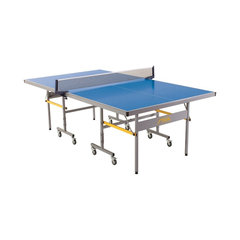 Stiga Outdoor Table Tennis Table, Vapor
Game Tables
Beautiful Table - Easy To Assemble: This is a great product for the money. Everything was as expected. Arrived on time and was easy to assemble. The castors make it easy to move. Net support is plastic and I'm wondering how long it will last, but the table itself is well-built and soild.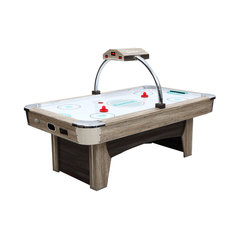 Beachcomber 84" Air Hockey Table By Harvil
Game Tables
Great Beginner Table: Great starter table for the price. Overall quality is good. My kids really like that it keeps score and the countdown timer option. The only negative so far is that the corner are not made with the same material as the sides, so when the puck hits the corners it tends die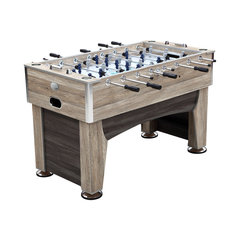 Beachcomber 56" Foosball Table By Harvil
Game Tables
Super-attractive, high-quality table but a pain to set-up: You get what you pay for. This is a seriously beautiful, quality table at a very reasonable cost. The rub is in the set-up - this thing is a beast to put together.. It took two engineers with lots of patience and problem-solving skills about four hours to accomplish it. Once together though, we were thrilled. It's lovely (for a foosball table!) and appears to be great quality. It's been in constant use since Christmas and is holding up great. A huge hit for us that I'd highly recommend to anyone willing to put the time into the set-up.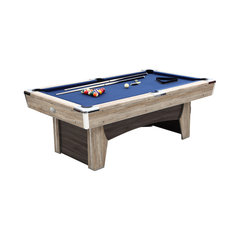 Beachcomber 84" Pool Table By Harvil
Game Tables
Great Pool Table: We are extremely happy with our pool table. It was delivered on time. The freight company called a few days before to set up a time to be delivered. The packaging was awesome with no damage. It was easy to assemble. We were able to lift it with 2 adults. We have had lots of compliments on the blue felt and the base of the table. We did buy heavier cue sticks.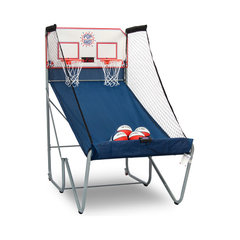 Pop-A-Shot Home Dual Shot Arcade Basketball Game
Game Tables
Great Quality, Came Early: This is a great game for both parents and kids to play. They will challenge each other non-stop, and it's good quality. Took a while to put together, as come parts are awkward to tighten, but nothing the average person can't handle. Instructions were pretty good, but we ended up having to switch the #6 and #10 bars as they are numbered in order to make them fit. Fitting the canvas onto the structure is a little confusing as well. Otherwise, no issues. Would order again in a heartbeat.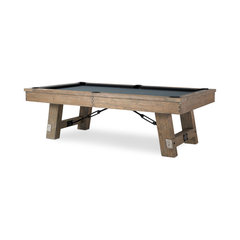 Isaac Pool Table With Accessories, 8'
Game Tables
We're very happy with our customer order from Sawyer Twain.: We're very happy with our customer order from Sawyer Twain. We've received several compliments and is definitely a feature piece in our home! We will definitely refer them in the future!