Decorative Objects and Figurines
You can add unique visual interest and a bit of character to any room with decorative objects and figurines. Their three dimensional and often small size make them ideal to tuck into nooks and crannies, or for displaying as solo statement pieces. If you frequently entertain guests, consider adding decorative objects that are of interest to you around the house for a great conversation starter. While this type of decor isn't exactly functional, it can do wonders towards creating an inviting and personality-filled home. With an overwhelming amount of styles and designs available, choosing the right ones can be daunting. Stick to the following tips and you'll be using decorative letters, vase fillers and figurines like a pro in no time.


What are my decorative object options?

If you name if, there's a piece of decor to represent it. It's not hard to find a figurine that resembles a dragon, elephant or any other creature (mythical or real) you can think of. Animals aren't your thing? There are plenty of other figures, including the ever popular porcelain angels or Buddha statues, to suit your fancy. If you happen to be big on typography, you're in luck: metal and wooden letters are made in pretty much every size and color imaginable. For those looking for something less literal, abstract shapes in unique finishes are always great eye candy, and decorative balls in various patterns make for excellent bowl and vase fillers. No matter what style speaks to you, don't be afraid to rotate and swap your trinkets and curiosities. Unlike furniture or wall decor, they can be moved and stored fairly easily, so you don't have to commit each one to a long term spot.


Where can I use decorative objects in my home?

That's the beauty of this kind of decor — you can use it anywhere! Spice up your boring old bookcases by interspersing your collectibles and statuettes among novels. Decorate your hearth or mantel with wooden and metal letters that spell out family names or inspiring words. Dust off clear vases and interesting bowls and fill them decorative balls. Line an empty windowsill with delicate fairy or angel figurines. Pretty much any flat surface, like shelves and coffee tables, can be livened up with a simple piece of eye-catching decor. While it is okay to have a variety of decorative objects around your home, be careful not to overdo it; too many knickknacks can start to look kitschy and cluttered. Aim for the carefully curated look instead.
1 - 36 of 38,146 products
Sponsored Products
Featured Reviews of Decorative Objects and Figurines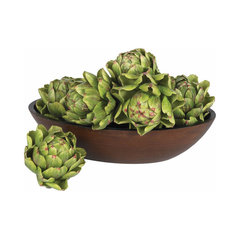 Dornoch 6-Piece Faux Artichoke Set
Decorative Objects and Figurines
Beautiful and large!: I got my order really quick and was so pleased after opening the package. These are a beautiful color and much larger than I expected. If you are looking for realistic artichokes this one is a winner for sure!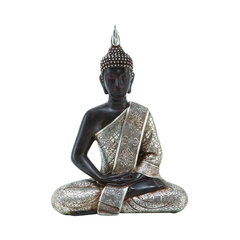 Meditating Buddha Peace Harmony Statue Black Silver Garden Decor 44127
Decorative Objects and Figurines
Elegant & Detailed: This statue sits in my kitchen glass shelf cabinet. It looks great when I add the overhead lighting. The black paint job is not even, so if you are going to be looking closely at it, you won't be happy with it. The silvertone gown is highly detailed as is the crown/hat. It is as represented in the description.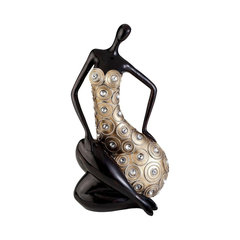 Decorative Objects and Figurines
Absolutely Divine: This statue is so pretty. The silver/crystal-like faux gemstones are so elegant and tap into our silver bedroom decor. The package was very well packed and it arrived quickly. This pretty lady is noticed the minute you walk into the room. I would highly recommend this special piece to others.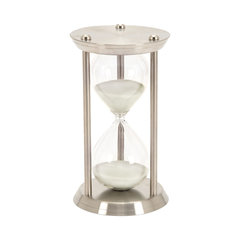 Minstrel 60-Minute Hourglass Timer
Decorative Objects and Figurines
Cool industrial piece!: This metal hourglass has an industrial vibe with a modern finish which goes well in my room with black industrial lights and a white metal shelf. It's very pretty unlike some industrial accessories that are harder and more masculine. Love it!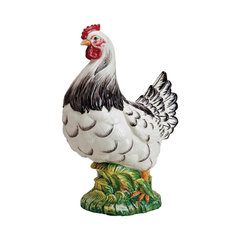 Kaldun and Bogle Home Decor Provence Rooster Hen Figurine
Decorative Objects and Figurines
Granny's kitchen: Love this hen, bought with the Rooster, and both arrived promptly and were packaged well. She loves being at home in my kitchen! The quality and workmanship on both the hen and Rooster are outstanding!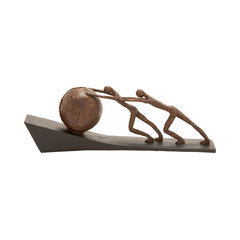 Decorative Objects and Figurines
unusual but great: I had to have this after seeing it on Houzz. It is sitting in the middle of my coffee table. This arrived very fast and was really well wrapped. It was double boxed and had even more wrapping. No danger of it breaking. I was surprised at the speed this item arrived also. I just discovered that houzz sold items and I will definitely be back for more. This is a great place to buy. Thank you houzz.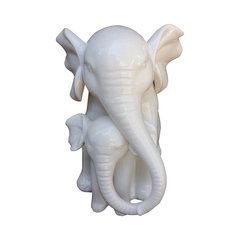 Porcelain Mother and Baby Elephant Statue, White
Decorative Objects and Figurines
Great Piece: This is one of the most beautiful white porcelain pieces I've seen. I am so pleased and I an looking forward to my next purchase. Keep up the good work! Loved the price also.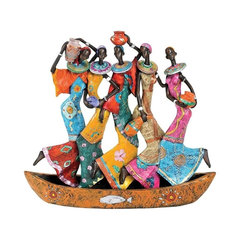 Maiden Water Carriers of Ghana Sculpture
Decorative Objects and Figurines
Love it!: This is such a fun piece. I will smile every time I see it on my mantle. It was a little heavier than I expected (I didn't read the specifications), and the colors were a bit more subdued than the photo on my computer (but those things vary, and it goes better with my decor than the brighter colors on the computer would have).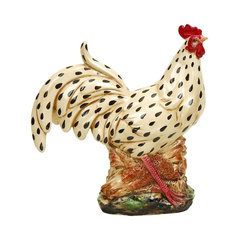 Country Style Ceramic Speckled Rooster Brown Red Green Kitchen Decor
Decorative Objects and Figurines
Coming home to roost: I love my rooster . it is perfect size. I looked at rooster with lots of color and I truly thought that was what I was looking for, but I saw this handsome guy. He is better suited to place in front of my bread and wine picture. The paint is beautifully done,more cream then white. He is so well made, and so well packed. I would recommend this to any one. He fits in anywhere . I bought a different one from amazon, for my daughter, who wants a colorful rooster for her kitchen. I may have to send it back. It was smaller, not as nice. When she see this ,I know she will want him. But No Way. Love it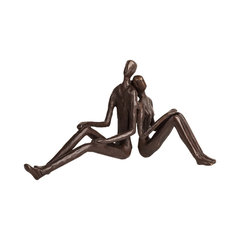 Danya B Romantic Couple Bronze Sculpture
Decorative Objects and Figurines
a nice scupture piece: This art piece came in the time stated. The picture of the piece which evoked love and caring is just that. I caringly took it out of it's box and placed it on a shelf. I smile when I look at it. It picks up a simply overlooked mood and it like captured in time. It's a really nice piece.