Mailboxes
Nothing comes as close to finding a batch of presents under the tree than discovering a mailbox full of letters and packages. While securing your mail is important, it's also necessary to select a postbox that melds with your home's exterior decor and has decorative appeal of its own. While browsing through mailboxes, be sure to consider the following tips:


Is there anything I should consider before installing a new mailbox?

Not only should you keep in mind your own personal preferences when choosing your new letter box, you should also look for one stamped with the United States Postal Service postmaster general's seal of approval. If you're installing a new postbox or if you're moving mailbox locations, it's also recommended that you contact your local postmaster for approval before installation.


What postbox styles are available?

When choosing the kind of letter box you'll be adding to your home, consider how much mail you generally receive as well as your aesthetic preferences. In general, you can choose from the following styles:
• Post mounts: This style is ideal for curbside mailboxes. The box sits atop a post that's installed in the ground, and there are dozens of sizes, colors and styles of this design to choose from.
• Wall mounts: Wall-mount mailboxes are often installed near the front door or beside a gate. They're available in a range of sizes and styles.
• Freestanding: This design doesn't require any poles to be set into the ground. Featuring decorative casings, they can be extremely customizable.
• Mail slot: This style isn't a true box; it allows mail to be delivered straight into your home via a slot in your front door.


Where should I install my letter box?

The U.S. Postal Service has specific recommendations for placement of your mailbox. Be sure to follow these guidelines to ensure that your postmaster will be able to safely deliver your letters and goodies.
• Curbside: You'll want to position your box about 40 to 45 inches off the ground and approximately 6 to 8 inches back from the curb. This will allow your delivery person to drop your mail inside without leaving the truck.
• Wall mounted: If you're mounting your postbox to your wall or fence, make sure your mail carrier will have easy access to it from your steps, porch or sidewalk. Your box should be about 4 feet from the ground so your mail carrier doesn't have to stretch or bend over to place mail inside.
• Mail slot: If you prefer to install a mail slot, look for one with an opening that's at least 1½ inches high and 7 inches long. Be sure the bottom of your slot is at least 30 inches above the ground and that the slot has a hood that doesn't extend past the bottom or side of the plate. The flap should be hinged at the top for horizontal slots, and vertical slots should include a hinge on the side opposite your front door's hinges.


What additional features can I add to my mailbox?

To avoid your mail's being tampered with, you might consider adding a lock to your postbox. Mailboxes also come in extra-large sizes to allow for more space, and some designs even open in the front or back for easier access. Many also come with decorative scrollwork and designs, plus built-in extras like planters and newspaper holders.
Featured Reviews of Mailboxes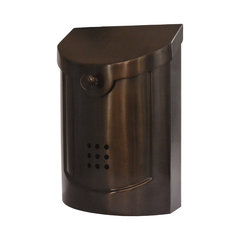 E5 Mailbox, Bronze Finish
Mailboxes
It's Perfect: Received my mailbox much sooner than expected. It was beautifully packaged and just what I wanted. The mailbox is installed and looks great next to my new storm door. I have had neighbors stop to comment about how beautiful it is.......including our mail carrier.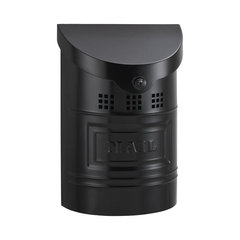 Mailboxes
So great: I couldn't be more pleased with this purchase!! The mailbox looks the same as is pictures but is also of a very excellent quality/solid construction. The pod opens and closes so smoothly and quietly. Love it!!!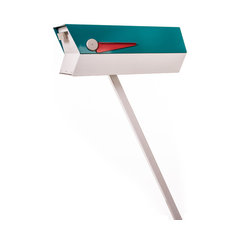 Jetson Mailbox, Turquoise and White
Mailboxes
Beautiful: Beautiful, great size mailbox. No one in our neighborhood will have one like ours. It truly brings a Mid-Century look to the house. Great quality and the price is better here at HOUZZ than other websites. The color hue does not match our exterior painting, its more "taupe" than a grey color so we are exchanging it to plain white.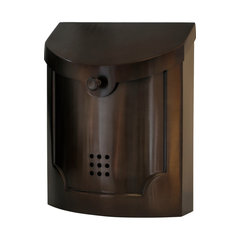 Mailboxes
Great Looking Mailbox: This mailbox is very cool looking. The colors are great and it is a solid piece. I was nervous that the size would be too small but it isn't. It is going to look great on my historic row house.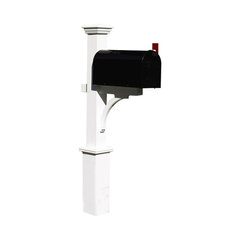 Canterbury Mailbox Post by Lazy Hill Farm Designs
Mailboxes
Looks great - easy to install: After years with a generic, big box home improvement store mail post. We decided to upgrade. After searching multiple options we found the Lazy Hill Farm Canterbury unit on Houzz. The price was right, the ordering and shipping was excellent. Just finished installing this well made mailbox post. The quality of the post is great and adds wonderful curb appeal to our house. Once spring finally shows up we will add some flowers at the base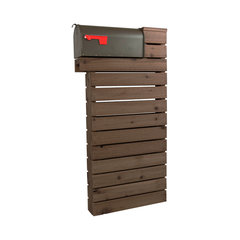 Modern Mailbox - Dark Walnut, Dark Bronze Numbers, Dark Bronze Mailbox
Mailboxes
Best looking, best quality: I fell in love with this mailbox the moment I saw it. Not only does it look good, but it is quality built. I know that it will withstand our harsh winter weather. The mailbox was safely packaged and arrived in pristine condition. Inside the box was the mailbox base and the mailbox itself with our house numbers inside of it. Screwing on the mailbox and the house numbers were so easy. The house numbers packaging can be used as a template to ensure it is aligned properly. Be sure not to use a regular steel hammer as it will dent the posts and prevent the base from fitting on. I am so happy every time that I walk out to get the mail because I get to look at the best looking mailbox in the neighborhood at the end of my driveway.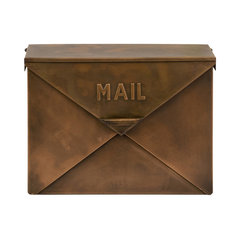 Exclusive Copper Finish Mail Box
Mailboxes
NICE PRODUCT: This is a VERY nice product & we are looking forward to getting it put in our tack room & having our boarders who keep their horses with us, put their payment in their & it will get used for other things. LOVE the color & it will look fantastic next to one of our western art work.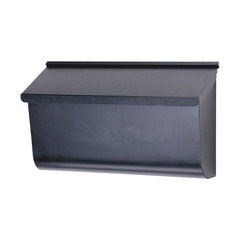 Gibraltar Mailboxes Woodlands Medium Capacity Galvanized Steel Black, Wall-Mount
Mailboxes
Replacement: We bought this box b/c it was exactly what we had before the old one rusted, causing the lid to not close properly..........but that took 10 (or more) years. This box is large enough for all your junk mail AND the stuff that's important. Two screw installation. A sloped lid to shed rain & holes in the bottom for drainage in case someone leaves the lid open.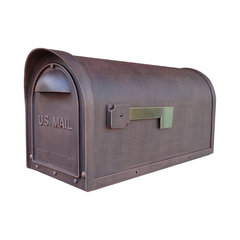 Classic Curbside Mailbox, Copper
Mailboxes
This attractive mailbox is a great finishing touch to our new driveway.: This attractive mailbox is a great finishing touch to our new driveway. We purchased one for ourselves and one for our neighbor. They love it as well. Very sturdy and a large enough interior to fit smaller packages.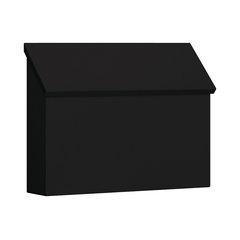 Traditional Mailbox, Standard, Horizontal Style, Black
Mailboxes
sturdy: This mailbox is just what we were looking for. Very sturdy. Can be mounted with or without the newspaper holder hooks. Large enough to hold magazines and small packages. Can't wait to get it on the front of our house!