Outdoor Fountains and Ponds
The soft trickle of a fountain can add a sense of allure and relaxation to almost any backyard. Water features like ponds and fountains create perfect focal points and add a layer of interest. They also provide a natural waypoint or habitat for creatures like birds and fish, which can provide hours of entertainment as you watch them frolic and play. If your outdoor area is just begging for a water feature, here are a few important tips to consider:


What types of outdoor water fountains are there?

You might be surprised by the number of different styles you can choose from when it comes to fountains. When browsing, keep in mind where you want to place your fountain and the amount of space you have available.
• Tiered: Perhaps the epitome of elegance, a tiered design typically features two to three levels that water flows down from. They're perfect for adding a sense of height and depth to your backyard area.
• Tabletop: If you lack a spacious backyard or would like to decorate an outdoor dining area, a tabletop style works great. The beautiful thing about a tabletop fountain is it can incorporate several of the other styles, including tiered and urn designs.
• Urn: The urn design features a bowl-like vessel that water flows into. They should be placed on a level area, and look great next to a path or at the edge of a patio.
• Wall: If you don't have much outdoor space or want to decorate your vertical surfaces, a wall design will fit snugly into a slim space. Just be sure it's mounted securely so you can enjoy the ambiance without worrying about your fountain taking a plunge.
• Spitter: Though their name may sound a bit odd, spitter styles can be fun and add movement to a garden pond or backyard. They feature a decorative element that shoots water into another reservoir.


What features can garden fountains come with?

When searching for your new fountain, keep in mind a design that's easy to take apart will be easier to clean. That said, there are a few other options a fountain can have that may appeal to you:
• Power source: While some designs may require a few batteries or need to be plugged in, others are solar-powered. If you do choose a style with a power cord, be sure it doesn't cross walkways or paths and won't become a tripping hazard.
• Flow control: If you want the ability to change the sound of your fountain, look for a design with a flow control. This will allow you to speed up or slow down the flow.
• Lights: You can create ethereal nighttime ambiance with an illuminated design. Some automatically turn on when it gets dark, while others have a switch to let you control when the lights are on or off.
• Fog: You can create an even more mesmerizing ambience with a fogging feature. This element turns a portion of the water into fog, which can drift lazily around your garden. Imagine pairing this with some lights!


What should I know about adding a garden pond?

Garden ponds can add a touch of whimsy to your backyard. Many come in preformed styles that make them easy to install, however there are still some tips you'll want to know beforehand:
• Avoid placing your new garden pond in an area that's always wet.
• Nearby trees may shed leaves that can contaminate ponds, so it's best to place them in open areas.
• Check with your city to determine where power cords and pipes are before you dig.
• Choose an area that's level and receives sunlight for at least half of the day.
• Make sure you have a circuit breaker or Ground Fault Interrupter (GFI) installed.
• Have a pump and filter installed as well. It's advised that your pump circulates the water in your garden pond at least once every two hours.


How do you add plants and fish to garden ponds?

Koi ponds are delightful as they provide additional color, movement and, of course, entertainment thanks to these large carp that originated from Japan. Plants can help enhance ponds and blend them into your landscape design. If you plan on adding any kind of fish or plants to your garden pond, keep these tips in mind:

Creating elegant koi ponds:
• Treat your fish carefully and try to limit handling and transportation as much as possible to avoid stressing them out. A soft net is recommended if you need to handle them.
• Start with a small number of fish to begin with since large amounts of waste can be toxic. Besides, a healthy habitat will often produce surprises in the form of baby fish!
• Introduce your new fish slowly. It's best to do this by floating the bag they're in on top of the pond's surface for about 20 minutes to let them grow accustomed to the temperature.
• Add aquatic plants to offer shade and places to hide from predators.

Decorating your garden pond with plants:
• Decide what types of plants best fit your pond:
Submerged plants grow underwater and transform carbon dioxide into oxygen. They also provide great hiding places for fish.
Marginal or bog plants, such as cattails, are colorful and prefer to grow around the edges of your pond. They extract nutrients that are detrimental to your aquatic environment.
Deep water emergent plants, like lilies, grow their roots deep underwater and spread leaves and flowers on the water's surface. They provide shade and cover for your fish and other inhabitants.
Floating plants, including water hyacinths, sit on the surface and dangle their roots below. They help improve the water's clarity and provide shade and cover for fish.
• Use specially made planting baskets to plant submerged and emergent plants.
• After packing planting media around the roots, top it with pebbles or gravel to help plants blend in.
• Look for plant species that are local to your area and can withstand any temperature fluctuations you may experience.
Sponsored Products
Featured Reviews of Outdoor Fountains and Ponds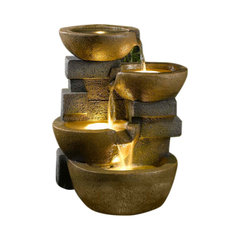 Jeco Inc Pots Water Fountain With Led Light
Outdoor Fountains and Ponds
Music to your ears!: Fill this thing full to overflowing and sit back and relax. Let the bubbly music soothe your cares away ... The LED lights look beautiful at night and give the rocks color and definition. I really do love this fountain! It takes my backyard siestas to a whole new level of relaxation.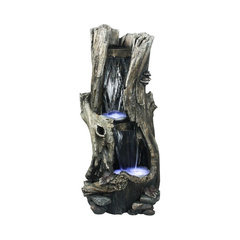 Rain Forest Waterfall Edition With LED Lights
Outdoor Fountains and Ponds
Very nice waterfall: So far so good as I have only had this for less than a week. The one thing that I feel needs to be redesigned is the LED lighting which uses a separate plug to use. I truly did not buy this waterfall for the lights, but instead am using it in my aviary and thought my birds would love it. I do think the sound is very soothing. We attached a boing which is a coil sort of bungee since our birds have had their wings clipped for their safety. We mounted all the cords underneath and set this up on a milk crate so the plugs will be out of their reach. We covered the cords with a plastic sheath so if they decide to chew it won't electrocute them! Heaven forbid! We cannot use a solar powered water feature because we have Jasmine growing and there is not enough sun to power one like that. So now every time we power it up the lights come on and then when we unplug it the lights are off for the evening. Really senseless. I may just unplug the lights altogether.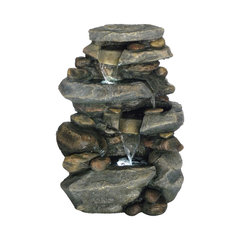 LED Lighted Waterfall Fountain with Pump by Pure Garden
Outdoor Fountains and Ponds
Satisfaction: We were looking for a nice fountain for our yard. This one absolutely fills the bill. The sound from the waterfall is comforting and the LEDs make a late night porch swing even more relaxing. Thank you very much! Would send pic, but we are in the middle of landscaping our little yard so it would not do it justice.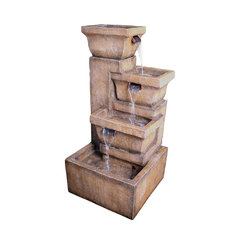 Outdoor Fountains and Ponds
Strong water flow!: This is a very nice fountain with strong water flow unlike other fountains I have seen that trickle. This has a very nice sound when sitting on the patio. Very pleased with it lighting up as well.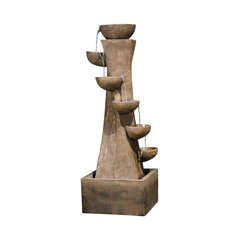 Portofino Outdoor Fountain
Outdoor Fountains and Ponds
Great fountain!: We looked at a lot of outdoor fountains before settling on this one. This is perfect for our needs, especially for the price! We live near a busy street and I wanted to hear water flowing rather than just traffic noise. The multiple levels of this fountain allow for a really nice "fountainy" sound, and while we still hear all that traffic, the fountain sound offers a nice distraction from it. The only reason I gave 4 stars instead of 5 is that we haven't been able to adjust the water flow perfectly to avoid a little water from splashing out onto the deck floor.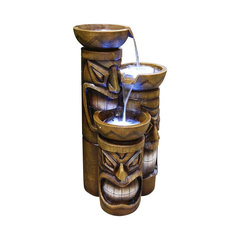 Alpine Tiki Three Bowl Cascading Fountain With LED light, 29" Tall
Outdoor Fountains and Ponds
Tiki Fountain: The overall theme of the interior decor of the house that I am buying is " tropical ". I when I purchased the Tiki Fountain, I was not certain if I would put it indoor or outdoors ... I just liked it !! Since then, it has been located in my " zen reading " room. Both it appearance and the water sound, make a comfortable environment.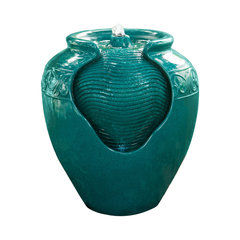 Peaktop Outdoor Glazed Pot Floor Fountain With LED Light, Teal
Outdoor Fountains and Ponds
Loving it!: The fountain adds a tranquil and colorful touch to my otherwise bland front entryway. The color is very nice, sound pleasing, and the LED lights a delight in the evening. I purchased a timer with a remote control. Now I can turn it on or off from the inside, making it all the more enjoyable.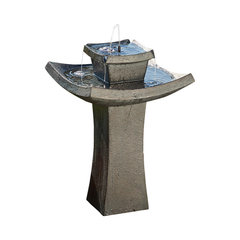 Mahayana 2-Tier Solar-On-Demand Fountain
Outdoor Fountains and Ponds
Solar fountain: We LOVE it. It arrived practically before I ordered it. We assembled it, let it soak up the sun for a couple of days, and now enjoy the babbling sounds of the dancing water. It is just perfect for our patio.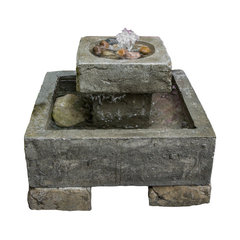 Outdoor Fountains and Ponds
understated simplicity: We wanted a small footprint, something understated for the front landscaping at our SC barrier island home. Generally, this fits the bill and we are satisfied. If it also came with lighting (as an option?) we might have paid more, but as it is it is functional, cost effective, and provides the sound and appearance of a fountain with the understated simplicity we wanted. A built in timer would have also been useful, as we try to turn it off during the night. This came in two packages, but a couple of days apart, so that I had the popcorn packing all over, only to discover that the stones under the base were not available until the second package arrived. So far, it works well and I had it unpacked and installed in less than an hour.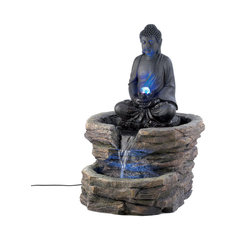 Outdoor Fountains and Ponds
The price was reasonable. easy.: The price was reasonable. The shipping was free which was great. The Buddha Water fountain arrived in the time frame promised. Item came intact and the instructions for set up was very easy.