Sponsored Products
Featured Reviews of Shower Panels and Columns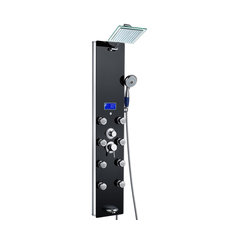 AKDY Aluminum Shower Panel Tower With Rainfall Shower Head, 52", Black
Shower Panels and Columns
Shower tower: I'm remodeling my bathroom and saw this shower tower. I was excited when I opened the bix. It was so much prettier than the pictures. If I had another shower I would buy another. Very well made, great price.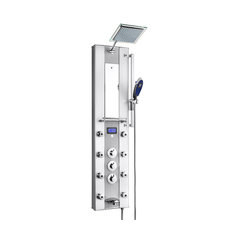 AKDY Thermostatic Aluminum Shower Panel Tower With Rainfall Shower Head, 52"
Shower Panels and Columns
The tower looks great and works ok, but ...: The first tower that I received had a broken knob. I reported it to Houzz and took a photo and they replaced it no questions ask--great customer service. They actually sent the replacement unit before they even received the broken unit back, so that I my install wouldn't be delayed any further. But here is my issue: The bottom knob is a temperature control knob and I have it turned to the warmest setting possible, but the water is freezing. Its still coming thru the same piping from the same source, but the water is at least 15 degrees colder. Not sure how to fix that or can't understand why it's happening. Would really appreciate any assistance or guidance. So currently a 4 star rating, but it will become a 5 star if I can resolve this issue.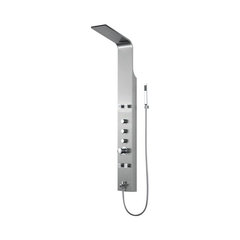 BOANN Stainless Steel Rainfall Shower Panel System With 4 Adjustable Jets/Hand
Shower Panels and Columns
Shower Panel: Point to note that it is very long so make sure to measure your shower. Plumber advises its easier to install, but jokes you may need an operations manual to use as it has many sources of water. It look amazing in the shower. A real statement piece!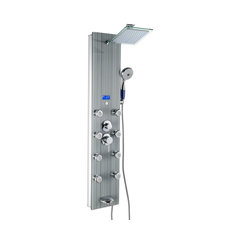 AKDY AK-787392F 51" Tempered Glass Shower Panel Tower With Rainfall Shower Head
Shower Panels and Columns
Best shower head i have ever had: I bought 2 for my bathroom remodeling. The one in the hallway bathroom also works for the bathtub. I really enjoys this fancy shower spa. It's the best shower head i have ever had. And the contractor says it's easy to install :)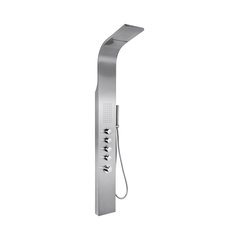 AKDY 63" Shower Tower Panel Spa Rainfall Style Waterfall Thermostatic Handheld
Shower Panels and Columns
I am in love with this product!: I have been using my new shower for 2 weeks. I like the way it looks, but most important is I am in love with the shower features and water pressure it delivers. It feels like I am using a shower in a five star resort or luxury spa. I stay in the shower till I drain all hot water.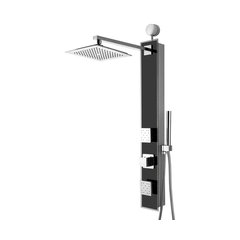 35" Tempered Glass Easy Connect Rainfall Style Shower Panel Tower System
Shower Panels and Columns
Amazing Price!!!: Wonderful value! Everyone that's seen it wants one; not to mention thinks I spent 2/3 times the price I actually paid. Installation is simpler than a standard mixer combination kit. I'm so pleased I intend to purchase 10 more for the Townhouse complex I own. True bang for your buck!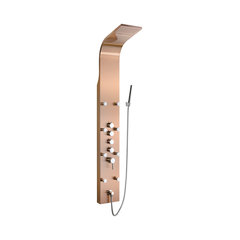 Stainless Steel System Spa Rainfall Waterfall Bronze Finish Shower Tower Panel
Shower Panels and Columns
Ultra modern/contemporary: This shower panel is in the pool bath and it is a show-stopper. EVERYONE comments on it. Easy to install - just make sure you ready the plumbing schematics carefully so your hookups are ready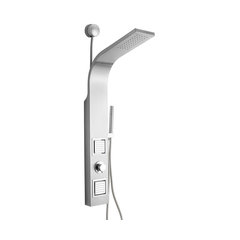 AKDY 39" Stainless Steel Rainfall Shower Panel Tower With Easy Connect AG-Z9000
Shower Panels and Columns
Great but not complete: It is a beautiful and functional I love it. Unfortunately there is a cover piece missing from the top and need to make sure one buys the additional know for turning the water on and off. It is a great design they need to make sure they send it complete without the missing cover.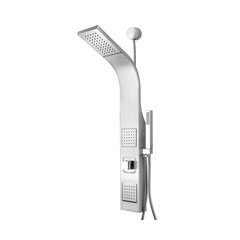 Golden Vantage 39" Dual Style Wall Mount Stainless Steel Shower Panel System
Shower Panels and Columns
Still getting used to it: Replaced a very old shower fixture which had one speed/flow. I love the modern look and water action of this shower system, except for the wand. Wish it had a stop control on the wand as it hits me right in the face if I forget to unseat the wand before I turn the control knob. I'm sure as I acclimate to the newness, this will become much less a problem. Nice fixture.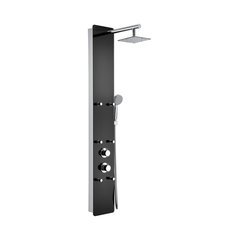 ANZZI Melody 59 in. 6-Jetted Heavy Rain Shower Panel and Spray Wand
Shower Panels and Columns
Stoked to have it in my bathroom: It currently runs a price reduction promo, which I took advantage of. I've always wanted a shower panel but thought they are too pricey. With the price reduction, it was reasonable to replace a shower head with an ANZZI Melody panel. It's gorgeous in person. I don't have a fancy bathroom, but this panel made it look attractive. The unit arrived ready for the installation. All we needed to do was attach it to the hot&cold water pipes. I'm so stoked to be have it in my bathroom!