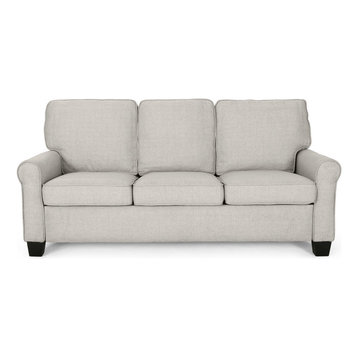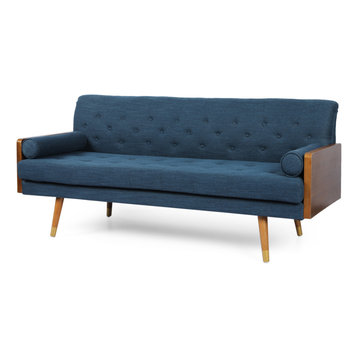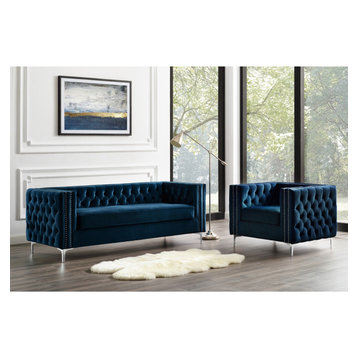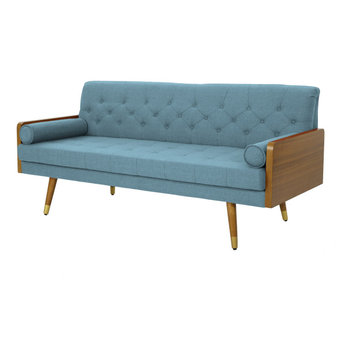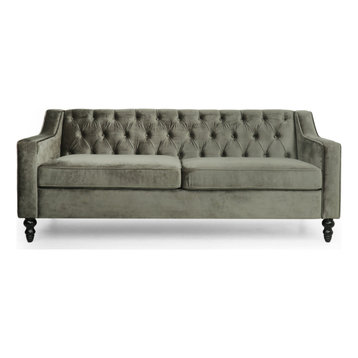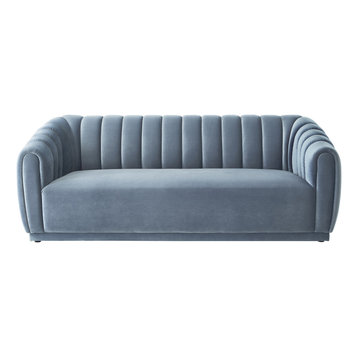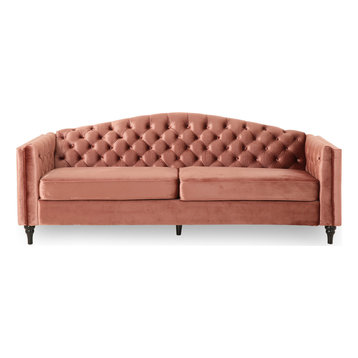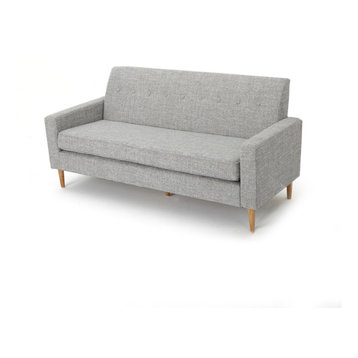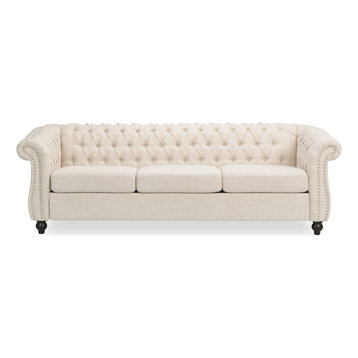 When it's time for a new couch, take your time to nail down the details — it will be worth it when it's still treating you right in five years. With such a wide variety of sofas and couches for sale, it's easy to find the perfect one to complement your home's style. Whether you're on the hunt for a
modern sofa
or a something more
midcentury
, take a look at these handy tips to select the right sofa for you.
What are my upholstery options for sofas?
With the huge selection of fabrics and materials available for sofas and couches these days, it's easy to get overwhelmed. You want both style and function, but do those exist in one couch? Absolutely. You'll just need to narrow down the choices that make the most sense for your situation. For example, if you have pets and/or children, you'll definitely want to choose an option that wears well. Consider a microfiber couch or even the sleek look of a
leather sofa
if your little ones or furry friends will be joining you. Both are easy to clean and leather especially will hold up well over time.
Slipcovers
are also very practical and relatively inexpensive to replace when needed. If practicality is less important than appearance, you have a little more freedom with the upholstery material you choose. Try tufted velvet for a formal living room, or go bold with a
white linen sofa
for an airy feel. When it comes to color, you can't go wrong with a
neutral gray sofa
, but if you're looking for a bit of color blue couches blend well with most styles too.
Is the construction of the sofa important?
Yes! Although you typically can't see parts such as the frame, they are arguably the most important aspect of a good quality sofa. Here's what to keep an eye out for as you shop:
Frame: The best sofas have kiln-dried wood frames, a process which removes the moisture so that the wood is less likely to warp or crack over time. This means no broken couch for you! Cheaper sofas can have plywood frames, which can be fine but won't hold up as long and are more prone to cracking. Steel frames can be a sturdy option, but are prone to changes in humidity that can cause things like rust and deterioration. Also, be on the lookout for glue-and-dowel frames; they hold up better than nails and staples.



Cushions: If you want your sofa to stay as comfortable as it is the first time you sit on it, pay attention to how the cushions are made. For the longest lasting cushions, look for ones that have both springs and filling. These will contain springs wrapped in foam and other filling, like a down topper. While all-foam or down-filled cushions are great options and will feel luxurious in the beginning, know that they can flatten over time and need to be replaced or restuffed.



Suspension: There are two main types of spring suspension systems that help support you while sitting on your couch. The first is sinuous spring, which uses continuous s-shaped coils that are attached to the frame and make for a sag-free experience. The second, eight-way hand tied, is a more labor intensive process that some say yield a better quality couch. This method provides a more flexible, but still supportive, sitting experience. So if you like a little give in your seat and don't mind a higher price tag, eight-way hand tied sofas would be the way to go.
What size sofa do I need?
The size of your couch depends on the amount of space you have and how many people you want to accommodate. Most importantly, be sure your new furniture doesn't overwhelm your space — the last thing you want is to sink into your new cushions and find that your knees are bumping into your coffee table or you can barely squeeze by to get to the kitchen. Before you make your final purchase, measure out and mark the dimensions of your possible new sofas with masking tape or other markers. This will help you visualize how you and your new couch will get along (or not!). Here are some other tips to make sure your space is just right:
Your couch and coffee table: You'll want to leave about 18 inches between the coffee table and the edge of your sofa. This much space is far enough that you'll have ample legroom, but close enough that you can reach anything you set down on the coffee table without straining. Don't forget about vertical space! The height of your sofa seats should be within four inches of the top of the coffee table. If you can't part with your current coffee table, make sure the sofas you are eyeing will play nicely. Learn more about finding the right size coffee table.


End tables: If you choose to add a pair of end tables to your living room setup, ideally they should be about the same height as the arm of your couch.


Your couch and the TV: No one wants to strain to see what's on the screen, but having too small a distance between your comfy sofa and the tube is bad for you, too. If possible, place about seven feet between the big screen and your seating for optimal viewing pleasure.
Find where to buy Sofas and get inspired with our curated ideas for Sofas to find the perfect item for every room in your home. With such a wide selection of Sofas for sale, from brands like Tandem Arbor, Apt2B, and Maria Yee Inc, you're sure to find something that you'll love. Shop from Sofas, like the GDF Studio Stratford Mid Century Modern Fabric 3-Seat Sofa or the GDF Studio Aidan Mid Century Modern Tufted Fabric Sofa, while discovering new home products and designs. Whether you're looking to buy Sofas online or get inspiration for your home, you'll find just what you're looking for on Houzz.