About Us
Award-Winning Residential Interior Designer in Phoenix/Scottsdale
Ernesto Garcia, ASID provides complete Interior Design services in Arizona, Phoenix, Scottsdale and San Diego including total project concepts, surface selections and furnishings for New Home Construction, Remodeling and Room Interiors. He addresses every category of residential and commercial lifestyle and fine living. Trained as an Architect, Ernesto is particularly well suited for remodeling and new construction projects; he understands how a building is put together, from its structure to the final accessories that make a well-appointed room. Ernesto's extensive knowledge of style and his exquisitely refined taste allow him to create uniquely beautiful spaces, whether they are traditional, contemporary or transitional in genre. This versatility and unerring eye are evident in his extensive portfolio, where every example conveys a classic and yet richly innovative quality. Local and national magazines and interior design books have been featuring Ernesto's work for years, from the covers of "Better Homes and Gardens" to "Spectacular Homes of The Southwest" and "Decorative Hardware". Websites such as "Houzz" constantly use his rooms in articles pertaining to innovative trends, lighting and classic interiors. He is a regular contributor to the social magazine "Trends" and blogs for "Jetset Magazine" on a variety of interior design and lifestyle subjects. His witty and urbane personality has made him a TV darling with more than 40 appearances in variety shows including "Sonoran Living", "Arizona Midday" and "Cool House". Known for his artistic skills, he is recognized as the best "Sketcher" in the profession. Ernesto draws for his clients to help them understand his vision for their projects. He can walk into a room and immediately translate his ideas of the space onto a piece of paper. His travels and extensive working experience overseas and from coast to coast of the USA have given Ernesto exceptional poise and self-assurance when designing. He enhances the lives of others by creating beautiful spaces to live work and enjoy. He has designed homes for people from every corner of the world, providing them with environments that suit their tastes while anchoring comfortably to our region.
Services Provided
3D Rendering, Bathroom Remodeling, Custom Cabinets, Custom Kitchen Cabinets, Custom Walk-in Closets, Floor Plans, Historic Building Conservation, Home Additions, Home Extensions, Home Remodeling, Kitchen Remodeling, Outdoor Kitchen Construction, Sustainable Design, Universal Design, Bathroom Design, Kitchen Design, Lighting Design, New Construction Design, New Construction Surface Selection, Remodeling Design, Mountain Homes, Contemporary Design, Transitional Design, Residential Design, Commercial Design, Draperies, Window Treatments, Roman Shades, New Construction Specifications, Remodeling Specifications, Area Rug Selection, Area Rug Design, Paint Selection, Wallpaper Selection, Faux Finish Design, Custom Furniture Design, Plumbing Fixtures Selection, Lamps and Lighting Selection, Fireplace Design, Media Room Design, Art Consultant, China Selection, Outdoor Design, Outdoor Barbecue Design, Tile & Stone Selection, Staging Consultant, Real Estate Consultant, Mid-Century Modern Design, Turn-Key Projects, Shutters
Areas Served
Glendale, Paradise Valley, Peoria, Phoenix, Rio Verde, Scottsdale, Anthem, Carefree, Arcadia, North Scottsdale, Fountain Hills, Flagstaff, Sedona, Rancho Santa Fe CA
Awards
Ernesto Garcia is a professional member of the "American Society of Interior Designers", an organization from which he has received a total of 17 Awards in the past 10 years. These include: 2012 First Place in the Residential Category, 2014 First Place in the Singular Space Category, and many more.
Back to Navigation
Our Stories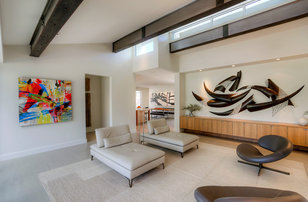 Sponsored story
Add style without losing your sense of self using these tips from a Phoenix interior designer
Item 1 of 1
Back to Navigation
Back to Navigation
Back to Navigation
Featured Review
I met Ernesto through my builder Gary Carlson when I had my house built. Ernesto was very professional and helped in so many areas in completing this project. Ernesto has a great eye for line and design, coordinating materials and selecting complimen
Read Full Review
Write a Review
32 Reviews for Ernesto Garcia Interior Design, LLC
Average rating: 4.8 out of 5 stars
4.8
|
32 reviews

I had a question about one of Ernesto's projects I viewed on Houzz. I contacted him via the Houzz "send message" link and much to my surprise, Ernesto telephoned me immediately! He was not only prompt, he was extremely helpful!! He shared in detail all the information I was requesting and was delightful to speak to. As you'll see by his projects he is very talented. If you are looking for help with a project that resembles his work, I believe you will very please with his prompt reply!

We hired Ernesto to design the interiors of our previous home, where he did a spectacular job. He modernized our Kitchen/Family-Room, making it more functional and efficient while creating beautiful and innovative details in cabinetry, tile, and furnishings. He also redesigned our relatively small Dining Room, using bold design ideas to create a stunning space that could seat ten guests and house a couple of exquisitely unique china cabinets. He designed our music room at that home, creating a charming and elegant space to accommodate our grand piano and provide comfortable seating for listening; using beautiful wallcoverings, textured rugs, and Murano glass fixtures, he created an atmosphere of quiet elegance. We loved Ernesto's work so much that we hired him again to design the interiors of our new home in Paradise Valley. Once again, his ever-flowing creativity and impeccable sense of style have produced stunning designs for our new residence. Ernesto is a consummate designer, well educated in style, and passionately dedicated to executing his ideas to perfection. He is the professional you hire when you want quality, uniqueness, and timelessness.

I was the professional Houzz photographer (SpartaPhoto) hired by Ernesto Garcia Interior Design to photograph his ASID award winning Water Front Living project. Ernesto is a true professional and we easily worked together to stage and photograph the beautiful property. Since then I have worked on other projects with Ernesto with equal satisfaction and award winning results.


Maybe he is good with his clients but with his workers it is very bad I did a job for him with very good quality and I even made two extra cushions without any charge, and he never pay me .



Comment from Ernesto Garcia Interior Design, LLC:
Mr. Mayo is correct when he asserts that we are "good" with our Clients. Our client's satisfaction is paramount to us, and it is in following with that philosophy that we expect him to repair the chairs he reupholstered for them. The attached pictures show the loose welting on the two chairs he delivered. We have tried to schedule him numerous times to finish the repair of these chairs, to no avail. Mr. Mayo will be paid the balance when he corrects these deficiencies in his craftsmanship, and our clients are satisfied with his work.



Relationship
Used services to decorate my daughter's room
For me, trying to find an interior designer felt like going into sensory deprivation. I went through dozens of profiles and websites, and all their portfolios looked monotonously alike and formulistic. In a sea of sameness, finding Ernesto Garcia's website was a joyful occurrence. The first thing I noticed was his stylistic versatility, projects ranging from contemporary to traditional, each one of them unique, identifiable and full of innovative design solutions. Everything in those rooms spoke of dedicated attention to details and good taste. It was during our initial consultation that I quickly understood why Ernesto's projects are so singular and inimitable: he is profoundly committed to the needs and wants of each client. Only someone who listens carefully can create spaces that so perfectly suit the lifestyle and preferences of those who hire him. As he listens to you, Ernesto sketches; he translates your requirements into beautiful drawings that give you a perfect idea of the design solutions and looks that are possible for each room in your home. In the past four years, Ernesto has designed three different residential and commercial projects for my family. Looking at the finished results it amazes me to see how precise all of his early sketches and concepts were, he just builds on the visions he jointly develops with his clients. Equally remarkable is the execution of each project. From design to production and installation, the staff of Ernesto Garcia Interior Design is competent and in control of the project at all times. I feel lucky to have had the opportunity to work with Ernesto, and I highly recommend his services. He is an easygoing problem solver, always professional and passionate about his projects.
I met Ernesto through my builder Gary Carlson when I had my house built. Ernesto was very professional and helped in so many areas in completing this project. Ernesto has a great eye for line and design, coordinating materials and selecting complimentary colors. He is easy to work with; has a great deal of knowledge of his profession; considers your budget and really cares about you as a client. I was so fortunate to have met him and enjoyed working with him.
I was so impressed with Ernesto from the first meeting we had due to his broad background and the tremendous knowledge and experience he had to offer. After viewing his extensive portfolio and seeing the range of genres from traditional to contemporary he had mastered, I knew he was the perfect candidate for the job. When I moved into my "eclectic" home about a year ago, I was concerned about how we were going to make it more contemporary and to my liking. I knew this would be quite an undertaking for anyone. Then when Ernesto walked into my home to see what he had to contend with, he immediately had a clear understanding of where the previous owners were going with the unfinished design they had left behind and put my mind at ease. I greatly appreciated his unwavering professionalism and the quality of his work is simply second to none.

Ernesto was able to transform my home into the inviting/warm atmosphere I always wanted, but never knew how to create. I loved that he created sketches to help me to really see what he had in mind for a space. I found the process of bringing these sketches to live incredibly simple. Ernesto was always open to all feedback, but I found that every time he brought his top selections for furniture design/fabrics, he always hit the nail on the head. Patterns and color schemes I never would have considered before, came together perfectly & created a brightness in my home I never had. Also, with 3 young boys it was very important to me that we focused on durability. I have seen my beautiful pillows tossed every which way in my home & over a year later and they look as beautiful as they did on day 1. I also feel quite thankful that my appointment with Ernesto overlapped with a landscape designer one afternoon as Ernesto took one look at our backyard & the design we had & with a few sketches transformed a patio area we were working on. Ernesto listens to his clients, follows thru on commitments made, and is truly just a pleasure to work with. I highly recommend his services.
I had the pleasure of having Ernesto help me transform a dated SW territorial home to an updated soft contemporary. It was a project that involved both exterior and interior remodeling. Ernesto was able to create and execute a new vision to perfection. Oftentimes helping to direct the construction contractors and trades as needed. He is a good listener and able to collaboratively create fantastic transformations of space and decor. He did it all, from helping to design new spaces to the final finishes including cabinetry, flooring, counters, fixtures, electrical, and hardware. He has a wealth of suppliers he works with that are very responsive. He is a pleasure to work with and always keeps his clients needs his first priority.

I discovered Ernesto through photos on the Houzz website showing his "Relaxed Southwest Elegance style". We had acquired a new home in Gold Canyon, AZ and it had a large greatroom that we needed to furnish. I contacted Ernesto, and from the first conversation to our initial meeting, he was thoroughly professional and enthusiastic about our project. When we met, he had selected fabrics, drawn up floor plans with furniture and shared his ideas and vision for our space. The fabrics were beautiful, the colors were lovely and we moved forward with Ernesto selecting furniture, draperies, paint colors, artwork and accessories. Ernesto is very talented and insightful. He developed a great working relationship with us and was very hands on through coordination and installation of the furnishings. He is exacting in his determination of layout and dimension and it shows through in the results. We were thrilled with the final room. It is a very welcoming and comfortable space. We highly recommend Ernesto and his team in your project. You will not be disappointed.
I hired Ernesto Garcia and his team to furnish/decorate my family room, dining room and entryway. When I saw the finished product, I could not believe the incredible transformation! Ernesto quickly understood my needs for the spaces and my design style and created a polished and contemporary yet comfortable, livable space. His exquisite taste and attention to detail are like no other designer! The other characteristics that make him unique are his versatility and architectural background. From interiors to exteriors, small projects to major constructions, Ernesto possesses the skills to handle any design project! His custom built furnishings are of high quality. HIs design team (Betsey and Lauren) were professional, helpful, conscientious and easy to work with. The only recommendation I have when working with a designer who builds everything custom would be to understand size, scale, etc. It was difficult for me to know whether a couch or chair would be comfortable by looking at a picture. Ernesto went the extra mile and allowed me to visit the site of one of his clients, so that I could see/experience the furniture first hand. He truly cares for his clients!
Ernesto creates the most amazing spaces with budgets small and large. His ability to conceptualize a design idea and draw it on the spot in an almost three dimensional format makes it easy for clients to understand and sign off on his design. He blends the ideas of an architect with the style and detail of a designer. His attention to detail makes him one of a kind!
Ernesto and his staff provided much needed help in the design of my bedrooms. I was out of ideas and he was able to come in to my house and get my project back on track. What would have taken me months of looking, took only a couple of hours of my time. The results were outstanding.
Ernesto was pleasant to work with. He listened to my wants and needs. His drawings were just what I wanted and so was the completed project. He coordinated all of the contractors and the materials for the project. The contractors he selected were professional, easy to work with and have in my home. My home was built in 1996 and the area for the TV and fireplace were dated with 3 large niches and a small fireplace. I needed this area updated with room for a big screen TV. I love the way the project came out and I enjoy it everyday.
Ernesto provided excelent service. I had a problem choosing the right color combination for my apartment and overall design and he was very helpful by providinig ideas and recommendations. He responded to my requests very fast and was very accomodating. Based on our conversation I could see that he has very excelent design skills and knows what he is doing (his projects also confirm that). I would recommend him to anyone who is looking for an excelent designer.
I had seen a home Ernesto had done and thought it was terrific. The house conveyed the feeling I desired to achieve with mine. He provided me with several options for layouts for my new home and more importantly, explained why he thought what would work best. He was very helpful in scale, in selecting fabrics and furniture, and paint colors. He was right every time. The trades he used were also excellent-the quality was impressive and they were reasonably priced. I was happy with everything. I would recommend Ernesto without hesitation, and would use him again when I need a designer. He cares about you as a person, and what you are trying to achieve so that you are comfortable in your home. He is fun to work with, and I think he is incredibly qualified. He deserves all of the accolades he is presently getting.
Relationship
Received an estimate
I have had the privileged of having Ernesto to my home for a consultation. He listens and really tries to understand what you want not what he wants. The work turned out just the way I wanted. Ernesto has been instrumental in giving back to a 501c3 that I founded Smiles Beyond The bars. Ernesto not only is a great designer but he gives back to the community and that is an important factor for anyone in business. I highly recommend him. Linda Parker
When we first had Ernesto to our home, we met him out front. Before he even walked through our front door, he had begun sketching a whole new look for our home. By the time he entered, even the skeptics we are were completely sold on the idea. We had always lived in off-white, vanilla houses. Ernesto not only expertly chose beautiful colors for all the rooms but made them flow together seamlessly. He created inspiring diagrams of everything from tile patterns, to our master bath remodel, to how to turn our patio into a relaxing outdoor living space. These amazing sketches were invaluable to us to envision our new space and brought us the confidence to change our normally beige style. Our home is now full of gorgeous color, our furniture harmonizes beautifully, and we are constantly told how warm and inviting it is. You can't go wrong with Ernesto Garcia!
I have used Ernesto Garcia on 2 design projects in my homes in the Phoenix and Scottsdale areas. Both times I was thrilled with the results! He listened to my wants and concerns and came up with the perfect solutions. He worked with my existing pieces and skillfully added new pieces to create a wonderful blend of the old and new! The way he blended colors and textures was masterfully. I thought I had an idea of what I wanted but he created solutions that far exceeded my expectations. Extremely professional and easy to get along with. At this point, he is the only one I would trust with my home! Ken Heron
What's striking, is the level of craftsmanship and detail that went into my clients project! From custom wall coverings and finishes, to the final touches, everything was exquisite! If you are looking for results that will 'wow you', Ernesto is the designer for the job. I am fortunate to have had the opportunity to view his work from conception to completion. Ernesto is a true artist! His extensive knowledge, and architectural background are paramount in achieving success with every project. His passion for nothing less than excellence, is why Ernesto has won so many ASID Awards.
Designed a bedroom and bathroom renovation including a small addition, plus additional small projects in the rest of the house. Extremely creative and built a great rapport with the contractor. Was able to adapt as necessary during the process
We had the pleasure of working with Ernesto Garcia on the complete remodel of our home. The result was beautiful, comforting and welcoming. Our remodeled home has a classic appeal that we believe will wear over the long term. Visitors to the house have commented on its serenity and beauty as well as its unique qualities. We are happy to recommend Ernesto and would be happy to speak with others about our experience.
During our initial design consultation, I explained to Ernesto my plans for the various rooms - Ernesto asked great probing questions to better understand my needs and then went quickly to work taking my ideas and turning them into life via on-the-spot sketches. During subsequent meetings, Ernesto came prepared with his top recommendations and always included a couple excellent back-up choices. Ernesto has built an excellent support team back in the shop - to always keep projects moving ahead. Ernesto and his team have created a seamless process to provide top quality, beautiful design outcomes. They are flexible, easy to work with and Ernesto always shows up with a smile on his face...it's so apparent to see his passion for design - which translates through his work to now my comfortable beautiful home.
Ernesto Garcia was very professional and over the process became a friend. He understood my view right away and had plans formulating as soon as he saw the house. When I saw the sketches and fabrics I was blown away. He captured my wants and needs perfectly from start to end. The color schemes worked so well together I was shocked and amazed. In addition to furniture and color, the new light fixtures and portraits look immaculate in my beautiful home. Thanks to Ernesto. He has a beautiful gift and I would recommend him to anyone and everyone.. Thanks to him my home project won an award.
Ernesto's design work consistently draws raves from visitors to our home. Ernesto was a pleasure to work with, and we recommend him highly to anyone contemplating home renovation and decor.
We enjoyed so much working with Ernesto and will refer him to anyone who asks. He did a wonderful job with our home, it is just beautiful and we love living in it!
There is something unassumingly aristocratic about the spaces he designs. The most simple of his rooms can exude a refinement that is rarely experienced. We have loved working with Ernesto through the years and seeing his masterful sense of style enrich our lives. We love his work and recommend him to everyone who wants to enhance the quality of their lives through their living spaces.
I have worked with Ernesto for the past two years on his advertising placement in The Red Book and azredbook.com. Not only does Ernesto have poise and knowledge, but he is delightful to work with. Ernesto's award winning design work has been showcased on azredbook.com. Ernesto returns phone calls and emails immediately and is easy to communicate with. He respects deadlines and knows the importance of them. I am so lucky to say that Ernesto is much more than a client, he has become a friend. Jody Bartel Director of Advertising The Red Book and azredbook.com
I first encountered Ernesto's work after a search led me to his website. I almost didn't call because I felt my project/needs might be too small when compared to the work in his portfolio. I'm so glad I did! Ernesto treats me and my 2,000 sq ft home with the same care and artistry that he does with his 10,000+ sq ft projects. I have very colorful and eclectic taste but was never able to execute on my own the desires in my mind. Ernesto has an amazing gift to understand what I want and create designs that truly belong to my personality and lifestyle. So many designers create beauty, but the result does not feel like it "belongs" to the homeowners. What is the point in living in a beautiful home if it does not feel like it is yours? This is where Ernesto is truly gifted. Above that is his attention to detail, which is unmatched, and his understanding of color that only an artist has.
We originally saw Ernesto's work on three different home tours. Each home was unique, totally different & done in good taste. We knew that he listened to his clients & incorporated their wants with his ideas. Ernesto has worked on various remodel projects and interiors for our home. When you have his talent, knowledge and confidence you can afford to be bold, daring and innovative. He just has the ability to create spaces that are always elegant but never boring. We have enjoyed working with him through the years and would recommend him to anyone who's looking for quality design. - Ron & Susan Telesko
In the past seven years Ernesto has designed the interiors for four of our residences: two in Paradise Valley, one in Show Low and another one in Puerto Vallarta, Mexico. With his exquisite taste and vast knowledge of style, he was able to give each one of them their appropriate character, skillfully blending their architecture, regional influences and most inportant of all keenly reflecting our lifestyles and preferences. Ernesto listened to our needs with amazing focus and translated them into the most comfortable, timeless and refined spaces we've ever lived in. He is a gentleman and the consummate design professional, always able to come up with innovative solutions and effectively relate to everyone involved in a project, no doubt an advantage of his architectural training. We highly recommend Ernesto for any design project, regardless of style; we've seen his skills shine from remodeling projects to fine interior detailing.
Ernesto has an artist's eye for color and detail, and sketched out what each room had the potential to become. He worked with us first on the basics: paint, carpet, and repairs. He then turned his attention to the furniture that would transform the house into a home. His instincts on which color combinations and style of furniture, rugs, and lighting would work best together were unerringly correct. He did a wonderful job and the work he did for us won three awards in a design competition. We could not have been happier with Ernesto.
Back to Navigation
Contact Ernesto Garcia Interior Design, LLC
| | |
| --- | --- |
| | Ernesto Garcia Interior Design, LLC |
21006 N 22nd St Suite A-2
Phoenix, AZ 85024
Typical Job Cost $60,000 - 15 million


Design Services for Remodeling Projects over $120,000 Design Services for New Construction Projects over $1,500,000
License Number ASID 97143