About Us
With life at home always in mind, Techo-Bloc's focus on landscape product design has pushed the boundaries; creating materials for notable curb appeal and stunning, as well as functional, backyard spaces. Thirty years of combining art and science has created the trademarked Techo-Bloc Precious Stones; unsurpassed for their aesthetics, strength & durability. Over the years, our growing success has allowed our distribution network to expand to over 700 stores across the USA & Canada and our team has grown from 5 to over 600. All Techo-Bloc facilities proudly perpetuate our commitment to creativity and excellence. Find everything you'll need to design your outdoor space at www.techo-bloc.com or call 1 877-832-4625 to find a dealer or Techo-Pro contractor in your area. Toujours gardant la vie à la maison à coeur, Techo-Bloc porte toujours une attention particulière à la conception de produits qui repoussent les limites. Nous nous efforçons toujours de créer des produits extérieurs qui attirent le regard et des espaces qui sont à la fois fonctionnels et uniques. Trente années d'alliance entre art et science ont donné naissance aux produits Techo-Bloc, inégalées pour leur esthétique, force et durabilité. Notre succès a permis à notre réseau de distribution de s'étendre à plus de 700 magasins aux États-Unis et au Canada et notre équipe est passée de 5 à plus de 600 employés. Toutes les installations de Techo-Bloc perpétuent fièrement notre engagement en matière de créativité et d'excellence. Trouvez tout ce dont vous aurez besoin pour concevoir votre espace extérieur sur www.techo-bloc.com ou appelez au 1 877 832-4625 pour trouver un de nos distributeur ou un entrepreneur Techo-Pro dans votre région.
Services Provided
Masonry, Stone Masonry, Stone Design, Paver Design, Patio Slab Design
Areas Served
Canada, United States
Back to Navigation
Our Stories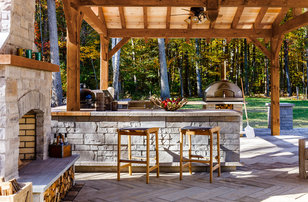 Sponsored story
Two experts share advice on planning an irresistible outdoor space
Item 1 of 1
Back to Navigation
Back to Navigation
Back to Navigation
Featured Review

We began installing Techo-Bloc products in 2010 after becoming rather dissatisfied with the quality issues we were seeing with another manufacturer. Each successive year we installed more Techo-Bloc products, and since 2012 have installed them almost
Read Full Review
Write a Review
27 Reviews for Techo-Bloc

Ott's Landscaping & Construction L.L.C.
Great products we recommend highly! All our customers enjoy the quality, colors and styles! You can not beat there price or tech support for the quality your getting. And please consult with a pro installer to make sure you get a install that will last for years.

Visionxscapes design and build LLC
Awesome paver and wall bloc manufacturing company. I reccomend everyone to buy from them. sales reps are very knowledgeable and can answer any questions.


Our company has been installing Techno-Bloc throughout the past few years. Our clients love Techno-Bloc over the competition because you can always expect consistency with the color, and the quality. Home additions and renovations are a huge investment and if you want to go with a beautiful stone product, Techno-Bloc is a must!

Relationship
Hired an installer that is endorsed on their website.
BEWARE! I would not recommend this company. I had an Antika walkway installed by a company endorsed on their website. Not long after the walkways were installed there were obvious problems with the installation. The installer which is endorsed on the Techo bloc website refused to address the issues so I reached out to Techo bloc. They sent a sales rep to my property who verbally verified that there were installation issues with the walkways. After he left my property he never contacted me even though I tried to follow up with him. After several weeks, I contacted customer service about it and miraculously the sales rep contacted me a week later and told me he had been looking into the situation. His email was carefully composed to not help me, but protect him and the business account with the installer. Extremely disappointed that money is more important than doing the right thing. Techo bloc states on their website the importance of integrity to them - I guess as long as it doesn't interefere with their bottom line.
Relationship
I chose their brick for use by my contractor.
I am a client who in June had my contractor install Blu 60 pavers for a small walkway to my front steps, and Raffinato caps which were used on the stoop. The color of all was Beige Cream. The color of the brick I received was lighter than the sample I viewed and was not what I wanted and was expecting. In addition, the caps all have imprints of netting on them, which apparently was placed between the caps to "protect" the brick during shipment. Well, they may have been protected, but now they look silly. Contractor said wait until September to see if the marks wear off. I'm still waiting. Until then, front stoop looks chintzy. I am very disappointed with Techo Bloc.

Comment from Techo-Bloc:
Hi Maryann,
We are very sorry to hear about your experience. Can you please send an email to info@techo-bloc.com with your contact information, your contractor`s information and I will look into the matter? Sending us some photos would help us in the investigation as well. Customer satisfaction is our main priority at Techo-Bloc. The last thing we want is for you to be disappointed.
Thank you for sending over that email.
We will get to the bottom of this.
BUYER BEWARE!!! I had travetina pavers installed a few years ago. I had significant issues with what Techo Bloc refers to as dusting. Dusting is the formation of a thick layer of dust that never seems to go away, even after a few a few seasons of rain and snow. I decided to take this issue up with techo Bloc in 2015. I tried reaching techo bloc many times. They finally sent a representative to inspect the problem. I did not hear back from them. I tried to reach them many more times. I finally spoke to someone today who stated that dusting is normal and that all wet cast pavers and concrete have this issue. So if you plan to buy any techo Bloc pavers beware that your backyard and home will always be a mess and that it's perfectly normal.

Comment from Techo-Bloc:
Hi,
We are sorry that your questions fell through the cracks. Although the dusting is infact normal, there is a remedy to the chalking effect and that is properly sealing your pavers. This will prevent the chalking for the lifetime of the sealer.
Would you please send us an email at info@techo-bloc.com with your information as we would like to know more details about your experience.
In our attempt to serve you better and retain you as one of our valuable customers, we would also like to send you complementary sealers for your travertina pavers.
Thank you for reaching out to us.
I wish I did not even have to give 1 star. Being a realitively small company, we only spend $30,000 a month on stone and will NEVER AGAIN use Techo-bloc. We installed precast steps for a customer last summer. With the freeze and thaw of the winter they had, the concrete CRUMBLED leaving the steps falling apart. They agreed that we had a bad batch of concrete however are not covering the costs to reinstall the product. We will now have to install 100% at our loss. Last year our company celebrated 100 years as a family tradition and I will not let our reputation take a hit over a faulty product. You just lost one customer, we will not sell your product or recommend it to any other professionals in the industry. ABSOLUTE SHAME.

Comment from Techo-Bloc:
Hi,

We are terribly sorry to hear about your experience. Techo-Bloc is also a family grown business, and industry commitment is something we take very seriously. Can you please send an email to info@techo-bloc.com with your contact information so that we can look into the matter?

There are many factors to take into consideration. Therefore providing any additional information (such as the name of the sales representative that you were in contact with) in your email will help us get to the bottom of this issue.

We began installing Techo-Bloc products in 2010 after becoming rather dissatisfied with the quality issues we were seeing with another manufacturer. Each successive year we installed more Techo-Bloc products, and since 2012 have installed them almost exclusively. While we recommend and install many tried & true products such as Mini Creta walls & pillars, and pavers such as Blu 60, Hera, & Parisien... we very much appreciate their dedication to bringing new products and new techniques to the market! Their large variety of pavers allow us to easily display our craftsmanship!




Relationship
Homeowner who selected Techo Bloc product for patio installation
I wish we could be positive about Techo Bloc, but we have had a very bad experience. We had Aberdeen pavers installed in our patio and before the project was completed, the pavers began to reflect a yellow coloring. Our contractor brought it to the attention of Techo-Bloc who is supposed to warranty their products for a lifetime and after 6 weeks we have still not receive any determination from them regarding this problem. Their regional rep has alluded to the fact that the pavers may have been exposed to mud during the installation, or the fine dust from the stone-cutting may have gotten on them. Really?? Both mud and stone dust are natural elements which one would assume an outdoor patio product should be able to endure without altering the appearance. My advice to others is DO NOT purchase Techo Bloc products. They have not ironed out their problems yet and obviously need more laboratory testing before introducing any products into the US market. The company is apparently not confident enough to just have these pavers removed and replaced. They've lost a great deal of goodwill in dragging their feet on their decision and will certainly not be recommended by people in North Carolina because this incident is going to be spread throughout the state by the contractor and distributor network and any other means of publicity available. No one deserves to this kind of disservice or financial loss. Over $50,000 invested in a patio and nothing to show for it! Maybe that's the way business is conducted in Canada, but not in the United States!

Comment from Techo-Bloc:
Hi there, I'm very sorry to hear about your experience. Can you please send an email to info@techo-bloc.com with your contact information and I will look into the matter? There are many factors and it is certainly possible for porous concrete products to become stained. With additional information and once I have communicated with the rep (please provide his name in your email), I am confident we will get to the bottom of this. Thank you. Nicole.

Hardscapes Stoneworks and Landscaping
Relationship
Landscaper who installs there products
Techo bloc is a great company we have been using for 5 years. Techo has far surpassed our expectations with a superior product and excellent suport of our company. They have graciously supported our company threw home shows and technical aide. We highly recommend techo bloc for any of your stone landscape products. Great product, amazing warranty and excellent supporter of small business.

The Techo-Bloc man made stones are continuously improving and changing with each seasons trends. We have had a great business relationship with this company since they started their modest business in 1989. This business has grown by leaps & bounds because of the high quality products they produce. We expect to remain loyal clients of Techo-Bloc for many years to come. Their beautiful catalog continues to impress, year after year! It makes our work easier to sell a project when potential clients are able to see the images displayed in this amazing catalog. Through the years many of our projects have been photographed for the catalog, we are pleased to be a part of it.
I chose Techo-Bloc for my backyard last year and couldn't be happier with the outcome. I used Aberdeen, which looks like natural stone, all around my poolside and Piedimonte as my choice of pool edge. The stones really do look gorgeous. I shopped around a lot and found that Techo-Bloc really stood out in terms of their product line. Every other concrete brand's products seemed so generic and boring. I also wanted to commend your company on all the design ideas on your website. It really helped me craft a specific vision of what I wanted and which products would achieve the look. Products and photos like yours make it easy to choose.
Relationship
I used their product in my landscaping
I used Technobloc pavers in Onyx Black and am extremely dissatisfied with how the colour has held up and more so with Technobloc for not standing behind their claim. I purchased Technobloc only because of their claims of how their product is colour fast and will not fade over time. Gradually the pavers have lightened. I've raised a warranty claim with Technobloc head office in Quebec and they repeatedly responded that this is due to efflorescence and they do not warrant for fading due to efflorescence. Their rep used an acid wash to try to remove the efflorescence and the result looks horrible, it still does not return to it's original darkness. Anyone looking for a dark paver around their home should be wary of this product and be sure to test it first for a few seasons to see how it holds up. To follow up, I did contact Techno-bloc per their response to my review, the fellow I spoke to listened to my issue, promised to get back to me with a satisfactory resolution, and I never heard from them again.


Comment from Techo-Bloc:
We would like to take this opportunity to thank you for your feedback. We at Techo-Bloc stands behind the quality of our products and always strives for customer satisfaction. Following your post, we ask that you send us a message with your contact information and we will follow-up with the appropriate departments. You can email info@techo-bloc.com Thanks and best regards,

Great products! Quality support! Continue to come out with new and cutting edge products that keep our customers interested and engaged year after year! We only use Techo-Bloc for our stone projects and will continue to do so!

Techo-Bloc has been featured in our annual Boston Design Guide book for many years. They create beautiful and durable outdoor landscaping products using new technologies that they invent themselves. Techo-Bloc has always been a delight to work with, creating unique and meaningful outdoor spaces for clients all over the country.

Relationship
Product Usage
Using Techo - Blocs products has given me the inspiration to create pool designs with pool decks such as these to impress not only my clients but their friends as well. BLU 60mm gives great value to the project not only to the contractor calculating his estimate but to the overall look of the project. This particular paver goes well in formal and natural designs as well.





Stasi Brothers Asphalt & Masonry
Great beautiful products that we have been using for years! Trendsetters and way ahead of the game! Quality and great customer service

TOC design & construction inc.
Finally A product for the contemporary home, Friendly staff, very well informed. My client was looking for something out of the box - Techno bloc delivered, I get nothing but rave reviews for this design and my client is very satisfied. I Highly recommend. TOC design.




I am a Landscape contractor in Calgary and Techo-Bloc is my preferred product to work with. The colors and textures they produce in their materials are amazing, and my customers are always satisfied once the product is installed. My sales have increased since using the product, and I know it is because the neighbors are always envious of my clients patio.


We are professionals in the field of landscaping and have been doing business with Techo-Bloc since the beginning. We have always had great experiences with their product and they have the best warranty in the business. Thank you!

Techo Bloc offers a wide range of products, shapes, sizes, colors and textures from steps, walls, pavers as well as wet cast slabs to build unique and truly creative outdoor living spaces. Aberdeen and Blu are two of our favorites on our pool deck projects and our clients are always happy with the finished product as well. In addition to the wide range of materials options we always find the product to be top quality, consistent in thickness and color and easy to install providing our satisfied clients with a great finished product.



We believe in the brand, the company, and, most importantly for our customers, we believe their products are second-to-none! In particular, we propose Techo-Bloc Blu60 with almost every design we do and have installed countless thousands of square feet of it at client's homes. They all love it! I attached some examples of Blu60 we have installed around pool decks. Also, check out our profile photos for more examples!





We're a design/build landscape contractor that has been installing Techo-Bloc's products for our customers for almost a decade. We have specialized in hardscapes for almost 30 years, and install thousands of square feet of product a year for our residential customers. The laser precision quality and their innovative texture, shape and pattern choices, their color consistency from year to year, the design flexibility and creative options that we have with Techo-Bloc - all make their products an easy sell. Our wall crews will not install any other block and cap systems - they're just not accurate enough.

We are a Techo-Bloc dealer in Dayton, OH. and we have been representing their company for 2 years now. I am very impressed at the knowledge and the quality they bring to the hardscape market. We have represented several companies in the past and Techo-Bloc has exceeded our expectations as a vendor. Our customers are extremely happy with the product and we are happy to be able to offer a life-time warranty to our customers. I would definitely recommend Techo-Bloc to others.

Spayd's Landscape and Design
We've been in the hardscape business for 20 years, so we've seen it all come and go, but the one thing we refuse to let go is our relationship with Techo Bloc and their products. With Techo Bloc you get the highest of quality, new innovative products, and great pricing, which allows us to be incredibly creative with our designs and still remain competitive in the marketplace. Thanks Techo Bloc!

Relationship
Manufacter of product
Techo-Bloc supplies us with a long list of tremendous high quality products which we have use to create the innovative and relaxing outdoor living spaces our clients demand. When we show clients the outstanding choice of colours and textures available from Techo-Bloc it enhances the selection process and their overall excitement and involvement in developing the prefect outdoor extension of the style and feeling they have strived for with in their home. Our involvement with Techo-Bloc and their staff and products has yielded nothing but positive feedback from our clients as they enjoy the spectacular outdoor living spaces we have create with the Techo-Bloc products they have chosen. Mike Pennington Lakeridge Contracting

Techo-Bloc's distinct colors and textures help us design in a more unique way. Their quality allows us to be confident in the products we install.
Back to Navigation
Back to Navigation
852 W Pennsylvania Ave
Pen Argyl, PA 18072