How to Install a Dog-Washing Station
Find out the options for pet showers and bathing tubs — plus whom to hire and what it might cost
When the dog needs a bath, why mess up your own tub or shower when you can have a wash station dedicated to man's best friend? The perfect time to install a dog-washing station is during a remodel or new-home build, but putting one in an existing mudroom or laundry room is not that daunting as long as plumbing is already in place.
Below are some tips on installing a wash station, as well as examples of styles to fit every home, including one located at a certain famous residence in Washington, D.C. There, the Obamas have a professional-grade dog tub they purchased about 2½ years ago.
Martha O'Hara Interiors
How to install one.
Adding a pet-washing station is similar to putting in any other shower or tub. A general contractor, architect or designer will create a design and probably subcontract the work out to a plumber and tile installer. If you skip the contractor, start with a plumber, who will put in the shower pan or basin, install the drain and hook up the fixtures. If tile work is needed, a tile installer will then lay and grout tile for the walls or tub itself. Costs can range from about $1,000 for a free-standing tub to $3,500 and up for something more luxe.
This stylish Minneapolis dog shower by
Martha O'Hara Interiors is lined with subway tile and contrasting floor tile and offers plenty of storage.
William Hezmalhalch Architects
Shower vs. tub.
In general, step-in showers, such as this Orange County mudroom shower by
William Hezmalhalch Architects,
are easier for big dogs. Elevated tubs are best for small dogs that can be lifted. Steps or ramps can help dogs get into a raised tub.
Other handy features include a flexible handheld shower head, a clip on the wall to tether your dog during the bath and storage for supplies. The
American Kennel Club
notes that dogs can be fearful of slippery surfaces, so it recommends a rubber mat in the tub and a nonslip rug on the floor.
Modern Home Concepts
Custom tiled tub.
New builds and remodels are usually the easiest way to get the exact pet-washing station you're after. This dedicated dog tub-shower (with the photographer's dog Honey modeling) is in the unfinished portion of a basement in a custom-built home in Wadsworth, Ohio, and was installed at the homeowners' request, Kate Frichti of
Modern Home Concepts
says.
The company's designer, plumber and tile installer worked together to make it happen, she says. Ceramic tile lines the tub, which was elevated to make it easier for the homeowners to wash the dog. A step-in area is lower in front to make it easier for the dog to enter and exit. The swing arm faucet is easily maneuvered during bathing.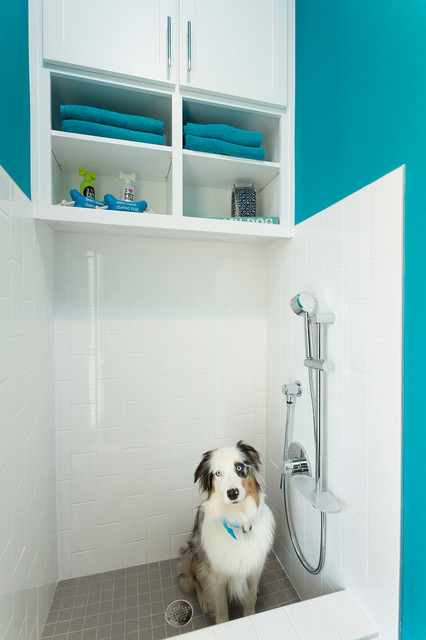 Mary DeWalt Design Group
Dog spa shower.
In this newly built home in Austin, Texas, the homeowner "wanted to make sure that her dog Daisy [pictured here] had her own dedicated doggie spa," designer
Mary DeWalt
says.
It's a feature she's seeing more home builders include as options. The step-in shower is lined with 4-by-8-inch subway tiles from Daltile. The curb prevents water from sloshing onto the floor, and cabinets above hold supplies.
The type of professionals used to build a wash station like this are the same that would be used for adding or renovating any bathroom, DeWalt says — plumber, tile installer and interior designer or architect.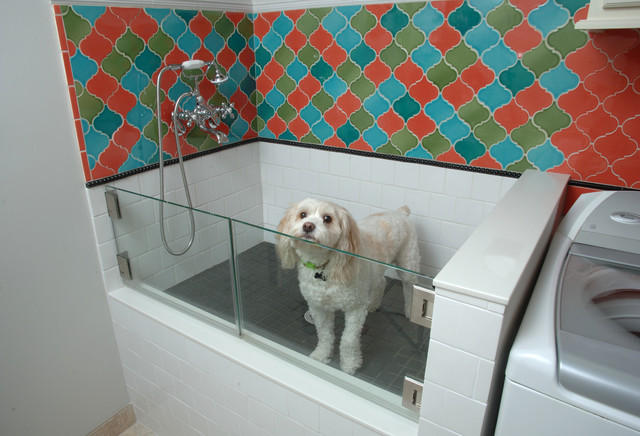 Destiny Homes
Colorful wall tile.
The laundry room of this Eden Prairie, Minneapolis, home was gutted, and a compact dog-washing station was included in the remodel. It's accented with colorful Moroccan wall tiles, some of which continue through the space. The glass doors of the tub swing open for easy in and out; the tub can be filled with water up to where the doors begin.
The plumbing was completely redone, says Butch Sprenger of
Destiny Homes
in Minneapolis. "People think plumbing's a big deal and it's really not, [but it] depends on what's below." In this case, it was a basement utility room, a common feature in Minnesota.
Hamish Murray Construction, Inc.
Slate tub.
Sturdy slate tiles measuring 16 by 16 inches were used in this dog tub in Vancouver, Washington. The wash station was added when the house was replumbed during a whole-house remodel because "the owner thought he might want a dog at some point," says Kim Lowman of
Hamish Murray Construction
.
The client and architect opted for an elevated tub because of "better ergonomics for the human washing the dog, reducing strain on the back," Lowman says. The architect's dog Echo tries out the tub in this photo.
Slate tile in Ostrich Grey: Oregon Tile & Marble
Shannon Soro Interior Design
Built into the cabinetry. A standard mop basin measuring 24 by 36 inches was placed atop custom cabinetry for this wash station built in a mudroom in a new home in Toronto.
The homeowner's dog Macy is demonstrating.
The wall-mounted industrial-style faucet was salvaged from a restaurant kitchen that was being remodeled, designer Shannon Soro says.
The tub was lined up at the same height as the adjacent wood bench seat that's part of the custom storage cabinets
designed by Soro
.
The drawer beneath the tub has a flat top and pulls out to be used as a step for the dog.
A job like this that includes custom cabinetry costs between $5,000 and $10,000, says Soro, who agrees that dog-washing stations are becoming more popular, especially in large-scale renovations or new builds for young families. "It is typical for those who make mudrooms a priority to also appreciate the convenience of a dedicated dog shower that is close to the entrance."
Ridge Creek Custom Homes
Stylish step-in.
The dog shower shown here fits right into the design of this laundry room in Minneapolis. The wash area measures 30 by 48 inches. There's no glass or wall to contain the dog because the owners have very well-trained dogs, says Katie Congdon of
Ridge Creek Custom Homes
. In the case of not-so-well-trained dogs, Congdon recommends a short shower curtain or glass wall.
Floor tile: The Tile Shop; barn door: Distress City Millwork
Shea Homes Northern California
Custom home option.
This dog-washing station is in the laundry room of a
Shea Homes
Vista Dorado Plan 3
home in Brentwood, California.
"We are definitely seeing furry members of the family being thought about more and more during the home design process — from dog-washing stations to nooks under the stairs," says Brittany Nethers of Shea Homes.
Leanna Rathkelly Photography
Hardy concrete floors. Here's a stylish glass shower stall that was installed as part of a new build on Salt Spring Island in Canada. The homeowners have multiple dogs, so adding a wash station to the mudroom was a no-brainer.
The hinged glass doors open both in and out and the owners wash their dogs by either opening the doors or reaching right over them, says Damon Gray of NZ Builders, which oversaw construction of this energy-efficient home in British Columbia's Gulf Islands. An off-the-shelf shower base was used, along with shower handle and half-height glass.
The floors are concrete, so there's not much to worry about when water splashes out, Gray says. But if they had it to do again? "We would have just sloped the whole floor of the mudroom down to one floor drain, as the whole floor is concrete and therefore waterproof. This would eliminate the dog-washing station completely," Gray says.
BACK Construction
Free-standing tub:
Installing a professional-style dog wash can be a lower-cost alternative to a built-in station. A plumber is still required to hook it up, but it won't involve the tile work and framing needed for a built-in style.
The model from ProGroom
in this Louisville, Kentucky, laundry room
includes space beneath the tub for dog bowls and a ramp that rolls out for entering and exiting the tub. The back of the tub includes a clip for tethering the bathing victim and a shelf and bracket for supplies.
The most popular tubs for homeowners are those with ramps and those measuring 48 inches to 60 inches wide, says Kitti Titus, owner of ProGroom, based in Texas. President and Mrs. Obama purchased a 48-inch model, Titus says.
Travis Knoop Photography
Another example of a free-standing tub, from PetEdge, is seen here in a laundry room in Manson, Washington.
Josh Wynne Construction
Here's a clever solution in a butler's pantry in Sarasota, Florida. The dog tub is actually a horse feeding trough. (The owner is a polo player.) It's about 42 inches wide and was modified to accommodate a drain. Similar galvanized stock tanks or watering troughs can be purchased from livestock supply stores.
Food and supplies are kept in the base cabinet and a flip-down step allows the owner's athletic Spanish water dogs to hop into the basin. The owner then stands on the step to wash them, says
Josh Wynne
, whose construction company built the LEED-certified home. The countertops are concrete and the walls are troweled clay with no added color. The upper cabinet doors are Galvalume, a carbon steel sheet coated with an aluminum-zinc alloy.
Tile: Heath Ceramics
More
How to Choose the Right Pet Door
16 Stylish Built-In Sleeping Areas for Dogs