Benches
If you're looking for a way to add functional seating to your home, consider a bench. Available in a wide range of styles and sizes, they're a great solution for bedrooms, entryways and other small spaces that need a place to sit or some additional storage. If you've spotted a place in your home that could benefit from a bench, you've come to the right place. While on your quest for the perfect bench, keep in mind the following tips:


Where can I utilize a bench?

Benches may seem like informal pieces of furniture you'd find at the park, but you'd be surprised at how many uses they can have in the home. Contemporary styles can add seating to a living room, or a more rustic bench can be the perfect complement to a country-style kitchen table. Have a great, oversized window looking out at a beautiful view? Outfit it with a bench. Can't seem to find a coffee table that fits your lengthy, sleek-lined sofa? A bench may be the perfect solution.


What type of bench should I consider?

Want more seating space in your family room but lacking space? A lounge bench will open up the room while still serving your desired function. A decorative accent bench can liven up an entryway or provide a stylish holding ground for wayward clothes in the bedroom. A bench with a lid can ease storage qualms in the playroom. Dying to pull out Grandma's antique vanity from the attic? A bench will provide seating that can easily tuck away to prevent distraction from a larger piece. Benches are a great way to sneak in extra storage. Consider choosing a chest-style bench with a hinged-top to hide pillows and blankets in the family room. Shelf and cubby benches have open sides that are great for books or movies, while some benches come with compartments perfect for shoes.


What size works best for me?

To determine this, start by thinking what other furniture pieces the bench will be complementing. Is it going to be an accent bench in the hallway? Be sure it's not too wide to interrupt foot traffic, yet wide enough to be functional. Will it be used as seating at a dining room table? Consider how many people you want it to fit, as well as whether it's in proportion with the table itself.


Should I consider adding cushions or upholstering my bench?

This comes down to style preference and comfort needs. If you're planning to use it in the family room as a place to relax and watch television, then you'll want a padded surface that will maximize comfort. However, if your bench is in the mud room and it's primary use is a spot to tie your shoes, a solid surface may be a better fit.
Sponsored Products
Featured Reviews of Benches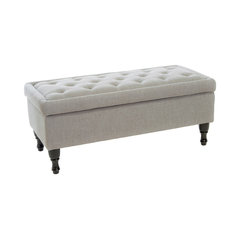 Logan Gray Fabric Storage Ottoman
Benches
Pretty and Practical Storage Bench: This storage bench arrived very quickly and looked exactly like it did in the photo. I always worry when I shop online that the item may look different in person, but there were no surprises with this one. The grey is a very neutral grey as opposed to a "very cool" tone or a "very warm" tone. The legs I would say are black. There was a strong off-gassing odor when it first arrived. I left the lid open for a few days so the air could circulate and the smell has dissipated. The fabric feels durable and the tufting looks very nice. The only issue I found is that the legs screw in slightly angled or crooked. They aren't completely plumb. Luckily this wasn't noticeable once it was put together and placed in the room. No wobbling or anything like that. It feels very sturdy. Overall I'm very pleased with this purchase and it was a really good deal! I would definitely buy again from this brand.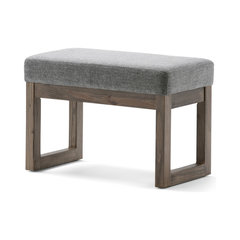 Orson Bench, Gray, Small, Fabric
Benches
Sturdy built, Clean Look: The wood looks beautiful and the fabric is just the right tone of dark grey I wanted. Goes perfect with the mix of rustic and clean modern I'm going for. It's long enough for two people to use at once and sturdy enough to last a long time, it seems.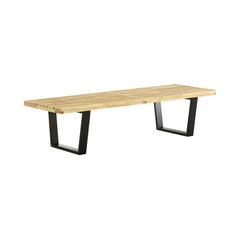 Modern Platform Bench Natural Wood 48"
Benches
Well made bench: Very easy to assemble. Excellent color and finish. Sturdy yet relatively light. Originally purchased for an entry hall, this bench may wind up being a coffee table and additional seating in another room.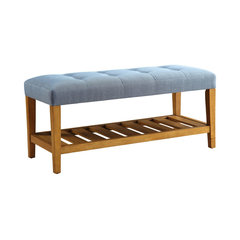 Acme Charla Bench, Blue and Oak
Benches
This was a great purchase!: I am beyond thrilled with the look and quality of this bench. The cushion is soft and the fabric is really nice. It's the perfect piece for my entry way. It was very simple to put together, in fact, they provided all the hardware and tools I needed to assemble it. GREAT GREAT GREAT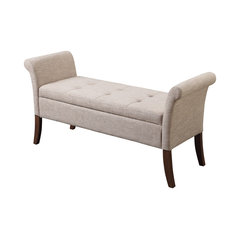 Benches
Garbo Storage Ottoman: This is a lovely piece. It fits perfectly under the window in our living room. It has just the right amount of storage for a few throw blankets and a small pillow. The only reason I'm not giving it five stars is that it is a bit hard. Maybe it'll soften up with use. Either way, it is extra seating for us, so it isn't a big deal to us. Overall, we are very happy with it!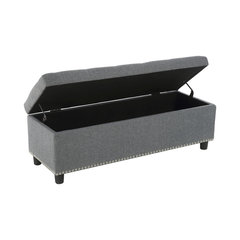 Rectangular Storage Fabric Ottoman, Tufted Footrest Lift Top, 48", Gray
Benches
Rectangular. Storage fabric ottoman: Love my rectangular storage fabric ottoman just was I wonted look just like the picture. Courtney sure was so good to help me I had never order from this company before. Now I know who to go to . Thanks for ever thing .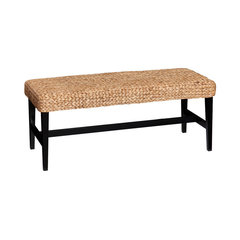 Hector Water Hyacinth Bench
Benches
As expected: We were looking for something a little different for our entry foyer. It was the right size. Sturdy. The surface of the bench could snag certain, loose knit clothing because of the hyacinth weave, but we knew this.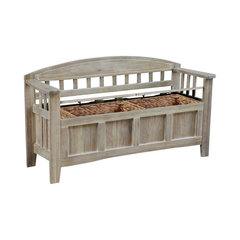 Acacia Wood and Veneer Bench, Natural Wash
Benches
Completely satisfied!: This bench is so sturdy and can hold multiple items. I am using it in the dining room as an accent piece as well as extra storage. Very happy with this purchase and ease of assembly.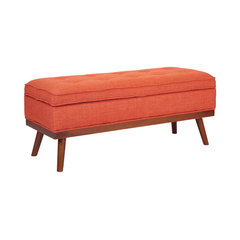 Katheryn Storage Bench, Tangerine Fabric
Benches
Great addition, bigger nicer than expected: Solid, and much more expensive looking than the price tag. The wood trim around the bottom and the legs is particularly nice, and the faux leather seams are less noticeable in "person".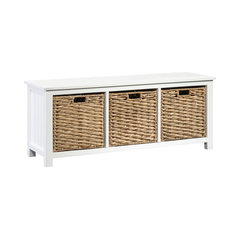 Cottage Road Bench With Baskets, White
Benches
Great Quality: This bench added the missing touch to our kids play room. It's well built and the three baskets offer plenty of storage space for toys, books, etc...I was very pleased with the delivery time and the way the product was shipped from Houzz. I definitely recommend this product.