Birdhouses
Nothing signals the arrival of spring like the chirping of birds and their newly hatched chicks. A great way to bring this miracle of nature closer to your home is to add a birdhouse to your outdoor area. Birdhouses are also a great way to introduce children to the wonders of wildlife, and watching feathered parents flit back and forth on their errands will provide lots of entertainment for both adults and kids. While the designs of birdhouses can often rival the architecture of full-sized homes, it's important to consider much more than just aesthetics when purchasing a new home for your feathered friends.


What kind of features does the optimal birdhouse have?

Look for a design with an extended, sloped roof to help keep rain away from the interior. Holes for drainage and ventilation are also important, as are thick, insulating walls. You'll also want to consider having a baffle to keep out hungry predators. Once all these important criteria are met, feel free to go all out on design!


How do I attract birds to my birdhouses?

Just like you and I, different species of birds have different preferences for the size and location of their homes. It's also worth noting that most species, with the exception of purple martins, prefer warm, earthy tones for their exteriors. Here are some tips for attracting some of the more common species that will nest in birdhouses:
• Bluebirds: Look for a bird box that is approximately 5.5 x 5.5 x 10 inches large. The entry hole should be about 1.5 inches wide and centered in the front of the house, about six inches above the floor. Look for a location that faces or is near an open field where the bluebirds can hunt for insects.
• Chickadees and titmice: You'll want a birdhouse that's approximately 4 x 4 x 8 inches or 5 x 5 x 8 inches large. The entryway should be 1.25 inches wide and centered in the front of the house, again about six inches from the floor. It's best to place a chickadee or titmouse home in a dense thicket or clump of trees.
• Purple martins: This species enjoys nesting in gourds or gourd-shaped homes and "apartment complexes" that are home to multiple purple martin families. They'll also nest in a bird box that's approximately 6 x 6 x 6 inches large with a 2.5-inch entry hole placed about 2.25 inches above the floor. Unlike most other species, purple martins prefer a white birdhouse. Be sure to place yours on a post or stand that's approximately 15 to 20 feet high and near water.
• Robins: If you're looking to house robins, choose a bird box that's 6 x 6 x 8 inches large and can be mounted to the side of your house or on a tree. Unlike other species who prefer a circular entry hole, robins prefer to have the entire front of their birdhouse open. However, look for a design that has a short edge on the front to prevent the nest and eggs from falling out.
Sponsored Products
Featured Reviews of Birdhouses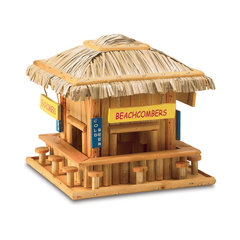 Birdhouses
Beachcomber Birdhouse: This is just so so cute! I love it. However, there is one thing you could do to improve the design. This design is hard to clean. I think you could make the bottom with a wire mesh and a hook that can open & close for feeding and cleaning. Just a thought.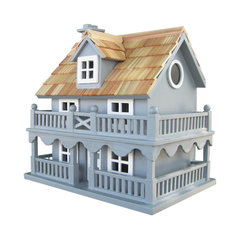 Novelty Cottage Birdhouse, Blue
Birdhouses
Beautiful little bird house!: I received the Cottage Birdhouse a couple of days ago. I was pleasantly surprised by the craftsmanship and detail in the birdhouse. I like the fact that it opens in the back to clean it out and it is made very well. One thing my husband is going to do is give it some drainage holes as it does not have any. Other than that it is wonderful.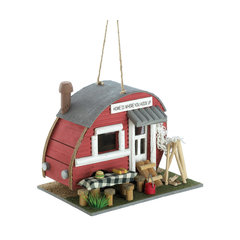 Vintage Trailer Birdhouse
Birdhouses
Very Happy: This little birdhouse is a wonderful little depiction of a camp trailer and a camp site. It fits right in here at our park. Now my only problem is where to hang it to get the most compliments about it!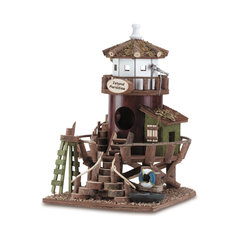 Island Paradise Birdhouse
Birdhouses
Super Cute Bird House!: This birdhouse turned out to be super cute and well worth the money! The signs on the house are made from sturdy material and not just some thin material glued on. I am very pleased with this purchase! It looks just like the picture!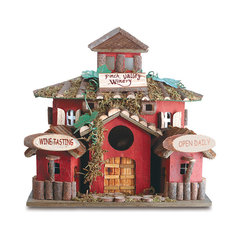 Birdhouses
Cute Birdhouse: The details are great on this birdhouse. It is a gift for a friend who has a covered porch. A decorative birdhouse; I don't think it would last more than 2 seasons exposed to weather.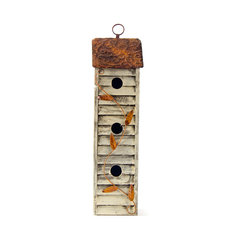 Rustic Garden Distressed Hanging Rectangle Wooden Birdhouse
Birdhouses
Love it!: More than I expected. I have personalized it by painting and adding windows on side, fencing, flowers and perches and a front door. Touch of teal and yellow. Beautiful for gift. Wish I had got a second one for another gift. Thank you for such a well made birdhouse!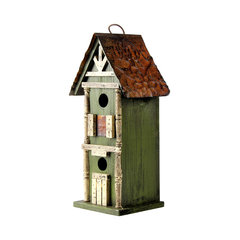 Rustic Garden Distressed Wooden Birdhouse, Green
Birdhouses
Definitely a keeper!: Arrived quickly in good condition just as pictured. I am grouping it with several other birdhouses making a fun display at my entryway. This birdhouse is unusual and whimsical . I am very happy with the purchase and would recommend the purchase with no reservations .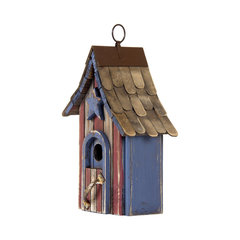 10.04"H Rustic Garden Wooden And Iron Vintage Birdhouse
Birdhouses
Rustic birdhouse: Cute and usable. Doors on the back let you clean out nesting when the birds move on. It would have been good to have hanging ability on the back as well as the top of birdhouse. I added my on by nailing a framing bar in back.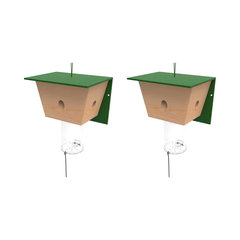 Best Bee Trap Carpenter Bee Trap, Set of 2
Birdhouses
Terrific Catcher of Carpenter Bees: We were desperate to control the carpenter bees around our log home and I didn't want to use chemicals. The bees were literally boring holes in the logs and swarming around our heads. We were skeptical at first because after hanging the traps, the bees just flew around them. However, over night the first night, we caught 7; by day 2, we had 14! It works, be patient!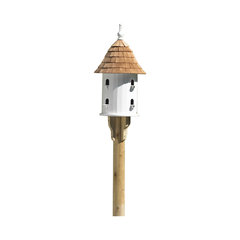 Lazy Hill Farm Designs Lazy Hill Bird House
Birdhouses
Beautiful Bird House: The shingles on the roof could be secured a little tighter but overall it appears to be well made. We mounted it on a treated wooden (square) post with a pvc collar over top and secured the base into concrete. After that we wrapped the post in chicken wire and planted a clematis at the base. Will post a picture once vines have climbed the post.