Featured Reviews of Contemporary Fireplaces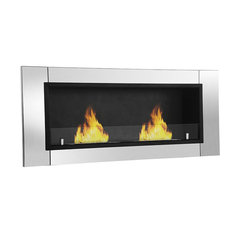 Contemporary Fireplaces
Great Value: This product was easy to install and looks great. We put this in our sun room because we wanted to be able to generate a little more heat without investing in a gas fireplace, and we are pleased with the result.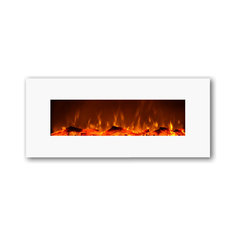 Touchstone Electric Wall Mounted Fireplace, White
Contemporary Fireplaces
Fireplace: Looks great, easy installation with two people needed for final mounting on wall. The heater function has a switch on the back of unit to completely defeat it as needed or desired so no accidental turning on of heat with remote, great feature.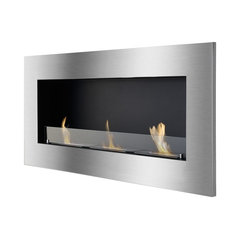 Contemporary Fireplaces
Beautiful!: I just bought this fireplace for our home. I was afraid of getting it because i was not sure how it would look. It one thing to see it on photos where and not sure if the picture is doctored. I am happy i got it because it is beautiful. we built a wall and made it a focal point in our living room. This fireplace brought out living space together. I really like it a lot. The only thing i would change......have fuel shipped when you buy the fireplace, at least a bottle!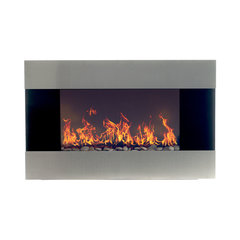 Vincenz Wall-Mounted Electric Fireplace
Contemporary Fireplaces
Electric Fireplace: The fireplace was well packed and the instructions couldn't be easier. The flames look real and is very soothing to watch. For the price you couldn't go wrong. The only thing I might suggest (for all manufacturers) is that the electrical cord be either white or clear since aesthetically it would look better against the wall.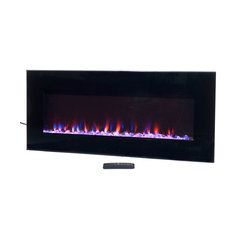 Wall-Mounted Electric Fireplace With Remote, LED Fire and Ice Flame, 42"
Contemporary Fireplaces
Perfect accent: We originally bought the fireplace thinking it could be inset, but it cannot. My son was more than happy to put it in his room and it's perfect. The flames look realistic. The faceplate /glass is one smooth piece. Seems to be very well made. Our only concern is that the wall behind the fireplace gets extremely hot and a bit worried about a fire starting. Going to check into that today.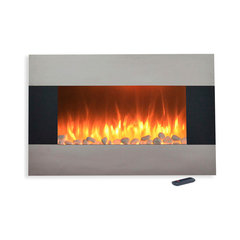 36" Stainless Electric Fireplace with Wall Mount and Floor Stand by Northwest
Contemporary Fireplaces
Looks awesome: The 4 stars is for the look. The fireplace is beautiful but it gets 1 star for actually heating. This may be because the room is rather large but you can hardly feel the heat I'm contemplating putting it on the floor then maybe the heat will be felt better since the vents are at the top.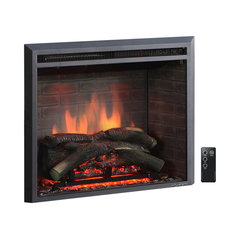 Puraflame Western Electric Fireplace Insert With Remote Control, 750/1500W, 30"
Contemporary Fireplaces
Fireplace review: We have a non working fireplace and an electric insert was a good solution. We like this product very much. The only drawback is the power cord is about 3 feet too short and doesn't reach the outlets we have on each side of our brick fireplace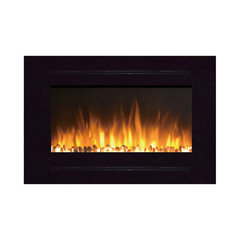 Contemporary Fireplaces
Looks good and works well: The stones were surprising in that there were crystals and white stones - less the natural stone look. I left the crystals out and it looks and works great so far once it was installed.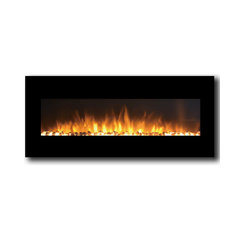 Rigel 50" Black Ventless Heater Electric Wall Mounted Fireplace, Pebble
Contemporary Fireplaces
Nice looking fireplace.: It is a very nice looking fireplace. Looks very realistic and calming. Although I have to return it because I needed a heating vent be on the front of the fireplace not on the top as this product has. If it would satisfy our " build in" need I would never return it.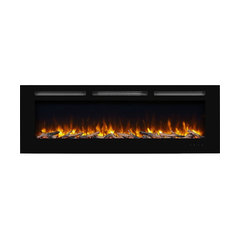 PuraFlame 60" Alice In, Wall Recessed Electric Fireplace, Touch Screen Control
Contemporary Fireplaces
Not installed yet: Will not be intstalled for a couple of weeks. The first time it was sent I had to send back because it was cracked and broken. This one looks great and looking forward to installation!