Fireplace Mantels
Fireplace mantels are known to transform a boring fireplace into a stunning focal point. Often a desirable feature (whether you regularly enjoy fires or not), fireplace mantles can complement and enhance the design style in any home. Fireplace surrounds and mantels are available in a variety of materials, including reclaimed wood, brick, stone, concrete and plaster. Here is some helpful information to help you choose the right mantelpiece for your home:


What's the difference between a fireplace mantel and a fireplace surround?

Mantels: Often called a mantel shelf, these refer to a shelf-like piece above a fireplace that usually serves a decorative purpose. A fireplace mantle is often seen "floating" on the wall or surround above the fire, and it is deep enough to place framed photos or seasonal decorations on.

Surrounds: Fireplace surrounds literally surround the fire feature on three sides, the top piece typically being a mantel (though this is not necessary). They can be ornate structures made out of wood or marble corbels, as well as a more traditional brick surround. Simple concrete or plaster fireplace surrounds bring a clean, modern touch to the room, whereas layering a combination of materials will add depth and texture to your space.
Sponsored Products
Featured Reviews of Fireplace Mantels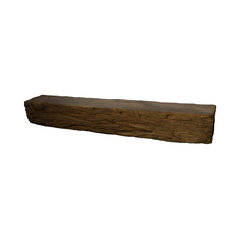 Distressed Fireplace Mantle, 72", Plain
Fireplace Mantels
Beautiful Mantle: We actually spent years looking for old barn beams only to find out that salvage places wanted $500+ which is crazy. This beam looks just as good and is less than half the price. If you are thinking of doing a rustic mantle, look no further.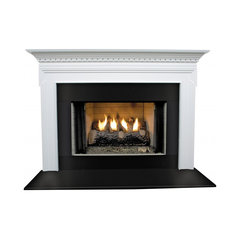 Mt. Vernon Mdf Primed White Fireplace Mantel Surround, 36"
Fireplace Mantels
Met our expectations: We are so pleased with this mantel, great price and really good quality, packaging was great and it was delivered as promised. Rated 4 stars only because my husband had to make some minor adjustments to the height but other than that, met our expectations I highly recommend this product.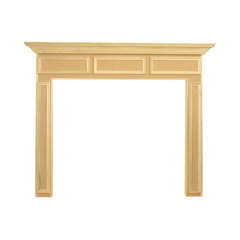 Danbury Fireplace Mantel, Unfinished, Opening: 48"x42"x1.5"
Fireplace Mantels
Pleasantly Surprised!: Initially when the box arrived a my home, (it was very big), I thought, "I guess this is going to be damaged." Was I surprised when I opened it to find it was in perfect condition. One of my sons-in-law put it together for me and it took all of 15 minutes to assemble. It looks beautiful surrounding my fireplace and only needs to be bolted to the wall and stained or painted. It's not a flimsy product and I'm very happy with it.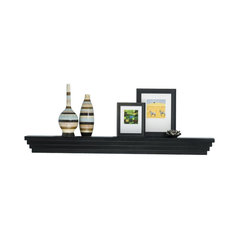 Modern Fireplace Mantel Shelf, Black, 8.5"x72"
Fireplace Mantels
Excellent - the perfect modern mantel shelf: We looked everywhere for a white mantel shelf and actually ordered one, but felt like we were settling on the style to get the right color. We kept looking and found this unfinished one about 30 minutes later and scrambled to cancel/order this instead. We are THRILLED that we kept looking. The shipment was fast, came packaged perfectly with tons of care, and the quality is amazing. The shelf took the paint nicely and the installation was very simple. We actually did not use the strip of wood that was included to mount this, we chose to use a 2x4 instead. The mantel looks great and we just love it.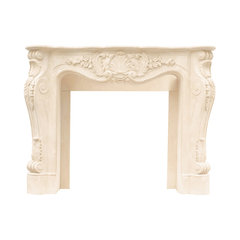 Margerum Cast-Stone Mantel, Ivory
Fireplace Mantels
Beautiful mantel: This is a beautiful mantel, seems very sturdy and well made. Slight concern that pieces don't line up exactly and extra care and attention must be paid to smooth them out and get them aligned. Otherwise, I'm very happy with this purchase - it's more beautiful in person!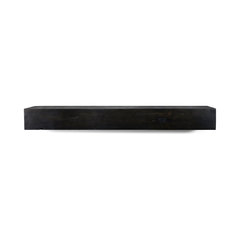 Modern Farmhouse Fireplace Mantel, Floating Shelf, Midnight Black, 60"
Fireplace Mantels
Beautiful Mantel: We ordered this based on reviews and images to replace and update our fireplace. It arrived and the color was perfect. Substantial and great for the price! It came slightly damaged, probably during transit but the Modern Decor team was great and accommodating to ensure they fixed the situation. Highly recommend!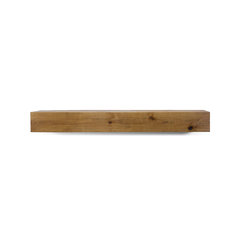 Modern Farmhouse Fireplace Mantel Shelf, Aged Oak, 60"
Fireplace Mantels
Looks great!: Exact colors we were looking for and true to picture! It is hollow on the inside but perfect for decorative purpose and deflecting heat from gas fireplace to TV above mantel. Would highly recommend.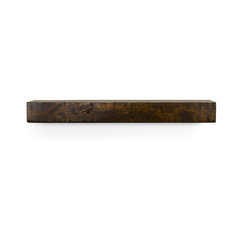 Rustic Fireplace Mantel Shelf, Dark chocolate Oak, 48"
Fireplace Mantels
Really nice mantel: I ordered the wrong mantel (the rustic) for the other side of our fireplace but we like it on the kitchen side of the fireplace. We used the existing L-bracket which the old mantel used to attach to the stone and it worked just fine. This came on time and ordering was easy on houzz.