Valances
Window valances are an easy way to add some extra flair to your windows as well as hide any unsightly curtain rods or other hardware. When paired with short café curtains or drapes, valance curtains can also add a layered effect to your windows, making them stand out against the wall. For the ultimate in elegance, swags top off your window with an almost casual draping effect that looks stunning. If you're in the market for some window valances to spruce up your windows, here are some tips to help you decide which style fits your design personality:


What kinds of valance curtains can I choose from?

You might be surprised at how many different types of valances exist. While you might imagine a soft, feminine look when you picture a valance, a tailored style can compliment more masculine décor. If you're having trouble keeping them all straight, here's a quick guide to some of the most common styles:
• Scarf: Features a long length of fabric that drapes over the curtain rod so that the middle portion curves down in the center and the ends hang down on either side of the window.
• Balloon: Features lightweight fabric that's gathered at the hem so it poofs up, similar to the shape of a balloon.
• Crenellated: Typically made from stiffer fabric and featuring a cutout edge along the bottom hem.
• Ascot: A valance with triangular edges that hang down, similar to the edges of an ascot or handkerchief.
• Tailored: A flat, rectangular style that has no ruffles or gathers.


How do I determine the right size for my valance curtains?

The most important measurement for ensuring your new window valances fit is the width of your window or curtain rod. If you don't have a curtain rod already in place, measure the width of your window and add 2 to 3 inches so the valance gains full coverage. Length is not as important, but it's still a good idea to have a general range in mind for how long or short you'd like your swags to be. Don't forget to consider other factors such as if you have shutters, curtains or draperies already installed. You should also keep in mind how your windows open to make sure your valance curtains don't get in the way.


How do I hang my swags or window valances?

There are a few different ways to hang your new window valances, so be sure to note which style they use to ensure you have the right hardware and space on hand.
• Attached: This style is perhaps the easiest to put together since it features a valance that's attached to the main curtain panel. You can easily slip this style onto a curtain rod without having to worry about hanging the valance and curtain separately.
• Mounted: These come pre-attached to a mounting board, which will be secured to your wall and ceiling or inside your window frame. This style requires you to carefully measure the area where your new valance curtains will be mounted.
• Separate rods: This is possibly the most common method of mounting valances, which uses a double curtain rod or two separate curtain rods.
Sponsored Products
Featured Reviews of Valances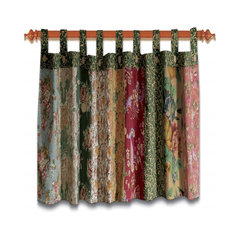 Greenland Home Antique Chic Window Valance
Valances
Farmhouse Chic: Love this valance......my house backs up to a beautiful, forested stream so I don't like to cover the picture window completely and this has all the colori want without being a distraction to the lovely view out the window. I would recommend purchasing one more than you think you will need if you want the look shown in the photo. Very well made, lovely fabric.. so happy with this valance!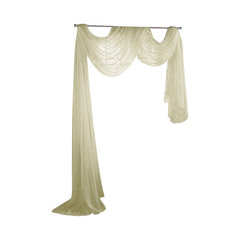 Sheer Voile 216" Long Window Scarf Swag
Valances
Navy Long Window Scarf Swag: The Window Scarf Swag is exactly what we expected and arrived in time given. Good quality and nice dark blue color. It will accent our large bedroom window perfectly! We may be getting smaller ones for the side windows. Great deal for those looking for window treatments.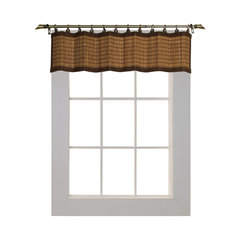 Versailles Patented Ring Top Bamboo 12" Valance, Colonial
Valances
Great look for a valance!!!: We went from oak cabinets to white cabinets with modern handles. The old valances did not match - these valances updated the look. Beautiful and good quality. Only wish they had other sizes for wider windows - had to sew 2 together for a couple window but don't think anyone will notice. Very happy with the purchase!!!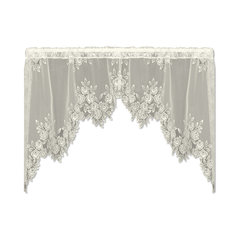 Valances
Love these Tea Rose curtains!: These Tea Roae curtain are so beautiful. The fabric and color remind me of the vintage style and the drape and design is so graceful and soft. I would definitely recommend these and will be purchasing more myself. The delivery was fast too.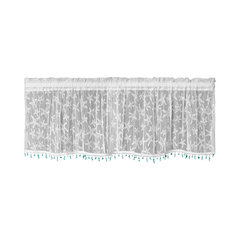 Valances
This valance is very sheer and airy! I have a turquoise & white kitchen with a beachy feel. lisat: This valance is very sheer and airy! And the turquoise beads at the bottom are really a nice touch. I have a turquoise & white kitchen with a beachy feel. This valance goes perfect! lisat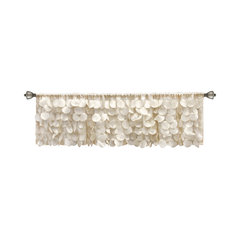 Valances
Gigi Valance Ivory: I love it! We just remodeled our bathroom. My décor is photos of our recent trip to Europe featuring the cobblestone streets. The valance looks like little cobblestones. Thank you for setting off the look I was going for.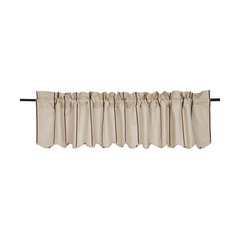 Charlotte Slate Scalloped Valance
Valances
Well made and classy.: These look great as a finishing touch in my casual family room. I didn't want fussy curtains and I already had blinds over three big windows but I did want the window wall to look finished. These were just the thing. I love them.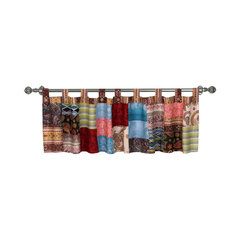 Greenland Bohemian Dream Window Valance, Multi, 84"x21"
Valances
Boheian Valance: This is a wonderful valance. The colors are true to the photo and match the comforter perfectly. The only thing I will say that is not perfect is they are lined but it is a white fabric and it does show more lighting from the blinds that I wanted. I had something extra that I hung behind them and they look fab !!!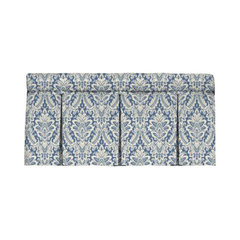 Wavelry Donnington Box Pleat Window Valance, Cornflower
Valances
My buying experience was great.: My buying experience was great. The valances go great in my living room and add a great appearance to the ambiance. I will be ordering two additional valances of the same style and color.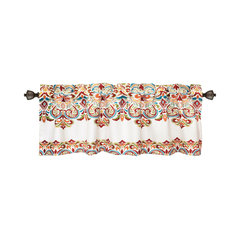 Clara Room Darkening Valance, Turquoise/Orange
Valances
Beautiful Valances!: I ordered three of these beautiful, high quality valances for my summer home. Vibrant pops of color make the room so bright and cheery. My order was delivered quickly and well packaged. A very happy customer!