Bath Mats
Bath mats are an important part of bathroom decor, providing style and protecting your floor from excess moisture, not to mention keeping you from slipping. Quality is as important as style, and you'll naturally want a bath mat that not only looks good and is absorbent, but also feels comfortable beneath your feet. While you're searching for that perfect bath rug, keep these handy tips in mind:


Why do I need a bath mat?

It's inevitable that water will sneak past the shower curtain and drip from wet feet, making its way to the floor. Shower mats will soak up the extra water before it can become a hazard. Bath rugs also provide warmth when the weather is chilly. Plus, they complete the look of your bathroom by adding warm texture to the mostly hard and cold surfaces.


What size of bathroom rugs should I purchase?

This depends entirely on what area you want to cover and how large your bathroom is. Find a shower mat that's proportionate to the tub and vanity that allows for adequate coverage. If it's in front of a double vanity, you can choose separate rugs for each sink or one long runner rug for a seamless look. Measure the spaces before shopping so you can be sure of your purchase. In a small bath, be sure to allow room for the door to open without hitting your bath rug.


What qualities should I look for in a shower mat?

Durability is a high priority. Shower mats get wet on a regular basis and are stepped on frequently, so ensure their quality before buying. Look for a nonslip surface and rubber backing to minimize slipping when feet or the floor is wet. And be sure to check cleaning requirements. Most mats are made with cotton or chenille, which are machine washable, but some may need to be professionally cleaned.
1 - 36 of 19,841 products
Featured Reviews of Bath Mats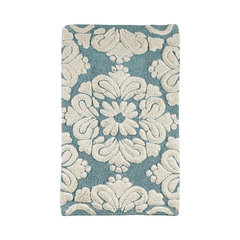 Medallion Bath Rug, Blue Natural
Bath Mats
Gorgeous: feels so good under your feet look is a little deceiving because of all of the natural so be careful to match that color up it will be a shade lighter than what you're thinking when it arrives because of all the natural color in it. I originally went with the blue but because of that shade difference I had to go with the natural Brown which is ok they're both gorgeous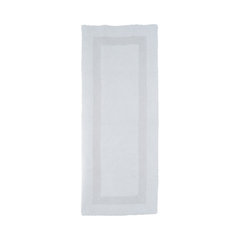 100% Cotton Reversible Long Bath Rug by Lavish Home, White
Bath Mats
Good Quality, Color not exactly as expected: Rug color was more red than expected. I'd call it Claret, more than Burgundy; but it's hard to find true burgundy these days. Also got the 2 bath rug set and perfect match to it. Have not washed them, so don't know how they will hold up, or how quickly they will fade.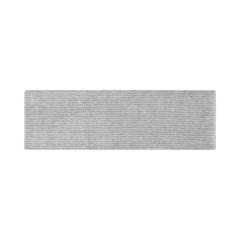 Sheridan 22"x 60" Plush Washable Nylon Rug, Platinum Gray
Bath Mats
Bath Rugs: They are awesome! Very happy with the quality of the product and the colors. The fit was perfect. We always order from Houzz and never have a problem. The quality of the product is great, and the service is the BEST! Thank you for the prompt service and the quality of products ordered. Always check Houzz before making any purchases! Your the BEST!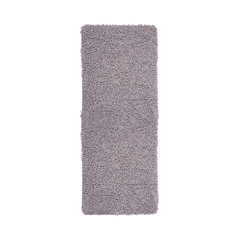 Shag Memory Foam Bath Mat, 2' x 5', Grey
Bath Mats
Perfect!: I purchased these to use in the entryway/kitchen area. Great to absorb water and trap any dirt from getting tracked into the house. Seafoam green is more of a deep turquoise. I love them!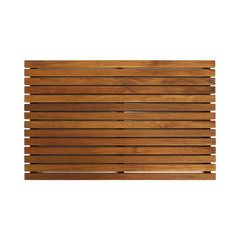 Zen Shower Mat, Solid Teak Wood
Bath Mats
Spa-like: Shower mat is terrific - it is level and even with no wobble. Wood is smooth and well oiled. Worth the money to create a spa-like shower. Order arrived on time in great condition.. I would highly recommend this mat.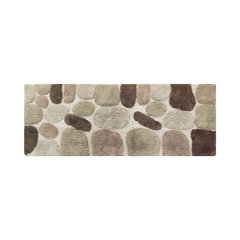 Chesapeake Pebbles Khaki Bath Rug Runner 45090 (24" x 60")
Bath Mats
Pebbles Bath Runner: I was most pleased with the runner. The quality was excellent and the colors were perfect, very subdued and spa like. The pile was a little too high for the bath where I had expected to place the runner. but it was also perfect for another bathroom where the doors were not an issue,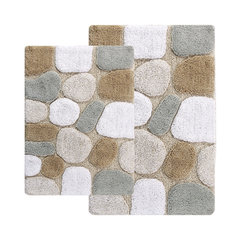 Pebbles Bath Rug 2-Piece Set, Spa
Bath Mats
Beautiful!: These bath mats are perfect for my bathroom! They married the brown in the tile to the white of the tub/moldings to the cream in the cabinet to the sea salt of my walls all together! They are thick and of good quality.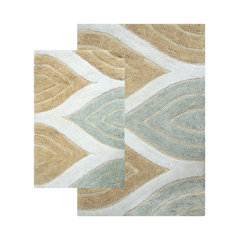 Chesapeake Davenport 2 Pc. Spa Bath Rug Set 44801 (21"x34" & 24"x 40")
Bath Mats
I like it but the colors are a bit different than I expected: I like the feel and thickness of these mats. The only surprise is the area that was called gray has a very light greenish tint to it. The beige area which is what I really wanted to match was exactly what I thought it would be. Luckily I found towels that were called "sulfur gray" which matched the gray of the mats perfectly. The brown wasn't as dark as I expected but it was ok for me.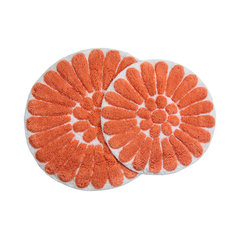 Chesapeake Bursting Flower 2 Pc. White & Coral Round Bath Rug Set 45953
Bath Mats
I love these rugs.: I love these rugs. I have orange Daisy's in my kitchen. I wasn't sure if the color since they call it coral but they look great. So I bought another set since I needed 3 rugs. Love love love them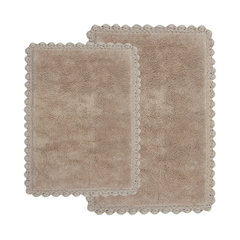 Chesapeake Crochet 2 Pc. Linen Bath Rug Set 43851 (21"x34" & 17"x24")
Bath Mats
Lovely rug!: It's a lovely rug. Color is as expected. It's not cheap and decent weight. There is no rubber or padding so it does move around on natural stone tile. Also, water tends to sit on top in a puddle versus absorb through.