Fire Pits and Accessories
Create an inviting atmosphere at your next outdoor get-together with a fire pit, chiminea or outdoor fireplace. These glamorous accents can add a spark to your ambience (literally) and also provide warmth and a place to roast marshmallows — or, if you opt for a design like a chiminea, a place to cook up additional tasty treats. Both functional and chic, fire pits are great additions to any outdoor space.

Naturally, your new backyard centerpiece will require a few accessories. If you've added fire pits, you may want to use fire glass as a colorful accent. These small, tempered glass fragments retain and direct heat very well, so they can help warm up your party on a chilly night. If your outdoor fireplace is wood burning, a firewood rack is a useful accessory. This allows you to stack up your logs and keep them in a handy area without having to worry about them rolling away. Log baskets are another easy way to keep your firewood safely nearby. A cover is always a good idea to have on hand, as well. If inclement weather threatens to rain on your parade, douse your fire and toss a cover over the top of your fire pit, chiminea or outdoor fireplace to protect it from the damp or cold.

Give your guests something to talk about and add one of our unique fire pits and other designs to your backyard. Once you do, your only problem will be getting your guests to go home after the party's over!
Featured Reviews of Fire Pits and Accessories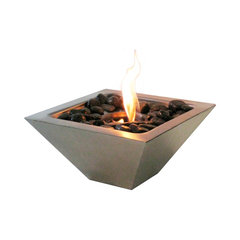 Anywhere Fireplace Indoor/Outdoor, Empire With Polished Black Rocks
Fire Pits and Accessories
Love this indoor fire!: This is the perfect indoor fire place for your coffee table. It's exactly as advertised, perfect indoor size and no smoke or smell! Be sure to order extra gel for the flame because you will want to sit around it for hours.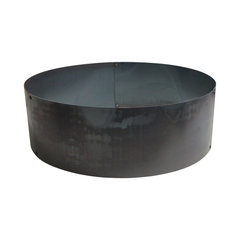 Solid Fire Ring 30, 30", 38
Fire Pits and Accessories
Exactly as described: This is a really nice fire ring. The quality is very nice, it has a new, clean look, the metal is strong, the hardware is good quality and the three parts fit together well. The manufacturer shipped it promptly. The shipping package was a little bent up, I think the packaging needs some vertical or corner supports, but the product is in perfect shape. I would definitely order from this manufacturer again, but maybe I would get the larger size.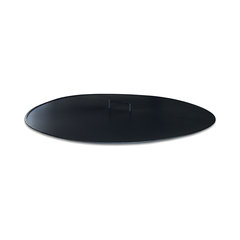 Round Snuffer Cover, 48" Diameter
Fire Pits and Accessories
Perfect: It is flat, not rounded like I thought so I had to take a few rocks out to get it to lay flat but it looks and feels great. Seems like it will really hold up to the weather as well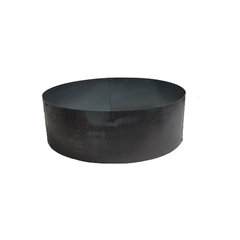 Solid 5-Piece Fire Ring Set
Fire Pits and Accessories
I bought this 60" fire ring on line.: I bought this 60" fire ring on line. It was quick and easy. Nice webisire. The ring was easy to assemble and seems very sturdy. I was a bit skeptical based on the price but to. my surprise it really is rather nice. I highly recommend this item and website.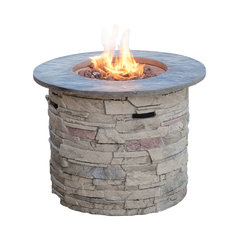 Blomgren 32" Stone Circular MGO Fire Pit with Gray Top, 40,000 BTU
Fire Pits and Accessories
Great.: Looks good! Lots of complements. Came in 1 big box, and I left it for my husband to deal with. It was kind of heavy (the whole box). But it's ok for me to move it once it's set up. Gives a little warmth not extremely hot that you have to move away. The item you will place on the upper part will get warm. Looks good on a concrete patio.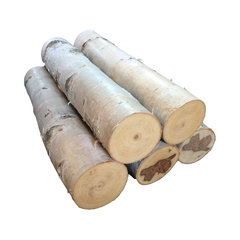 Large White Birch Fireplace Logs, Set of 5
Fire Pits and Accessories
perfect: I have been looking for a while for white birch logs. Crate & Barrel had some but they were too thin and not very white and they did not sell the bigger ones they had on display. Those are perfect, Great sizes, great look. They are beautiful in a fireplace as home decor. Too beautiful to burn them.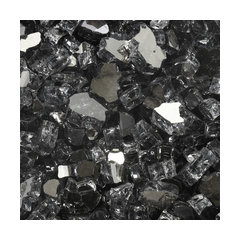 1/2" Reflective Tempered Fire Glass, Interstellar Gray, 10 lb. Jar
Fire Pits and Accessories
Good look!: This glass has good sparkle but is low key in color, a nice balance for a fire pit. The pieces are quite uniform in size and didn't have small pieces that might slip through to the patio below it. Am very satisfied and looking forward to our first cozy fire.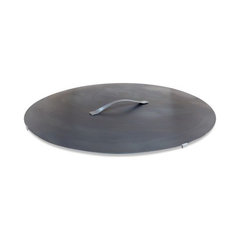 Large 31'' Fire Pit Lid, Rusting Steel
Fire Pits and Accessories
Very sleek fire pit cover!: This arrived just as I'd hoped. If you have a 31 inch fire bowl and you are wondering if this will fit, it is just slightly larger, forgiving if there are some spots wider than 31 inches. The handle needs to be attached and they included the tool to do so. It looks gorgeous and can easily transform your fire bowl into a drink table when no in use.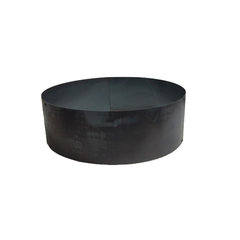 Fire Pits and Accessories
Nice fire ring.: Fire ring is very nice. The metal is heavy duty and should last for years. I would have given 5 stars if holes lined up a little better. When bolted together the alignment of the holes causes the 4 segments of the ring to be off about 1/4 - 1/2" from segment to segment. I will probably lay out the ring on a flat surface and weld it together for a more permanent construction.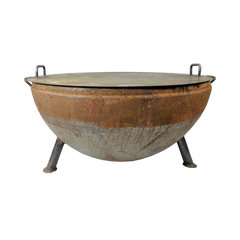 Heavy Duty Deep Fire Pit, Snuffer Lid
Fire Pits and Accessories
Gorgeous fire pit: Received the Heavy Duty Deep Fire Pit with Snuffer lid yesterday and it is spectacular! It looks solid and weathered and compliments my rustic flagstone patio. Very happy I ordered it and look forward to my first fire soon. Thank you!