Fire Pits and Accessories
Create an inviting atmosphere at your next outdoor get-together with a fire pit, chiminea or outdoor fireplace. These glamorous accents can add a spark to your ambience (literally) and also provide warmth and a place to roast marshmallows — or, if you opt for a design like a chiminea, a place to cook up additional tasty treats. Both functional and chic, fire pits are great additions to any outdoor space.

Naturally, your new backyard centerpiece will require a few accessories. If you've added fire pits, you may want to use fire glass as a colorful accent. These small, tempered glass fragments retain and direct heat very well, so they can help warm up your party on a chilly night. If your outdoor fireplace is wood burning, a firewood rack is a useful accessory. This allows you to stack up your logs and keep them in a handy area without having to worry about them rolling away. Log baskets are another easy way to keep your firewood safely nearby. A cover is always a good idea to have on hand, as well. If inclement weather threatens to rain on your parade, douse your fire and toss a cover over the top of your fire pit, chiminea or outdoor fireplace to protect it from the damp or cold.

Give your guests something to talk about and add one of our unique fire pits and other designs to your backyard. Once you do, your only problem will be getting your guests to go home after the party's over!
Sponsored Products
Featured Reviews of Fire Pits and Accessories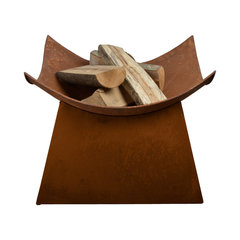 Fire Pits and Accessories
Smaller than I expected: Although this fire pit bowl is smaller than I expected, it serves it's purpose and created a nice inviting fire that lasted for several hours. Delivery came in a small box in 2 parts which I love. It makes clean up of ashes extremely easy.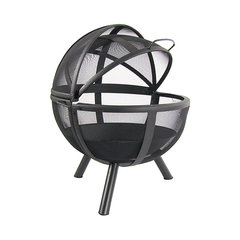 Flaming Ball Fire Pit, Black
Fire Pits and Accessories
just what I wanted: We are really happy with this purchase. Pretty easy to put together - I am not terribly handy, but was able to manage it. Perfect for our backyard s'mores. and looks good when not in use. As a bonus, it came with a cover.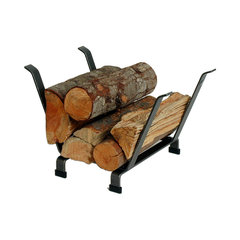 Fire Pits and Accessories
Great product that I would recommend for your hearth: The log basket is very functional and doesn't interfere with anything else on our hearth. Easy to load and unload and it has a very nice finish. The overall size is perfect for our needs. Not too big and not too small. It was very quick and easy to assemble. The rubber pieces that attach to the legs keep it from scooting around or scratching your hearth surface. Great product.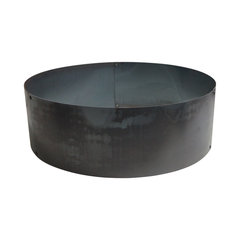 Fire Pits and Accessories
Exactly as described: This is a really nice fire ring. The quality is very nice, it has a new, clean look, the metal is strong, the hardware is good quality and the three parts fit together well. The manufacturer shipped it promptly. The shipping package was a little bent up, I think the packaging needs some vertical or corner supports, but the product is in perfect shape. I would definitely order from this manufacturer again, but maybe I would get the larger size.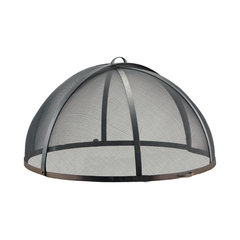 Fire Pits and Accessories
Great!: This is exactly as shown and the measurements are exactly correct so that it fit precisely as I wanted. The one reason it did not receive 5 stars is that it folds in half (one half sliding into the other) which is handy, but a bit awkward to handle when pulling back out to fit the grill. No regrets though ... it is very substantial and perfect for the reason I bought it.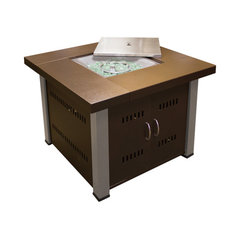 Gas Fire Pit, Hammered Bronze and Stainless Steel
Fire Pits and Accessories
Not bad easy to assemble couple of suggestions ...: Not bad easy to assemble couple of suggestions ... use an electric battery type starter like in bbq''s ...definitely change the fire pit cover to bronze ..too much glare off stainless ... so far good ....buying was fine no issues ....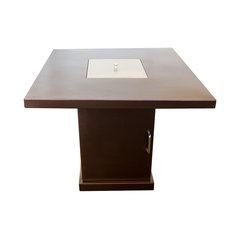 Fire Pit, Hammered Bronze, Small
Fire Pits and Accessories
Just what we were looking for: We wanted an inexpensive compact fire pit and this item fit the bill perfectly. Arrived in 2 days and was well packaged. The assembly instructions were easy and the only tool required was included. We have enjoyed it every day since.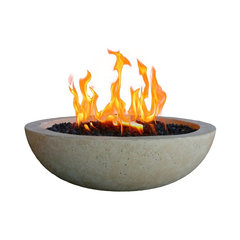 Eldon Tabletop Fire Bowl, Suffolk Tan
Fire Pits and Accessories
Awesome: Was looking for some addition to my patio without adding another piece of furniture. Fire bowl was an excellent choice. The table is still useable for dining and the bowl looks as if it's part of the table. Easy install and looks great To conceal the propane tank. I used a round 15 gal. Barrel and sprayed it flat black to match the table. It fits directly under the bowl and looks like part of the table.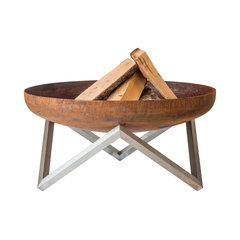 Memel Modern Outdoor Patio Rust and Stainless Steel Fire Pit, Large 31"
Fire Pits and Accessories
It's art!: I just received this bowl today and it is absolutely gorgeous and of high quality manufacture. The stand is very well made, the bowl is sturdy but not too heavy. There are little divots on the outside of the bowl to stabilize it on the stand. This thing is going to last a very long time. I haven't built a fire in it yet, so it remains to be seen how that will work. I've already come back to purchase the steel lid. It will make a nice table when we aren't using it for fire. Bonus: I received it 2 days after ordering it, well packed. I can't wait until I finish furnishing my new patio so I can post a picture!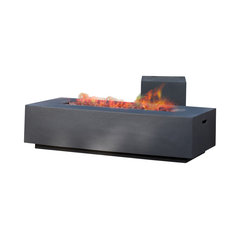 Jaxon 50K BTU Outdoor Fire Table With Tank Holder
Fire Pits and Accessories
Mostly great: So far we like this a lot. It is not even close to white. It is definitely a gray, close to medium gray. We did not use the lava rock, but fireplace glass instead. Very disappointed that you have to leave the part that emits the flames fully exposed. it doesn't look as good that way, but works better for sure. Also unfortunate that it doesn't come with a cover for the 'table' that covers the tank. I haven't been able to find one that size yet, and the instructions make a big point of telling you to keep the firepit covered any time it is not in use. It also says to not do things like write on a paper placed on the material without putting padding under the paper, so since the tank cover is made of the same material as the firepit, I assume it is just as important for the tank to be covered. We are using black garden trash bags at the moment. There is also not information about the hose, and how much that can be exposed to the elements. I'm going to use a very large cover to go over the entire seating set, once we have the patio set up. But for now, we re working piece meal trying to keep it all protected.