Floor Mirrors
Few of us can resist darting back for a second glance after catching a glimpse of ourselves in the mirror. Tuck a floor mirror into a corner and it makes the perfect place to check up on your current fashion statement, hairdo or makeup. Of course, floor mirrors as decor pieces can also add a sense of glamour and depth to your indoor space.

A cheval mirror or freestanding mirror is the perfect addition to your dressing room or bathroom. Of course, your leaner mirror doesn't have to stay in the bathroom or dressing room, either. Prop it up against your living room wall to add some sparkle and a sense of depth. Wherever they go, floor mirrors bring a sense of refined elegance and unique style to your home. Discover our collection of antique, modern and unique standing mirror designs right here on Houzz.
Sponsored Products
Featured Reviews of Floor Mirrors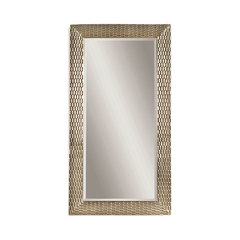 Sazerac Leaner Mirror, Silver Leaf
Floor Mirrors
Great fit for our closet: Great purchase, great delivery. A frame was thicker than expected, but once we hung it on the wall, it looked perfect. Gold color is very settled. Mirror was not very heavy, so it was too hard to hang it.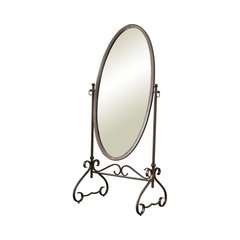 Linon Clarisse Metal Mirror, Antique Brown Finish
Floor Mirrors
elegant mirror, loving it: It looks elegant. It's just as huge as I wanted it. solid and there's no way it would tip over or fall off. I like the protruding piece on the side as it can allow for some draping as a form of accessory or decoration. Would buy again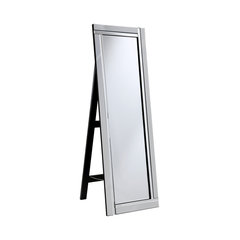 Modern 17.8" Contemporary Mirror, Clear
Floor Mirrors
Beautiful mirror: Beautiful, very sturdy and excellently packed so it arrived in perfect shape. It is pretty heavy so it could be hard to hang, but I can't be sure as I used the easel feature to set it on the floor.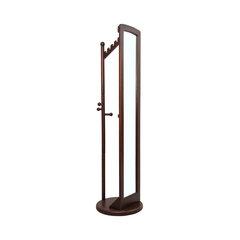 Standing Mirror With Coat Rack, Espresso
Floor Mirrors
very sturdy and easy to assemble: This product is well-designed through and through. The assembly is very easy and only requires the provided allen wrench. Once put together, the item is sturdy and I was pleasantly surprised that the mirror can do a full 360 swivel in any direction! I love that the item is so multi-functional - I was looking for a freestanding mirror, but wanted more functions for it to justify the real estate in my room. This was perfect! Only slight negative is that the mirror is a little narrow and seems to have a slight distortion when standing farther away... but it definitely gets the job done and then some!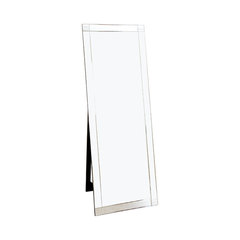 Iona Standing Floor Mirror
Floor Mirrors
Gorgeous: This is a very nice mirror. The mirror is very thick and beautiful. The only issue I have is that the stand only has one locking bracket. I think it would have been sturdier if there were a locking bracket on each side of the stand (similar to a ladder).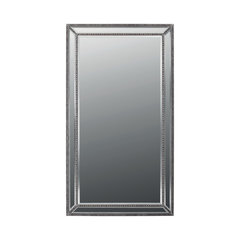 Floor Mirrors
Looks like a million Bucks: Beautiful mirror. Very heavy. Comes incased in a crate so make sure you have a drill to get the screws out. Comes with some hardware and no directions on how to attach it to the wall..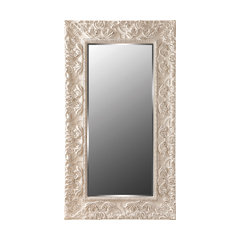 Gloucestershire Floor Mirror, 49"x87"
Floor Mirrors
Good value for a visually interesting mirror.: The mirror has a composite frame, not real wood, as described. However, for the price it has a great look and it's on a dramatic scale. Came professionally packed and crated, very impressive. I would recommend.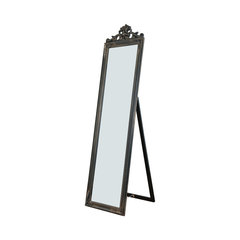 Olsen Free Standing Mirror, Copper
Floor Mirrors
Perfect size & appearance!: Exactly what I wanted. The rod supporting the mirror is attached with a safety chain which is a great idea! Setting it up is SO much easier than securely hanging on a wall. Only negative is the slight imperfection of the flower design added onto each corner but at a distance it's not noticeable. At such a great price I can't complain!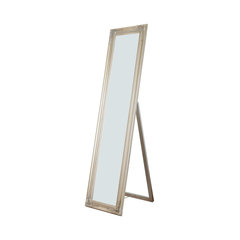 Isla Wooden Full Length Mirror, Champagne
Floor Mirrors
beautiful mirrow: This is a beautiful, sturdy mirror. It arrived in a very timely manner, was packaged well, and came completely assembled. It has a sturdy back brace that makes it solid when placed on the floor. I felt it was an appropriate price for a good product.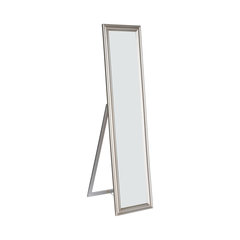 Irene Wooden Full Length Mirror, Silver
Floor Mirrors
Great value, solid construction: I needed a bathroom mirror of a certain size. Looked everywhere and found most mirrors in the $150-$250 range. This one had every bit the same quality as the others, but saved me big dollars. Shipped quickly in a very sturdy and well-packed box.