Flooring
When you're renovating your home, putting in new flooring is one of the best ways to dramatically alter the look of a room. Although it can be pricey, replacing worn carpet with new wood or tile can up the value of your house, making it easier to sell later on. Because of flooring's importance, you should look at all price points and materials before taking the plunge; you might be surprised by the the wide array of flooring available.
What flooring works best for me?
As you look to replace your current floor, be sure to consider all material options — and there are a lot of them — and decide on what works best for your family. One of the most important things to consider is maintenance. If you have pets or children, carpet is often tough to keep clean, so you might prefer laminate, vinyl or wood flooring instead. And if you already have too many chores on your hands, taking the time to properly maintain true hardwood might not be worth it, especially since there are many faux wood laminate and vinyl options to choose from. The initial purchase cost is important, but you also need to consider how much time and money you are willing to put into keeping the floor in tip-top shape.
Learn more about laminate flooring
What flooring works best in each room?
Another key element to consider is what works best where. Most people prefer soft, comfortable flooring in their bedroom or living room, so you might choose carpet over hardwood, tile or stone, because those three lack the fluff and padding that carpet often provides. Because of their heavy traffic and ability to attract dirt, entryways and kitchens work best with hardwood or lacquer, and stone and tile are preferred in bathrooms. Popular preferences aren't your only options, though, so be sure to explore other eclectic materials and options, such as metal floors, leather floors and carpet tiles.
1 - 36 of 23,688 products
Featured Reviews of Flooring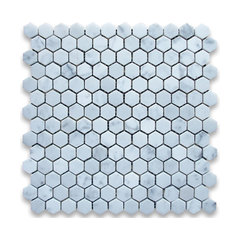 12"x12" Carrara White Hexagon Mosaic Tile Polished, Chip Size: 1"
Flooring
Top quality product!: This tile is as good as it gets for mosaics, seamlessly interlocking with perfect grout lines and no obvious sheet outline when grouted. The Carrera marble is pretty uniform in color so as not to be too busy. I really do love this tile!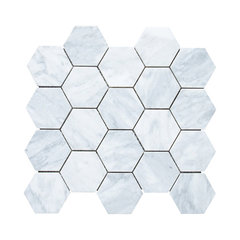 12.25"x10.75" Carrara White Hexagon Mosaic Tile Honed, Chip Size 3"
Flooring
Stunning and quality!: We are in the mist of a total home renovation. I have ordered nearly a dozen tile samples and I am completely impressed with this one, I can't wait to install it in my master bathroom! The quality and color are superb!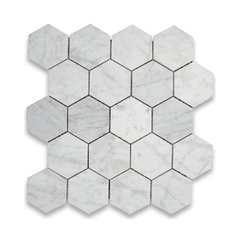 12.25"x10.75" Carrara White Hexagon Mosaic Tile Polished, Chip Size 3"
Flooring
Quality and pricing: Ordered one sheet so we could evaluate the quality since the price was so much lower than others. Came as promised, with free shipping and it's beautiful. Sooo, ordered for all three bathrooms.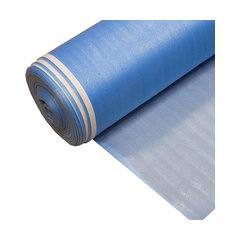 Vapor Vapor 3-in-1 Blue Underlayment Roll, 100 Sq. ft.
Flooring
Underlayment: We was looking for inexpensive underlayment and checked at several hardware stores for $29 . We ordered it for $12 with free shipping and it arrived within a few days. My husband installed on the bathroom floor before installing floating floor covering. Product was easy to install.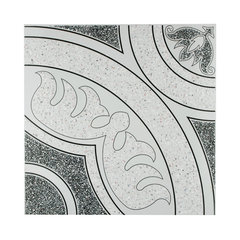 12.5"x12.5" Sonaba Ceramic Floor/Wall Tiles, Set of 10, Negro
Flooring
Beautiful!: I wanted to keep the bathroom remodel in tones of gray and white. I saw this tile and kept going back to it. I received this tile last week and it is really beautiful. I can't wait to see this tile on the bathroom floor.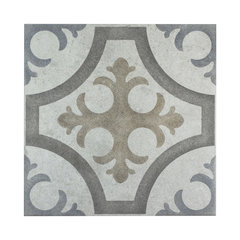 13.13"x13.13" Asturias Decor Jet Ceramic Floor and Wall Tiles, Set of 9, Mix
Flooring
Clear splatter: I wanted to write this review in response to the previous one. I too did not notice the clear splatter design until receiving the tile but it's very subtle and once seeing how the light hits the tile, I actually PREFER the clear spots/splatter. It adds a subtle "sparkle" and dimension and truly does not take away but rather adds more character. Also, it's only noticeable when the light hits at a certain angle and it's not all over the tile, it's minimal. So don't let that negative review deter you from buying this gorgeous tile.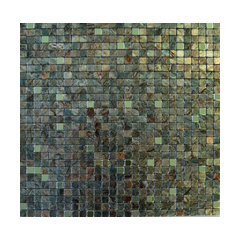 11.38"x11.38" Peel and Stick Backsplash Tile, "Camo", Single Tile
Flooring
Beautiful shine!: This is a great decorating product for the not so handy handymen and women out there. It is going to be the kitchen backsplash for us. It is very easy to install just measure cute with a utility knife and stick. The squares are very tiny but it makes the colors pop. Beautiful teal green mint green and brown throughout this tile.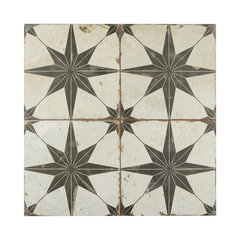 17.63"x17.63" Royals Estrella Ceramic Floor and Wall Tile, Set of 5, Nero
Flooring
beautiful, old world look!: I love these tiles and look forward to using them, however, i'm worried not because they have been discontinued. When that happened before they came back so I'm praying they come back again!! worried!! I give them 4 stars just because i haven't installed them yet and actually used them.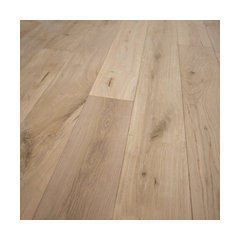 French Oak Unfinished Engineered Wood Floor, SE, Sample
Flooring
Beautiful: It's really beautiful but not what I was going for. I need a finished floor and didn't catch that it was unfinished. If I had more time I would love to finish my own floor but for now I need something different.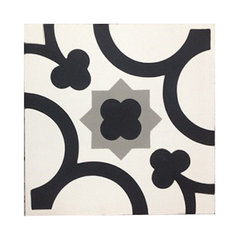 Flooring
Looks amazing!: The pattern is beautiful. My contractor was very impressed with quality of this tile. Make sure to seal before and after grouting with the right sealers (masonry/concrete sealer).