Laundry Hampers
Choosing a laundry hamper is a fine balance between aesthetics and functionality. On one hand, you want your laundry basket to help you neatly manage and store loads of clothes. On the other, you want a hamper that complements your own personal style. Whether you're considering a simple hamper or a helpful laundry sorter, you've got plenty of choices.

Hampers come in all shapes and sizes, so it may be difficult to narrow down which type will work best for your routine. When comparing, don't forget to consider how much space you have, whether your dirty clothes need to travel a long way from the bedroom to your washer and dryer, and how a specific style might match your décor.
• Plastic: A plastic laundry basket is a wonderful choice if you're looking for something that's affordable, easy to clean and durable. They're lightweight and easy to carry, plus they come in all sorts of colors and designs.
• Cloth or mesh: A cloth or mesh laundry bag can be machine washed, plus they're lightweight. They're also breathable, which helps prevent mold and odors accumulating on damp items like workout clothes and towels.
• Wicker: If you're looking for a design with personality and style, a wicker laundry basket is a great choice. They're usually more expensive than cloth or plastic choices and can't be cleaned as easily.
• Cart: A laundry cart is perfect for moving large loads of clothing across the house. While some look more industrial, others feature a chic design.
• Sorter: Whether you want to sort your clothes based on color, care requirements or by person, a laundry sorter makes it easy to keep everything separate.
• Collapsible or corner: A collapsible laundry basket is great to have when space is limited. Similarly, a corner laundry basket is shaped to fit into an unused corner of your house.
Sponsored Products
Featured Reviews of Laundry Hampers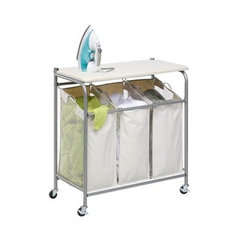 Laundry Cart With Ironing Board
Laundry Hampers
So far it's great: Easy to assemble but you really need to read the instructions carefully bc the from wheels have the brakes. I like the combo bc I'm replacing a similar hamper and now I can get rid of my ironing board. The little wrench thing that comes with it to tighten the wheels is useless bc it is too big for the nuts it's supposed to tighten AND it bends with very little pressure. However, the wheels tighten nicely by hand so not a big issue.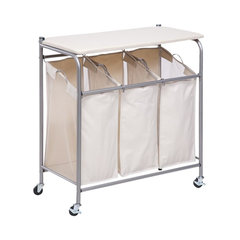 Sort and Iron Triple Laundry Center in Natural and Silver
Laundry Hampers
Sturdy, convenient: This 3-hamper rolling "laundry center" solved my laundry room problem. I needed hampers to sort, and more folding space. It was fairly easy to put together, and feels sturdy, unlike previous rolling laundry centers I have purchased. I like the fold-down top that can be used for folding clothes or ironing. It's padded. Good price.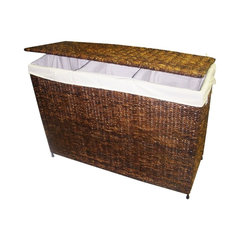 3-Section Woven Maize Hamper in Walnut Finish w Full Load Liner
Laundry Hampers
Using my hamper for recycling: I bought this to replace wicker trunk that I keep in living room to hold papers to be recycled. The 3 bin hamper allows me to store paper bags in one bin. I have a paper shopping bag in another bin in which I toss all that unwanted junk mail & unsolicited catalogues. The third bin holds plastic bags from the supermarket which we yes to line small trash cans. Since it has a flat top I have a flat surface to put my mug while I am going thru the mail. 4 star since there were no directions for set up or any papers from the manufacturer.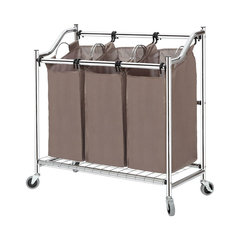 StorageManiac Rolling Laundry Hamper With 3-Section Sorters
Laundry Hampers
Clothes hamper: We are very impressed with our clothes divided hamper this will make doing laundry so much easier! It is very well built, looks great, the design is very good. It is easy to take the section that you need -Carry it to the laundry room and do that batch of laundry. We love this product. It came quickly, and was built better than we expected. Very sturdy.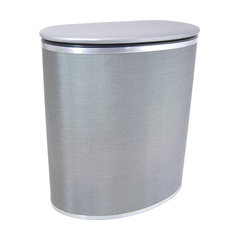 Pewter Style Bowed Front Hamper
Laundry Hampers
Beautiful hamper!: This is a gorgeous hamper with a lot of room. The top is padded so won't mark up the wall when opened. Straight back allows it to sit flush with the wall while curved front gives it a nice look. Looks high end.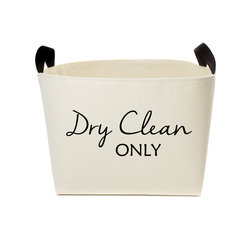 Matera "Dry Clean Only" Laundy Basket
Laundry Hampers
So far, so good: Just received it snd just put a skirt in the bag. A little concerned that I'll gey dirty quickly, but it is canvas,so i can wash it. The bag material is heavy and handles are study. Looks just as cute in person.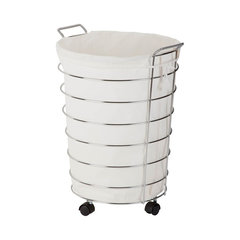 Honey Can Do Chrome Rolling Hamper, White/Chrome
Laundry Hampers
Honey Can Do Chrome Rolling Hamper: Very easy to put together, very sturdy and the wheels roll well. I bought two to use in my senior center to keep the dirty rags and dust mop heads separated until they get washed.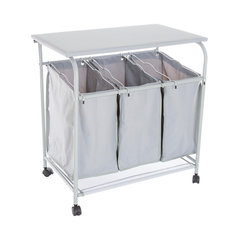 Lavish Home Rolling 3 Bin Laundry Sorter and Ironing Station, Gray
Laundry Hampers
Pretty good item!: So I love this product but the only complaint I have are the wheels are a little cheap. There is one that keeps falling off probably because they don't screw in, but you push them in the bottom. It looks very nice though, and the baskets are pretty large. Overall, I would recommend. Actually put it together myself, so there's that! :)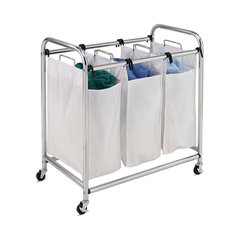 Chrome Heavy-Duty Triple Laundry Sorter
Laundry Hampers
I'm in love!: I love this laundry sorter! I gave it 4 stars because it didn't come with directions on how to put it together but it was so simple to do i guess directions weren't needed. I just looked at the picture on the box and it only took about 10 min! Bags are very sturdy and i love that it rolls and you can lock the wheels!!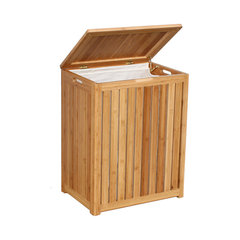 Oceanstar Design Spa-Style Bamboo Laundry Hamper
Laundry Hampers
Functional: Looks nice, is a good size, and accomplishes its purpose. The quality is okay- the top slams shut and it's pretty disappointing that the bottom is not also bamboo, given the price point.