Baskets
You can easily add a touch of warmth and coziness to any room with a well-placed basket. These highly versatile accessories come in all shapes, sizes and materials, such as wicker baskets and wire baskets. Take a peek at how you can perfect your living space with these delightful adornments:


How can I incorporate storage baskets into my house?

You can easily add a basket to any room, whether for decorative or storage purposes. A wicker basket with liners works well as a container — simply place it in a shelving unit or closet to maximize your space. Country baskets add a touch of coziness when placed in your living room. You can even try turning a woven basket on its side and fastening it to the wall for an easy and stylish shelving solution.


What kind of basket material should I choose?

Natural materials can range from sleek and modern to traditional and eclectic. Wicker baskets are one of the most popular choices — and for good reason — but you can choose an eco-friendly bamboo basket for a similarly organic effect. The sturdier composition of wire and plastic baskets also makes them perfect heavy-duty options, but they can be used to add a dash of style as well. Accentuate a rustic-style kitchen with country baskets or even hanging baskets filled with eggs or produce, and help your child keep their playroom tidy while adding pops of color with brightly colored plastic baskets.


What size basket should I buy?

Size depends on what kind of space you're filling as well as the size of the items you'd like to store, if any. Store bathroom products, craft items or even snacks in a small basket, and collect all those office files, toys and more in medium-sized ones. Upgrade to the next size and you've got storage baskets that are a great place to stash cozy winter blankets or extra pillows. Some even come in nested sets, so you get a combo of small, medium and large all in one space-saving package. Others come with lids and even handles, which makes them a go-to solution for transporting items.
Sponsored Products
Featured Reviews of Baskets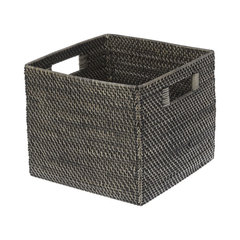 Black Antique Rattan Storage Basket, Small
Baskets
Antique-Style Rattan Storage Basket, Black, Large: Excellent value. Classy color. Sturdy. I am using two of these large baskets to store books on the bookshelf in my living room. The baskets break up the cluttered look I had before in an elegant way. I am very happy with the quality and sturdiness of these baskets.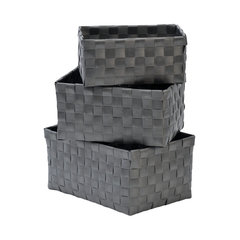 Checkered Woven Strap Storage Baskets, 3-Piece Set, Gray
Baskets
Unexpected Quality: This product did not meet my expectations in the sizes I thought I'd receive but I will use them for another purpose based of the hassle of returning the baskets at the price paid for them. Sizes and dimension are small as caddy baskets,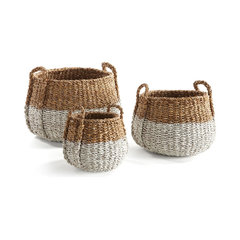 Sea Grass Round Baskets With Handles, White and Natural, Set of 3
Baskets
My Favorite baskets!: These are my favorite baskets! They are perfect for House plants. I love that they are cohesive but all a little bit different. They look fantastic with fiddle fig and eternity plant.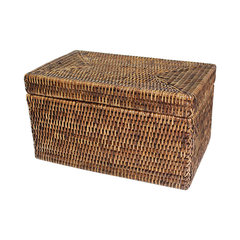 Rattan Rectangular Lidded Storage Basket
Baskets
Love this -- even better than expected: Excellent sturdy quality. Very roomy and classy looking. Truly,this was **better** looking than pictured. I highly recommend this very affordable storage basket. It is trunk-sized versus just being a "basket".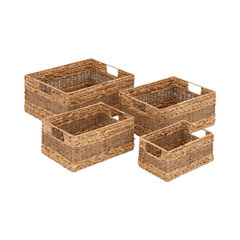 Venice Seagrass Baskets, Set of 4
Baskets
Baskets: I was really pleased with how quickly my order arrived! It was packed very carefully, all the baskets were in great condition and really beautiful. I'm more than pleased with the value - the baskets are high quality, but the price was great.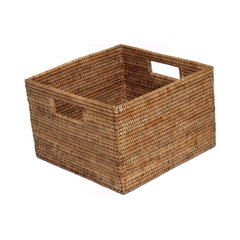 Artifacts Trading Company Rattan Square Basket With Cutout Handles
Baskets
Well Made Baskets: I bought three of these Artifacts baskets for my newly remodeled laundry room. I searched for the perfect size as well as an attractive basket which would enhance my beautiful new room. These baskets did not disappoint me. Love the color and durability. Well constructed.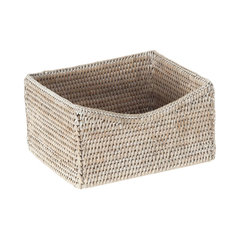 La Jolla Handwoven Rattan Organizing & Shelf Basket, White Wash
Baskets
Great basket: This is a really nice little basket. It's well made, convenient style - it's comfortable to put things in and take them out. It's on my desk, filled with office supplies I use daily. I like the light color.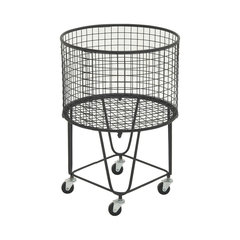 Amazing Metal Roll Storage Basket
Baskets
clothes baskets: I love them, they are a great height for me. I had back surgery 1 1/2 years ago and cannot bend down easily so the height makes washing clothes so much easier! And they look great!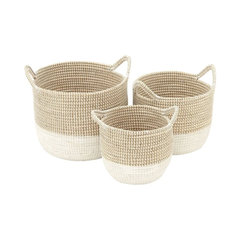 Baskets
Well made and beautiful: I love these baskets! Very sturdy and attractive. I am using the middle size for a plant, will use the large one for fireplace kindling, and the small one is currently up for grabs! Overall ordering experience was easy and efficient.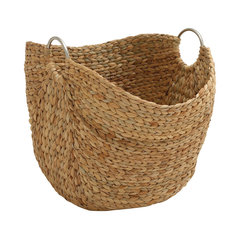 Baskets
Great size: This is the perfect basket to stow all our beach towels and pool gear! The handles make it easy to move between house and pool. High quality construction gives me a lot of confidence that this will last years!