Kitchen Lights
In a room where you chop, dice, grate and handle hot foods, having the right lighting is key. Besides being practical, proper kitchen lighting will brighten your space and make it more inviting. A chic pendant or kitchen island light can easily become the focal point of the room, while well-placed track or under-cabinet lights can ensure no corner goes dark. If you're in the market for kitchen and cabinet lighting, consider the items below.
What type of lighting works best in the kitchen?
Since the kitchen is both a social atmosphere and a workspace, you want a mixture of ambient and task lighting. Ambient lights will set the mood with a soft, overhead glow, while task lights will focus stronger light over an island or countertop. The key is balancing the two sources so the kitchen is as warm and inviting as it is functional.
What types of ambient lighting should you consider?
There are several different types to fit your style, all of which are generally ceiling-mounted. Try recessed for a clean, flush look, or track so you can adjust each fixture accordingly. To make a decorative statement, opt for pendants or chandeliers instead; they still spread the light but also help personalize the space.
What types of task lighting are there to choose from?
Like ambient light fixtures, many styles are available for task lighting.
Undercabinet lights
ensure that your countertop space is well lit; puck lights or fluorescent strips will both do the trick. Pendants can also be used for tasks, as long as they are well placed in the space. In a larger kitchen, an island light covers the middle of the room and ensures safe food prep.
What other lighting considerations should I keep in mind?
Try to choose fixtures that are easy to clean, durable and can hold high-wattage bulbs for maximum light. Kitchens are high traffic areas with fluctuating heat levels and ingredients that can affect the quality if your fixtures over time. Your fixture must be able to withstand the elements while providing your kitchen with adequate light.
1 - 36 of 11,902 products
Sponsored Products
Featured Reviews of Kitchen Lights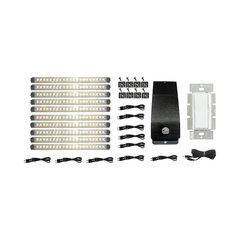 Hardwire LED Under Cabinet Lighting Pro Series 21 LED Kit, Warm White
Kitchen Lights
perfect task lighting: Was having trouble convincing my husband to order this light kit on line. He wanted to be able to evaluate it in person. After looking around town and not finding any thing that met our needs, we decided to go ahead and order it. We are building our own office cabinets. Floor to ceiling wall to wall and need accent and task lighting throughout the system. The order came within days and we are extremely happy with the product. Should do very well for us and looks to be easy to install.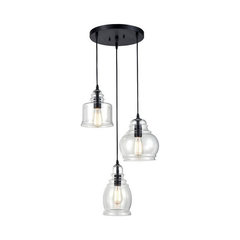 Vintage Kitchen Linear Island Glass Chandelier Pendant Lighting Fixture, 3 Light
Kitchen Lights
Better than I thought: This symbolist blue hew collection of three pendants are just the crown jewel for our remodeled gray kitchen . Easily to change each pendant height, ease of installing ( my husband) . We love it. Get a lot of compliments . We didn't like Edison bulbs, too much of an amber glow. Clear LED worked best.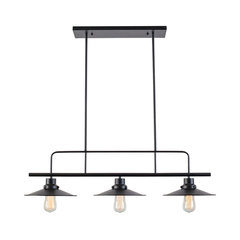 Margaux 3-Light Island Fixture
Kitchen Lights
Looks great.: Looks great. Nice and light to install. I used the 60 watt, ember, Edison bulbs and I don't have enough light, but they look great. If your looking for romantic they would work.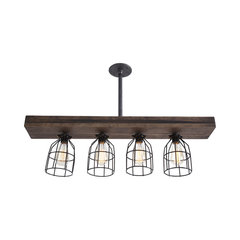 West Ninth Vintage Fayette Triple Wood Light, Dark Stain, Original, With Cage
Kitchen Lights
Great look!: It came exactly the way it was advertised. I have it hung in my kitchen. I must say, that unless you have other light to illuminate your designed space then the 40 Watt bulbs are purely for decoration otherwise I would suggest to use higher watts to have brighter light in the designated space.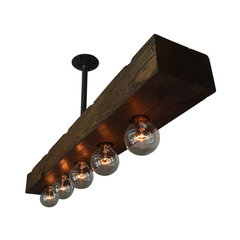 West Ninth Vintage Recessed Wood Beam Chandelier
Kitchen Lights
Hard to Beat: This is going in our formal dining room. We have a table in there that has live edge. This was really a great compliment to the feel of the room. The piece is well made and solid.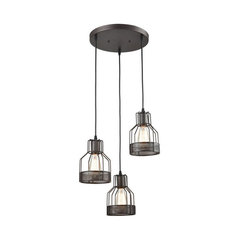 Industrial Kitchen Wire Cage Pendant Lighting 3-Light, Oil-rubbed Bronze
Kitchen Lights
Perfect Touch: Love this addition to my breakfast nook area. The metal is sleek and looks great and happy that each of the hanging cages are adjustable in length so you can use it in a number of spaces: very happy with my purchase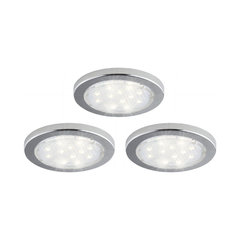 Under-Cabinet LED Pucks, 3-Pack
Kitchen Lights
Very pleased: Replaced some hot halogen lights with these. The light is slightly brighter with more of a white tone than a yellow tone. Ordered 2 more sets after the original order came in to put in another area. Highly recommend!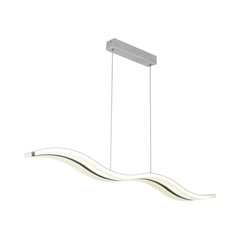 Barrel Swirl 40W LED Kitchen Light
Kitchen Lights
Very nice light fixture except for very bright white light: The lamp is beautiful, very modern and futuristic but you have to shade your eyes as it is so bright! I would give it 5 stars if not for the fact that the brightness in not mentioned in the description.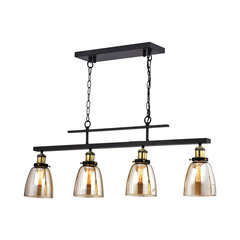 Amber Chandelier, Antique Black
Kitchen Lights
BEAUTIFUL light: This was the first purchase I made for our new home and then planned my kitchen around it. Once the package was opened (months after purchase) the electrician realized that two rings that hold the chain were broken. The response from Houzz was wonderful! They contacted the manufacturer and had them send me replacement parts within 3 days! The fixture is exactly what I was looking for over my island! The amber shades provide nice soft lighting.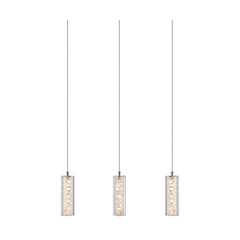 Chrome Finish LED 3 Clear Crystals With Crystal Beads Pendants Island Chandelier
Kitchen Lights
First pendant light: decided to remodel my kitchen and this was the first piece i bought. I like the sleek lines and the sparkles. it is bright and works well as an accent light. the only upset that is not dimmable and i a i cant adjust heights of pendants.