Outdoor Lounge Sets
Creating the perfect outdoor lounge setting starts with finding the right patio lounge set for your specific space. You'll need to consider a few things, such as material, features and which style of lounge furniture will fit your needs best. Do you plan on having large gatherings where there's seating galore, or is your space more suited to small, intimate chats with your closest pal? Before you snap up the first outdoor lounge set you see, here are a few items to take note of to ensure you bring home the perfect one.
What styles do outdoor lounge sets come in?
What materials are best for patio lounge sets?
Metal - A metal patio set can be both sturdy and lightweight, (think aluminum), and provide the look you may be going for in your space. Be careful if you live in a wet area, as rust and corrosion can certainly shorten the lifespan of metal outdoor furniture. Also, metal can be hot to the touch, so look for stay-cool options if this is a concern for you.


Wood - A wooden outdoor lounge set gives a classic feel to any space, blending in with natural outdoor surroundings. It lends itself well to a variety of styles, from traditional to modern, but this sturdy material can also require more maintenance. If you are willing to potentially oil or seal wood lounge furniture yearly, this might be the material for you. Try teak for an extra-weatherproof wood option.


Wicker - A wicker patio set is an ideal material for an outdoor lounge setting. It's very weatherproof and won't get hot or rust like metal can. It's easy to maintain and can last years with little effort. Really the only downside is that it might not suit everyone's design taste.
Which features should I look for in a patio furniture set?
While style and material are important, so are the features of any outdoor lounge furniture set. Here are a few of the most popular features that fellow shoppers are on the hunt for — and trust us, it's for good reason!
Sponsored Products
Featured Reviews of Outdoor Lounge Sets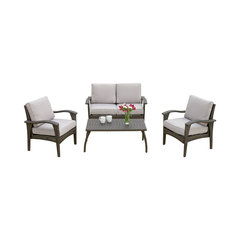 4-Piece Voyage Outdoor Sofa, Gray Set
Outdoor Lounge Sets
Quality set: This looks and feels like a quality set. The sice is nice. Chairs are comfortable. However, like some other reviewers mentioned the back cushions make the seat a little too shallow. We just don't use them and they're fine. The cushions are definitely not white as the picture shows. They are more of a pale creamy yellow. Happy with this purchase.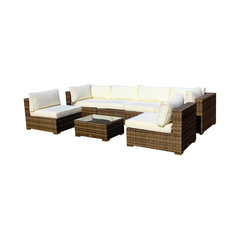 Outdoor Patio Furniture Sofa All-Weather Wicker Sectional 7-Piece Couch Set
Outdoor Lounge Sets
Recommended: The quality of the wicker is very good and comes readily assembled; low backs make it great in the garden Cushion material is not the best and the colour attracts dirt so think about how to store those cushions when not in use.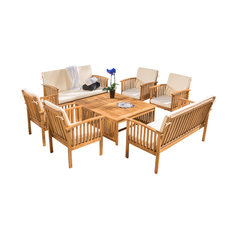 -Piece Beckley 8- Outdoor Wood Sofa Seating 8- Set
Outdoor Lounge Sets
Awesome!!: Absolutely fantastic! I was a bit apprehensive after reading some negative reviews on other sites about this vendor, but my experience was 100% positive. Great Deal Furniture was professional, super fast delivery, and GREAT quality furniture. We ordered the 8 piece and loved it so much we ordered an additional 4 piece set! It arrived in TWO days! Easy to follow instructions and great quality. Will definitely use again!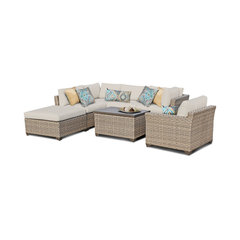 Hampton Outdoor Wicker 7-Piece Patio Set, Beige
Outdoor Lounge Sets
3 season room furniture: This couch is perfect for our new 3 season room. We ordered it with gray coverings. They were backordered so we were sent the set with taupe and told the gray will be sent to us. We received 2 gray with the delivery on Friday. We had some delivery challenges as it was delivered in a tractor trailer that got stuck at a bridge and was challenged to deliver in our neighborhood. The driver told us to specifically ask for a straight truck next time. Everyone at Houzz was great and easy to work with.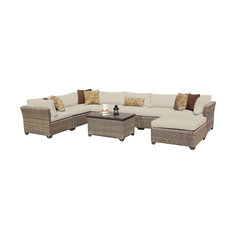 Hampton Outdoor Wicker 9-Piece Patio Set
Outdoor Lounge Sets
Very happy with Decision!: Did lots of searching online and locally (Pittsburgh area) settled on this set and utilized Houzz and had a really good experience and GREAT service from Jacqueline! Furniture got here in less than 3 weeks, 1-2 weeks before the longest time quoted, just in time for our 4th of July weekend! Definitely buy the fasteners to connect the furniture, it is VERY light, but we love it and it looks as good or better than we hoped! Got the 2 for 1 cushions, still waiting for our Dark Blue, but my wife now loves the light cream cushions that came with the set. I can't emphasize enough the great customer service and follow up as well from Jacqueline! Great customer service experience!!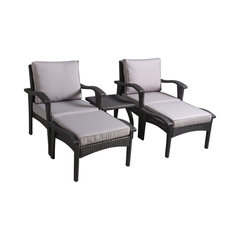 5-Piece Maui Outdoor Gray Wicker Seating With Cushions Set
Outdoor Lounge Sets
Comfortable!: I was skeptical to order patio furniture online without sitting on them first, but it was such a good price I decided to go for it. I really liked that both chairs had its own ottoman, which can be extra seating when my friends are over. They shipped quickly and were easy to assemble. Very comfortable. Good quality.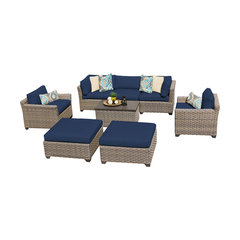 Hampton Outdoor Wicker 8-Piece Patio Set, Navy
Outdoor Lounge Sets
Good quality for the price: This set was a little smaller than what I expected and I wasn't really satisfied until I got it all out of the boxes and put together. We used zip ties to secure the three seats of the couch because they did slide a bit. Added some accent pillows and the entire set looks amazing. It's very comfortable, in the end I was very happy it was less substantial because it's easy to move around. We bought this set for our beach balcony and it has so far fared well in 30+ mph winds, not shifting an inch. I love it more and more each day. About to order two more chairs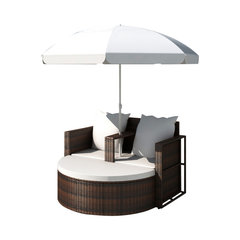 Brown Garden Poly Rattan Lounge Set With Parasol Outdoor
Outdoor Lounge Sets
All good but directions and Umbrella: Umbrella is not the best quality. Umbrella is very light so if you have no wind it's ok. Directions are hard to follow but once you figure it out it's a nice piece at a decent price.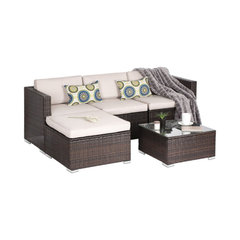 Oakville 5-Piece Outdoor Rattan Sectional Sofa, Patio Wicker Furniture Set
Outdoor Lounge Sets
This conversation set is amazing!: This conversation set is amazing! Especially for the price! Fits perfectly in my "man cave" and I'm planning on getting another for my patio! These sets are usually tremendously expensive at retailers so I am very happy with the purchase.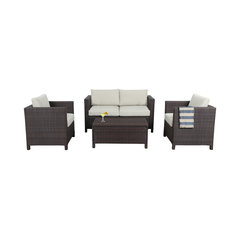 Phoenix Outdoor Wicker Lounge Set With Storage Box, 4-Piece Set
Outdoor Lounge Sets
Cadiz Wicker Outdoor Lounge Set, 4 Pieces: This outdoor set is very stylish. I love the contrast of the dark wicker and the light beige fabric. My favorite part has to be the fact that the table opens up for storage. Would be great to store backyard/deck games or even plastic dinnerware and cups. Every piece is labeled with a letter which makes assembly simple. There are easy instructions for each piece in the set.