Outdoor Lounge Sets
Creating the perfect outdoor lounge setting starts with finding the right patio lounge set for your specific space. You'll need to consider a few things, such as material, features and which style of lounge furniture will fit your needs best. Do you plan on having large gatherings where there's seating galore, or is your space more suited to small, intimate chats with your closest pal? Before you snap up the first outdoor lounge set you see, here are a few items to take note of to ensure you bring home the perfect one.
What styles do outdoor lounge sets come in?
What materials are best for patio lounge sets?
Metal - A metal patio set can be both sturdy and lightweight, (think aluminum), and provide the look you may be going for in your space. Be careful if you live in a wet area, as rust and corrosion can certainly shorten the lifespan of metal outdoor furniture. Also, metal can be hot to the touch, so look for stay-cool options if this is a concern for you.


Wood - A wooden outdoor lounge set gives a classic feel to any space, blending in with natural outdoor surroundings. It lends itself well to a variety of styles, from traditional to modern, but this sturdy material can also require more maintenance. If you are willing to potentially oil or seal wood lounge furniture yearly, this might be the material for you. Try teak for an extra-weatherproof wood option.


Wicker - A wicker patio set is an ideal material for an outdoor lounge setting. It's very weatherproof and won't get hot or rust like metal can. It's easy to maintain and can last years with little effort. Really the only downside is that it might not suit everyone's design taste.
Which features should I look for in a patio furniture set?
While style and material are important, so are the features of any outdoor lounge furniture set. Here are a few of the most popular features that fellow shoppers are on the hunt for — and trust us, it's for good reason!
Sponsored Products
Featured Reviews of Outdoor Lounge Sets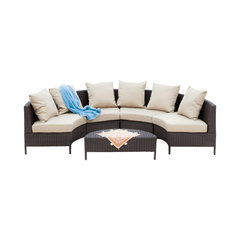 Venice Outdoor Wicker Sofa Sectional 5-Piece Set
Outdoor Lounge Sets
Great sectional: I really like this sectional. It was not too hard to assemble and works perfectly around my fire pit. The cushions are a little stiff hit not too bad. The best thing is the fabric is really rain- proof- water runs right off of them! The price cannot be beat!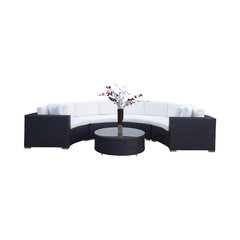 Outdoor Wicker Sofa Sectional Round 5-Piece Resin Couch Set
Outdoor Lounge Sets
My husband and I had this set up and we were relaxing on our new patio set within about half an hr, it's gorgeous! Siesta time!: This is just as beautiful as the picture depicted and that doesn't happen very often. I was excited and anticipating the Patio Furniture arrival so I bought a few throw pillows for this set not realizing how many extra pillows actually came with it, there are 4 extra which are perfect adding to the already added cushion and comfort of the back support. We set this up today and stayed outside on our patio for most of the day enjoying this and we can't find one thing negative to say about it. First of all, the set up was super easy and didn't take me and my husband very long at all once we got it out of the 3 boxes. The resin is pretty lightweight which makes it easy to move and also easy to store for winter months, I appreciate that because I want to be able to stack this neatly in my garage during that time. It has clips that you connect the furniture together with on the bottom so that it doesn't come apart on you while you happen to sit down, you don't want your furniture sliding if it's on a flat surface, this holds it all together. The seat cushions are firm which I really like because if they are too soft, I have to get up and move around, I need a little support, also I noticed they don't lose their shape. My husband is 6ft 220 lbs and after sitting on this for half the day, the cushion he was on popped right back into shape as if he was never on it, I love that! The back support cushions are different, they are soft and you can relax back into them and the extra throw pillows you can put under and arm or head and just kick back, which we both did and stretched out and put our feet up. The resin is waterproof so if there is a quick downpour you don't have to worry about the resin getting damaged. As far as the cushions go, covers are an easy fix for that which we will be getting. The table is the centerpiece of all of this with the glass top for easy clean up and of course, those cold refreshments and/or snacks on a warm day. We can't wait to entertain and show off our new patio set, both me and my husband are incredibly happy with the quality and style of this set by Mango Home.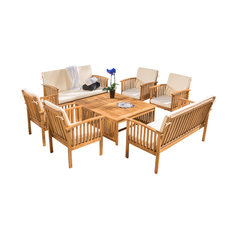 Beckley 8- -Piece Outdoor Wood Sofa Seating 8--Piece Set
Outdoor Lounge Sets
Awesome!!: Absolutely fantastic! I was a bit apprehensive after reading some negative reviews on other sites about this vendor, but my experience was 100% positive. Great Deal Furniture was professional, super fast delivery, and GREAT quality furniture. We ordered the 8 piece and loved it so much we ordered an additional 4 piece set! It arrived in TWO days! Easy to follow instructions and great quality. Will definitely use again!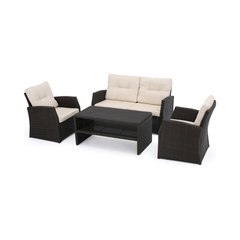 Del Norte Outdoor Dark Brown Wicker Chat, Beige Water Resistant 4-Piece Set
Outdoor Lounge Sets
Great set for the price!: I ordered set for my mom. The girls that took my order are wonderful to talk to. They are very helpful and patient. My order arrived within a week . And was delivered right to my door. The set looks beautiful on my moms deck. Doing business with Houzz is a pleasure and rare to find in today's retail stores thank you Sandra Primavera.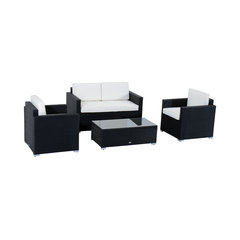 Norlina 4-Piece Outdoor Rattan Sofa Set
Outdoor Lounge Sets
Very cute!: This is exactly what I expected! No surprises. It is a little on yhe smaller side, but I read the dimensions prior to ordering and it is exactly what I expected. The fabric is a little unusual, butnit's growing on me. I am very pleased with the set!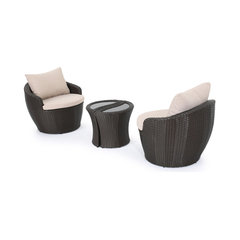 Capetown Outdoor 3-Piece Brown Wicker Chat Set With Water Resistant Cushions
Outdoor Lounge Sets
Exactly as advertised: And looks exactly like the picture. It's beautiful and sturdy, fits perfectly on our balcony. It arrived on time. The packaging was very bad however; all torn and worn as if it is very old. I was concerned when I saw it, but luckily the set was in a perfect condition thanks to the nylon shrink wrap underneath.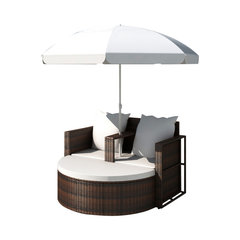 Brown Garden Poly Rattan Lounge Set With Parasol Outdoor
Outdoor Lounge Sets
All good but directions and Umbrella: Umbrella is not the best quality. Umbrella is very light so if you have no wind it's ok. Directions are hard to follow but once you figure it out it's a nice piece at a decent price.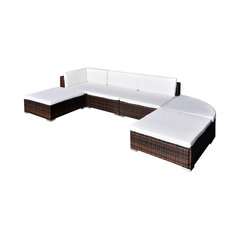 vidaXL 16 Piece Garden Lounge Set Brown Poly Rattan
Outdoor Lounge Sets
Great outdoor set for the price!: At first a little difficult to understand the assembly instructions but once I started going, it was easy to get put together. I may buy more substantial cushions for it but overall-good set for the price. Super quick delivery!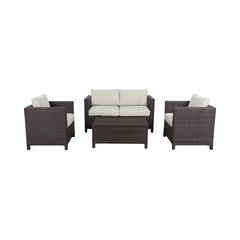 Cadiz Wicker Outdoor Lounge Set, 4 Pieces
Outdoor Lounge Sets
outdoor lounge set: This is a lovely product and reasonably ok to put together for two seniors. Unfortunately, one connector was out of sorts and we had to find a longer screw to complete the connection. Took us over an hour and multiple tries to attach to figure it out. We thought it was us but all along it was the product.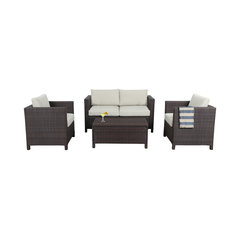 Phoenix Outdoor Wicker Lounge Set With Storage Box, 4-Piece Set
Outdoor Lounge Sets
Cadiz Wicker Outdoor Lounge Set, 4 Pieces: This outdoor set is very stylish. I love the contrast of the dark wicker and the light beige fabric. My favorite part has to be the fact that the table opens up for storage. Would be great to store backyard/deck games or even plastic dinnerware and cups. Every piece is labeled with a letter which makes assembly simple. There are easy instructions for each piece in the set.