Throw Blankets
A well-placed throw can make all the difference in making your home feel cozy and inviting. While a warm blanket is a great winter companion, it can also double as a decorative accent, especially since they come in bright colors and interesting patterns. Placing a graphic throw on a neutral sofa does wonders for the energy of a room. Whether you're looking for a practical or decorative blanket, here are a few things you should consider.


What kind of throw do I need?

The type of throw you end up with is often dictated by its function. If you have kids and love to snuggle and eat in front of the TV, you'll want a washable, cotton-based or dark-colored throw that can withstand heavy (and messy) use. If you live in an area with colder winters and need a warm blanket, opt for a heavier wool material with a woven or knitted design. For a more decorative, but less functional, throw, opt for a delicate, luxurious cashmere.


Where should I place blankets and throws?

Even though you want to have plenty of blankets handy for those cold winter nights, you don't want to overload your spaces with too much fabric. One of the best places to add a throw is draped over a living room sofa. Adding one throw to each of your sofas, or even an armchair, can make a room feel cozy and make blankets easily accessible. If you prefer a clean-lined, clutter-free feel, you can always hide blankets in a storage ottoman, basket or bin.

On top of your living room and family room, you should also add blankets to the foot of every bed. That way, visiting guests and family members won't need to search the linen closet when they get the chills in the middle of the night. It's also helpful to have blankets where you tend to relax and nap, like a daybed or reading spot.


What style blanket works for my space?

Throws are an easy to way to add nice pops of color to a space, so take the time to find one that matches and enhances your decor. Solid blankets in vibrant tones are often popular choices, especially since large furniture items are frequently neutral in color. You can also find a throw with a bold pattern, as long as you don't have too many other contrasting prints in the space. Consider your other furniture and decorative accents before buying a throw to ensure it blends it and doesn't stand out.
1 - 36 of 20,204 products
Sponsored Products
Featured Reviews of Throw Blankets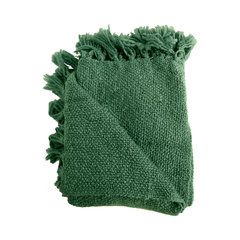 Marion Throw Blanket, Grass
Throw Blankets
Fuzzy but still worth buying: I loved the color so I purchased the throw but was concerned about the reported shedding(fuzz). I washed and dried twice and it no longer sheds. It is do soft and the color is wonderful. It washes well. I only ordered one but I plan to order another one now that I know you can stop the fuzz getting all over everything.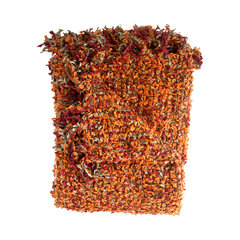 Michelle Throw Blanket, Fall
Throw Blankets
this throw is beautiful!!: The Michelle is one of my favorite Woven Workz throws...I own 5 of them. The quality is great, as usual.The colors are perfect and very beautiful. I am using the throws to dress up some taupe colored sofas. They complement the sofas perfectly! I couldn't be happier!! These throws from Woven Workz are easy to keep clean. A short cycle in the washer and dryer and they are done. Hold the color and shape. Great purchase! M.Lewis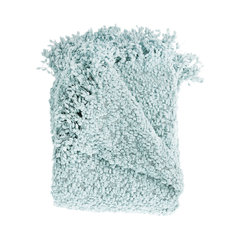 Betsy Throw Blanket, Whispering Blue
Throw Blankets
Excellent Choice!: I absolutely love this throw. It provides just the right combination of texture, color, and softness. It goes absolutely beautifully in my dining room over a storage bench. Thrilled with it!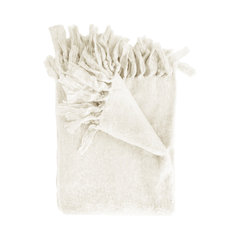 Throw Blankets
So Soft: Very nice throw - very soft and a perfect cream color. However the blanket sheds everywhere. I have yet to wash it which may resolve the issue but still quite annoying. If the shedding stops I will definitely purchase another.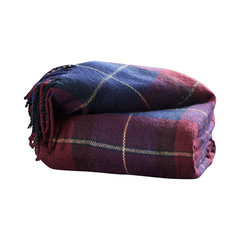 Cashmere-Like Blanket Throw, Red/Blue
Throw Blankets
Instant Joy: 3acrylic throws are draped on living room furniture & the past 2 days of Fridged temps have made them a welcome addition ,No matter where I choose to sit,one is just waiting there to welcome such toasty comfort. I' m delighted!⛄️☃I'm a happy camper.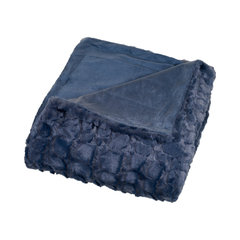 Plush Croc Embossed Faux Fur Mink Throw by Lavish Home, Navy
Throw Blankets
So Soft and Plush: This throw is so soft. Although only one side is embossed, both sides are super soft. It's definitely a 'throw' size and not a blanket size. I have it draped over an ottoman. It's enough to cover a small person though.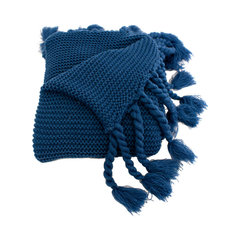 Europa Throw Blanket, Navy
Throw Blankets
Essential Accent: We recently moved and revamped all of our living room decor. I feel throws with basic colors are an essential staple to every living room. I ordered this throw in Camel and Navy to compliment our decor, and they fit right in. They were soft, and the nitting has a comfortable but neat style to it. The accuracy of the color for the camel was a little off, the photo shows more of a warm tone, when its more greyish actually as seen in the photos attached with the review which might be important if you need color specificity, I intended for the camel to match with the yellowish color in our pillows, but it didn't. It still works though because our sectional is very neutral. Overall I enjoyed the experience and would buy again. The shipping was quick and easy and I think its a fair price!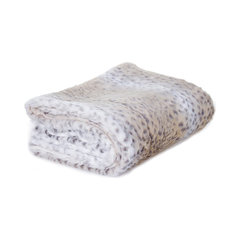 Snow Leopard Faux Fur Throw Blanket
Throw Blankets
Elegant & Cozy: Such a luxurious throw. It looks beautiful draped over my dark leather couch in the living room, nice contrast. Both sides are super soft. This is a great value, looks expensive. Arrived fresh & clean, ready to use.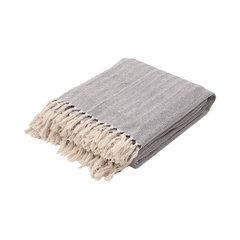 Jaipur Living Cannon Blue/Cream Chevron Throw, 50x60
Throw Blankets
Nice Looking Throw: Nice Looking Throw. The color is somewhat darker than expected and not quite as soft as the other throws I purchased (herringbone design throw blanket in gray. I still think it has a great look, very classy.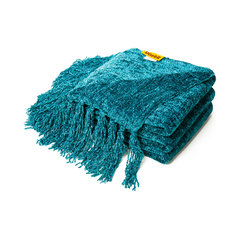 Dozzz Decorative Chenille Throw Blanket, Teal
Throw Blankets
Chenille throw: The chenille throw is very pretty. I did not know what to expect as to quality because I have never owned chenille. The color is beautiful. I am not going to wash it. I would be afraid that the fringe would become ruined. I will use febreze on it. I will also hang it on a curtain rod over an open window after I spray it with frebreze on it. It is very light weight which is turning out to be nice. It serves the purposes for which I purchased it. I bought it to be throw and as a decorative over for the back of my sofa.