Sectional Sofas
If you've got the space, sectional sofas are ideal for lounging and entertaining. More spacious than a standard frame, these couches may come with an attached chaise lounge or come in curved, U- or L-shaped designs. With all of the extra lounge room, these couches can make your home feel especially inviting and comfortable. And because these pieces easily become the focal point in any room, it's important to do your homework to find just the right one. Use this guide below as you consider what type of sectional couch is right for you:
What shape and size do I want my sectional sofa to be?
Sectional couches come in a variety of shapes and sizes, and the first thing to consider when deciding on just one is the layout of your space. If your sofa is going to be used for watching TV, note where the television is and what will be a comfy viewing position for everyone. Think about whether you want your couch to be left or right-facing, as well as what shape you'd like it to be. If you'd like to create a cozy living room area separate from your kitchen, an
L-shaped couch
is a great option. Similarly, a
U-shaped couch
is perfect for chatting with guests and entertaining in an expansive living room or open floor plan. While these sorts of styles often work best in larger spaces, it is possible to find a small sectional sofa with just a chaise lounge on one side of a straight couch. If you're simply looking to stretch out and read a book or watch TV in comfort, the sectional sofa with chaise style is for you.
What is the best material and color for my sectional couch?
Sectionals can look great in many different types of materials, from leather to suede to microfiber. When choosing the right upholstery material for your home, consider the look you want to go for and what will be easiest for you to maintain. A
leather sectional
is a popular choice, and it makes an already plush couch style feel even more luxurious. For something more affordable yet still soft and comfortable, a
microfiber sectional
is a great option. When considering your sofa's color, remember that its large size will draw attention even in muted tones. That's why going for a more subdued upholstery color, like that of a gray sectional sofa, can be a wise move. Simply think about what will be most comfortable for you and any family members. Something like a classic blue sectional in a dark navy hue or a washed-out blue might fit right into your space. After all, your couch should be a place for you to relax!
What features do I like in sectional sofas?
Sectional couches can pack in a lot of function, so your search should also be based around what sorts of features you'd like to enjoy. If you often have overnight guests, a sectional sofa bed may be just the thing. If you're big on movie nights at home, consider investing in a
reclining sectional
for ultimate comfort. If your foresee yourself moving or simply wanting to rearrange your living room now and then, a modular sectional sofa can provide extra versatility. This style consists of detachable halves that can be rearranged to create a left or right facing couch.
Sponsored Products
Featured Reviews of Sectional Sofas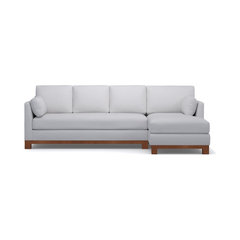 Avalon 2-Piece Sectional Sofa, Stone, Chaise on Left
Sectional Sofas
Great style: It is soooo very hard to find a nice sectional with one long seat cushion instead of several. I hate having to always organize and re-fluff. I found this sectional and not only is it beautiful and the size is perfect for my large media room but it also has the long seat cushion. Looks alot more expensive than it actually was.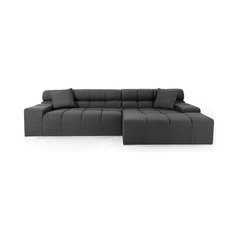 Cubix Modular Cashmere Sofa Sectional, Charcoal, Right Facing
Sectional Sofas
Good quality: Packing was very good and protected the couch. It is very heavy, even in two pieces. I love having a wool couch though. It is quite firm, firmer than I had imagined, but I quite like it.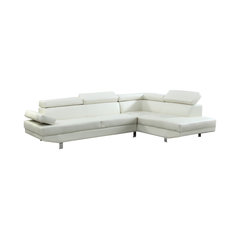 2-Piece Modern Faux Leather Sectional Sofa With Functional Armrest, White
Sectional Sofas
Good couch, great price: For the price, this couch was just what we were looking for. It looks beautiful and seems well made. It's a little stiff to sit on, but it is a modern style (and I suspect will "break in" over time)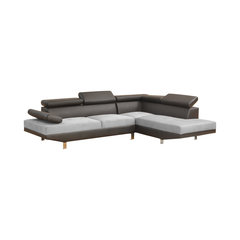 2-Piece Modern Contemporary 2-Tone Faux Leather Sectional Sofa, Black/Gray
Sectional Sofas
Great couch , great price: I ordered this couch on line and was skeptical . It arrived in 2 , 100lb boxes. Putting it together was easy. The back cushions were a bit tough to get in but once in looked great. Power tools would have helped putting the legs on but not necessary. The couch is very stiff which I like.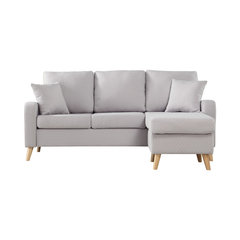 Modern Fabric Small Space Sectional Sofa with Reversible Chase, Light Grey
Sectional Sofas
Good sofa for the price: For the price, this is a great sofa. I would not expect it to last forever, but it will serve the purpose that we purchased it for. The length of the sofa is great . Our major concern is the seat depth, which is quite narrow. Easy to put together, however we were missing a few screws that we had to purchase at the store.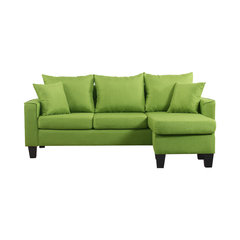 Modern Linen Fabric Small Space Sectional Sofa with Reversible Chaise, Green
Sectional Sofas
Comfortable: Couch seems very durable and it's a good size for the room I needed it for. I love the color! The only reason I didn't give it 5 stars was because I found it a little difficult to put together, other than that, really like it!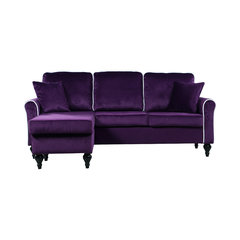 Traditional Small Space Velvet Sectional Sofa with Reversible Chaise, Purple
Sectional Sofas
Beautiful but rigid.: The color is a bit more turquoise, but it fit perfectly in my house. The cushions don't have much give. I use it as a second to my comfy couch. With a pillow and blanket it's great. I'm happy with it. Impressed by the packing job.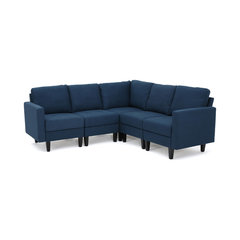 Carolina Fabric Sectional Couch, Dark Blue
Sectional Sofas
Pleasantly Surprised: SAS hesitant to order furniture of this size and for the first time from Houzz without seeing and sitting on it first, plus, if you're not happy, returning your order is such a pain, but this sectional was gorgeous, comfortable and the material it was made of was outstanding. I put it in our TV room and we have 13 grandchildren and I am confident it will withstand their wear and tear as well as our 3 Shih Tsu's. The delivery was unbelievably fast and I will be ordering from Houzz again sometime in the near future, THANKS HOUZZ!!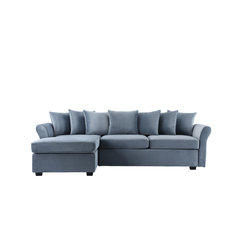 Modern Velvet Sectional Sofa, Large L-Shape Couch with Extra Wide Chaise Lounge
Sectional Sofas
Velvet Blue Sofa in my Comic themed media room: I love this! It's perfect for my small space. Has a very low back (not the best furniture piece for large people. My husband is 6 4 and will be restricted to an adjacent leather recliner.) But, it will be great for a sitting space. I put this in my second living area where I have a comic book themed game/media room. It's perfect because of the retro velvet blue color.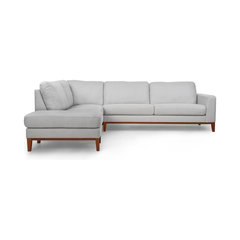 Deana Bumper Sectional, Left Facing
Sectional Sofas
Deana Bumper Sectional, Right Facing: Such a good value for this sectional! I love the neutral beige color of the fabric paired with the cherry wood legs – it's not a color combo you see all too often. Even though this sectional is large enough to fit a group of people, it doesn't look imposing or oversized. The piece at the end can be used as seating or as an ottoman, so I like the versatility. And it's super comfortable!