Armoires and Wardrobes
For bedrooms that lack a spacious walk-in closets, an armoire or wardrobe can be a blessing. Armoires are designed to store and organize a variety of clothing. They can also be repurposed for use in home offices, as TV cabinets and other storage solutions. Whatever you choose to store inside, once the doors of your wardrobe are closed you can move your focus from this miniature closet to rest and relaxation.

The original armoire was designed to house your clothing. These come in a few shapes and sizes. Some feature top-to-bottom doors that open to reveal space for full-length dresses and long coats to be hung up on hangers. Still others have shorter doors and a bottom featuring drawers for folded garments and accessories that don't need to be hung up. If your wardrobe closet will be storing your clothing, you may also enjoy the addition of a built-in mirror.

Other styles of wardrobes can be used to house your television. They may allow the TV to be pulled out and rotated so it's angled perfectly for viewing. Drawers and cabinets may also reveal ample storage space for anything from DVDs to power cables and books. Similarly, a computer armoire allows your monitor to be mounted inside the doors and pulled out and angled. Accompanying drawers can store office supplies, a printer and paper files.
Sponsored Products
Featured Reviews of Armoires and Wardrobes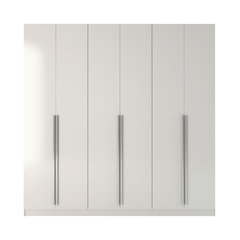 Pierce Place 4-Drawer Wardrobe, White Gloss and High Gloss
Armoires and Wardrobes
Beautiful mantel that makes a statement: Exactly as described and a very significant piece. Perfect dimensions that are strong but not overpowering. Love the beach gray color. Easy to install! Good job houzz, always quality products.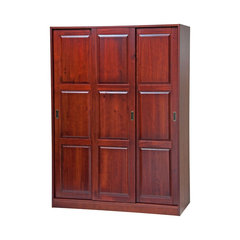 Lincoln 3-Door Wardrobe, Mahogany
Armoires and Wardrobes
Nice Armoire: Product arrived quickly and undamaged. Packaging is excellent. Assembly was not too difficult, helps to have two people. Overall very pleased. Second one of these I have purchased, happy with Houzz and Palace Imports.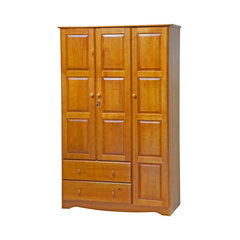 Benton Grand Wardrobe, Canary Pine
Armoires and Wardrobes
Heirloom Quality Wardrobe: This wardroom arrived quickly and in 3 huge boxes! It took about 2 hours for my son and husband to put together. Good instructions and clear marked pieces. It looks exactly like the picture! Lots of room and what a statement it makes in the bedroom!! We love it!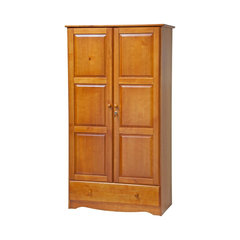 100% Solid Wood Universal Wardrobe/Armoire/Closet, Honey Pine
Armoires and Wardrobes
Good purchase: Overall I am satisfied with the purchase. Wish they offered a longer hanging length but this will work for our needs. Locking doors are a plus for us but the doors need some careful adjustments before the locks function correctly. Still, good value!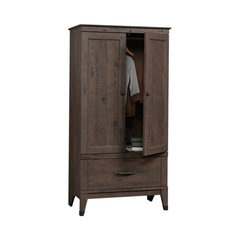 Pemberly Row Armoire, Coffee Oak
Armoires and Wardrobes
My best purchase on the site: This product is outstanding. Instruction booklet is very clear, actually has some good lines it as well. Big fan of this Sauder product. Far better fit and finish than the matching dresser.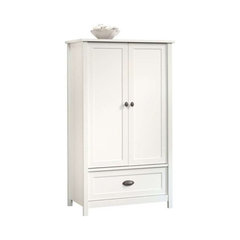 Pemberly Row Armoire, Soft White
Armoires and Wardrobes
Lots of space!: I wanted an Armoire to free up some space in my daughters room by eliminating two old dressers. This worked perfectly. My husband didn't complain too much putting it together, except when trying to get the doors to line up- which he eventually made happen. Good buy for the price.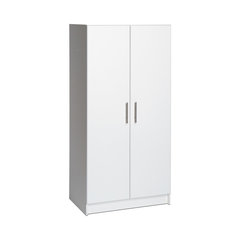 32" Elite Wardrobe Cabinet, White
Armoires and Wardrobes
Mike: I'm very happy with my wardrobe closet. Its super easy to assembly. My husband did it in 1 hour , we order two, you just follow the instructions . I love Prepac cabinets. My husband last year he ordered 3 Prepac storage cabinet so we decide to buy 2 wardrobe closet.Excellent customer service, 100% Happy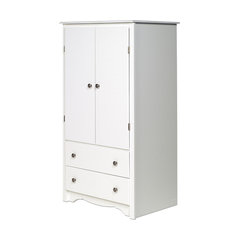 Monterey Free Standing Wardrobe, White
Armoires and Wardrobes
Nice, but poor instructions: Watch for minimally different sizes in cams. They are not labeled or separated but when you get to the drawer fronts, you will need the nearly indistinguishable smaller ones! We had to drill larger cam holes to make it work.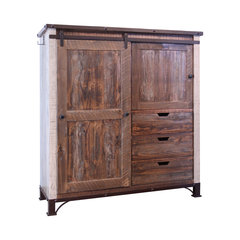 Bayshore Rustic Farmhouse-Style Armoire Gentleman's Chest
Armoires and Wardrobes
Beautiful Armoire: This armoire is beautiful. It's high quality, large and heavy (make sure it will fit through your doors). The company it came from only sent one poor delivery man, who couldn't possibly have moved the armoire by himself. It was a three man lift job. Make sure you have strong friends on hand to help move the armoire when it arrives!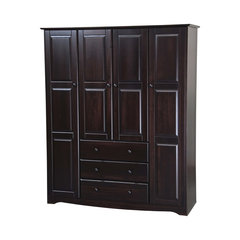 Cera Wood Armoire, Java, 60"
Armoires and Wardrobes
Shelves not included.: Like the product overall, took a bit of time to put together but seems to be made from quality materials. However the description and photos are a bit misleading when it comes to the shelves. To state in the description "To expand the storage capacity one can modify the wardrobe layout by adding both the large (one at a time) and small (in the sets of four) optional shelves. " Does not clearly state that the shelves are NOT in fact included. I found that to be quite misleading. It was not until the cabinet was fully assembled that I realized the shelves were not included, and much to my dismay it was an additional $300 to get all the shelves as pictured in the photos.