Bunk Beds
If you have double the trouble at home, bunk beds are both a practical and fun way to make sure each child has an individual bed without having to take up double the space. Even if you have only one child to plan for, a bunk bed can be the perfect solution for sleepovers, visiting cousins and more. Kids will also enjoy being able to customize their own space and choose who gets to sleep on the top or bottom. Don't forget that adults can take a trip back in time and enjoy their own bunk bed, too.

Aside from deciding who gets the coveted top bunk, you'll also have a chance to decide which size bunk bed to get. Typically you'll find twin bunk beds, but it's also possible to find twin-over-full bunk bed designs or even full-over-full bunk beds. Naturally, a larger size is better if adults or older children will use them. You may even be able to find a queen bunk bed for those who like to sprawl out while they snooze.

If stacking the beds isn't appealing to you or your children, you can always opt for L-shaped bunk beds, which stack the bottom bed perpendicular to the top bed. While this saves less space than doubled-up beds, it still has that awesome bunk bed style and sense of personal space. Speaking of saving space, bunk beds with storage or a futon underneath can really raise the bar. Similarly, a futon bunk bed incorporates the versatility of a futon's sofa and sleeper capabilities, which is perfect for a guest room.

Whatever style you (or your kids) prefer, we've got dozens of children's and adult bunk beds for sale right here on Houzz.
Sponsored Products
Featured Reviews of Bunk Beds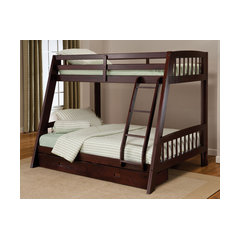 Hillsdale 1668BB Rockdale Bunk Bed, Twin over Full, Espresso
Bunk Beds
Great product!: Very nice. Solid wood. Smooth finish. Sturdy.the under bed drawer is perfect for storage,when assembled looks as exactly described,the shipping was fast too,overall satisfied!!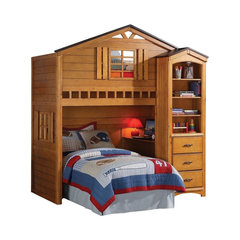 Rustic Oak Tree House Twin Bunk, Loft Bed, With Desk, With Shelf Cabinet
Bunk Beds
Good Quality: Sturdy and well made but the hardware holding the desk insert is slightly off and had to struggle a bit to get it to fit properly. All in all very happy with the purchase and also easy to put together.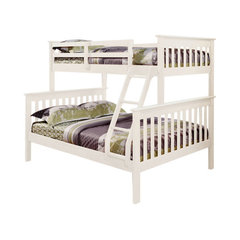 Nebula Kids Bunk Bed With Built-In Ladder, White, Twin/Full
Bunk Beds
Donco white twin over full bunkbed: We received this bunk bed one day after ordering it. Amazing. My husband and I put it together in a just over 3 hours. The directions could have been a little clearer, but we figured it all out. We had everything we needed right down to the last screw. It seems to be a good and sturdy bunk bed for the price, and our grandkids are excited about trying it out when they come to visit.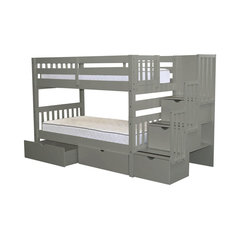 Bedz King Bunk Beds Twin Over Twin Stairway, 3 Step and 2 Bed Drawers, Gray
Bunk Beds
Great quality for a reasonable price: Compared to ikea, it's higher quality, solid wood and sturdier. Similar beds were more than double the price we paid for this one. I'd highly recommend this bed, looks good, feels solid and adds a ton of storage with the 5 v. Large drawers that come with. It is a time consuming build though, lots of parts, but not much harder to do than an ikea purchase.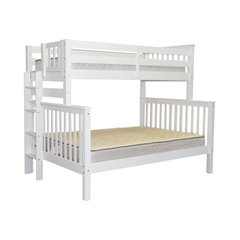 Bedz King Bunk Beds Twin Over Full With End Ladder, White
Bunk Beds
Great Choice: Easy purchase, easy on time delivery, easy assembly! Very happy with the quality of these bunks! Assembly only took about 2 hours from start to finish. Looks great! You will not be disappointed.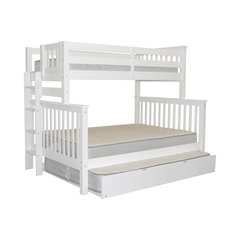 Bedz King Bunk Beds Twin Over Full With End Ladder and Full Trundle, White
Bunk Beds
Beautiful beds: These are a great hit with the grandkids! Really beautiful. Took a while to put all together, as expected, but sturdy and look fantastic. We have not put together the trundle yet as kids wanted to use them right away but will soon. Very happy with the purchase.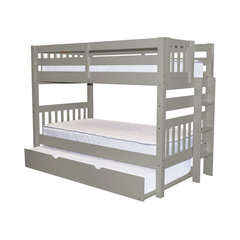 Bedz King Bunk Beds Twin Over Twin, End Ladder and Twin Trundle, Gray
Bunk Beds
I was nervous ordering this bunkbed online, but I'm so happy I did!: I was nervous ordering this bunkbed online, but I'm so happy I did! They quality is great and it's very sturdy My husband put it together in a few hours so there is work involved but for the price and quality that was okay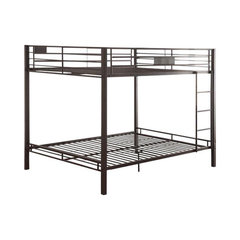 McIntosh Bunk Bed, Black, Queen Over Queen
Bunk Beds
We have two!: We bought two of these bunk beds for a large bedroom for our children and their friends! Great quality and they look amazing! Finally... queen over queen bunk that's great looking and affordable!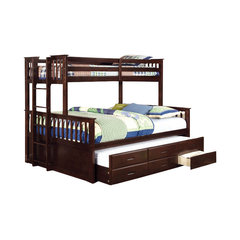 Shelton Extra Long Twin Over Queen Combo Bunk Bed, Espresso
Bunk Beds
This was the only twin over QUEEN i could find with a trundle.: It's not that easy to find a queen sized bed with a trundle OR a bunk so I was happy to find this which has both. It is great for a guest room or a cabin/lake house/ski house. That said, there is one possibly fixable issue you want to look at. The bunk is VERY low to the lower queen bed. You cannot sit up fully under the bunk. The picture is a little deceptive; it looks as if there is far more room than there is. I recommend getting a 6-7 inch mattress (which will probably not last as long as a bigger one, but might be better than the lack of space with a bigger mattress. I got 6 inch memory foam mattresses for the trundle and bunk and they are great. If I had to do it over, I would still get the bed, but I would get a 6 in mattress for the queen.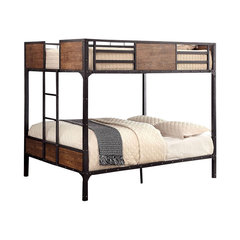 South Bank Bunk Bed, Full Over Full
Bunk Beds
Way too cool: We got this bed for our twins. I had read that the ladder was able to be on either side, but when we got it, it wasn't exactly as expected. But that's ok, we just reconfigured their room and it looks great. They love bed and we got it faster than expected. And surprisingly, it was very easy to assemble. Much easier than one of the other beds we had ordered... just a regular queen bed.