Bunk Beds
If you have double the trouble at home, bunk beds are both a practical and fun way to make sure each child has an individual bed without having to take up double the space. Even if you have only one child to plan for, a bunk bed can be the perfect solution for sleepovers, visiting cousins and more. Kids will also enjoy being able to customize their own space and choose who gets to sleep on the top or bottom. Don't forget that adults can take a trip back in time and enjoy their own bunk bed, too.

Aside from deciding who gets the coveted top bunk, you'll also have a chance to decide which size bunk bed to get. Typically you'll find twin bunk beds, but it's also possible to find twin-over-full bunk bed designs or even full-over-full bunk beds. Naturally, a larger size is better if adults or older children will use them. You may even be able to find a queen bunk bed for those who like to sprawl out while they snooze.

If stacking the beds isn't appealing to you or your children, you can always opt for L-shaped bunk beds, which stack the bottom bed perpendicular to the top bed. While this saves less space than doubled-up beds, it still has that awesome bunk bed style and sense of personal space. Speaking of saving space, bunk beds with storage or a futon underneath can really raise the bar. Similarly, a futon bunk bed incorporates the versatility of a futon's sofa and sleeper capabilities, which is perfect for a guest room.

Whatever style you (or your kids) prefer, we've got dozens of children's and adult bunk beds for sale right here on Houzz.
Sponsored Products
Featured Reviews of Bunk Beds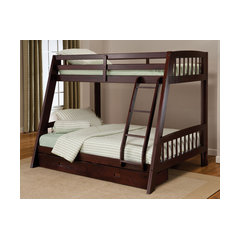 Hillsdale 1668BB Rockdale Bunk Bed, Twin over Full, Espresso
Bunk Beds
Great product!: Very nice. Solid wood. Smooth finish. Sturdy.the under bed drawer is perfect for storage,when assembled looks as exactly described,the shipping was fast too,overall satisfied!!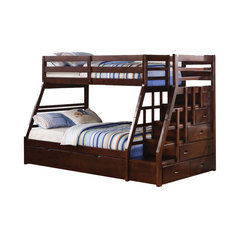 Wentworth Bunk Bed With Trundle, Espresso, Twin Over Full
Bunk Beds
Acme Jason Bunk Bed: Product was of good quality. The instructions were ok too. Takes a great deal of time to set up as you would expect for such a large piece with a number of functions. Delivery consisted of 4 large and heavy boxes. Two boxes were visibly damaged resulting in missing bolts and a broken wood rail. Of course you don't know this for sure until you get it all unpacked. After all that work, I was not going to return it anymore so I had to buy what was missing and fix the damaged part. It was frustrating because FedEx dropped off the visibly damaged boxes on my front porch, with bolts laying on the ground around them. Basically they knew they were damaged but didn't care. Better packing could help too such as placing the bolt package in a spot where they aren't easily damaged from shipping. All and all we like the bunk beds. Other than the shipping issues we had a good outcome.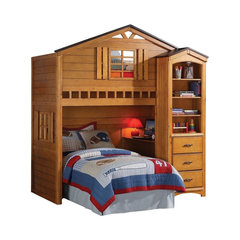 Rustic Oak Tree House Twin Bunk, Loft Bed, With Desk, With Shelf Cabinet
Bunk Beds
Good Quality: Sturdy and well made but the hardware holding the desk insert is slightly off and had to struggle a bit to get it to fit properly. All in all very happy with the purchase and also easy to put together.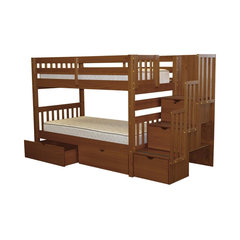 Bedz King Bunk Beds Twin Over Twin Stairway, 3 Step and 2 Bed Drawers, Espresso
Bunk Beds
A solid, sturdy and good looking bedset: I am very pleased with the solid construction of this bed set. It looks good and is very sound and sturdy. The only downside are the directions. This bed does have lots and lots of pieces and just be prepared to spend an entire day (a good 8 hours) putting it together. It took my husband and a friend (who is an engineer) the whole day to assemble the whole thing; beds, drawers and stairs. But other than the limited directions and the time it took, I would still highly recommend this set.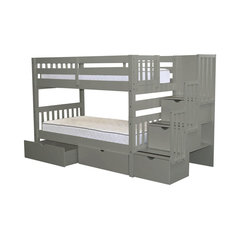 Bedz King Bunk Beds Twin Over Twin Stairway, 3 Step and 2 Bed Drawers, Gray
Bunk Beds
Great quality for a reasonable price: Compared to ikea, it's higher quality, solid wood and sturdier. Similar beds were more than double the price we paid for this one. I'd highly recommend this bed, looks good, feels solid and adds a ton of storage with the 5 v. Large drawers that come with. It is a time consuming build though, lots of parts, but not much harder to do than an ikea purchase.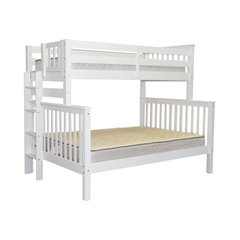 Bedz King Bunk Beds Twin Over Full With End Ladder, White
Bunk Beds
Great Choice: Easy purchase, easy on time delivery, easy assembly! Very happy with the quality of these bunks! Assembly only took about 2 hours from start to finish. Looks great! You will not be disappointed.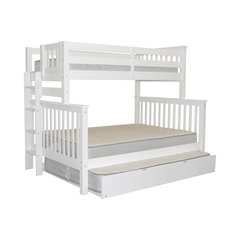 Bedz King Bunk Beds Twin Over Full With End Ladder and Full Trundle, White
Bunk Beds
Beautiful beds: These are a great hit with the grandkids! Really beautiful. Took a while to put all together, as expected, but sturdy and look fantastic. We have not put together the trundle yet as kids wanted to use them right away but will soon. Very happy with the purchase.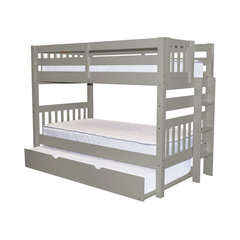 Bedz King Bunk Beds Twin Over Twin, End Ladder and Twin Trundle, Gray
Bunk Beds
I was nervous ordering this bunkbed online, but I'm so happy I did!: I was nervous ordering this bunkbed online, but I'm so happy I did! They quality is great and it's very sturdy My husband put it together in a few hours so there is work involved but for the price and quality that was okay
Stevenson Bunk Bed, Gray and Green
Bunk Beds
Awesome: My 3 year old son loves this bed! We had our eyes on it for awhile and Houzz sold it for significantly less. Highly recommend! Oh and the shipping was pretty fast, less than a week.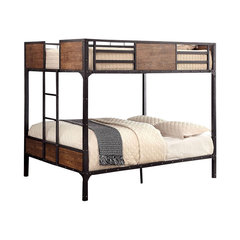 South Bank Bunk Bed, Full Over Full
Bunk Beds
Way too cool: We got this bed for our twins. I had read that the ladder was able to be on either side, but when we got it, it wasn't exactly as expected. But that's ok, we just reconfigured their room and it looks great. They love bed and we got it faster than expected. And surprisingly, it was very easy to assemble. Much easier than one of the other beds we had ordered... just a regular queen bed.