1 - 36 of 64,063 products
Sponsored Products
Featured Reviews of Contemporary Decorative Pillows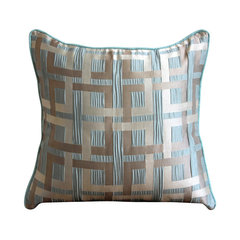 Maze Optic Striped 18x18 Jacquard Weave Sea Green Throw Pillow Covers, Opulence
Contemporary Decorative Pillows
Loving these: I ordered four pillow cases. The fabric is beautiful and the colors perfect for me. They appear really well made. Zippers are great and hidden. The only thing I would change would be to use the same fabric on the backside of the pillows rather than the white/cream fabric. But I love them so am keeping. I bought inexpensive 16" square pillows to insert and these exceeded my expectations!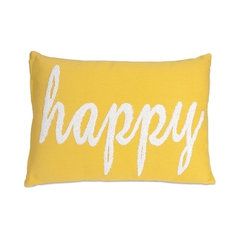 Contemporary Decorative Pillows
"Happy" with my happy pillow: I love it. I bought it as a throw for my bed. It comes very squashed (air tight) packaging. It was somewhat flat compared to other pillows, but I air fluffed the inside pillow in my dryer and that helped. I do prefer it on the flatter side for the purpose of a bed pillow though.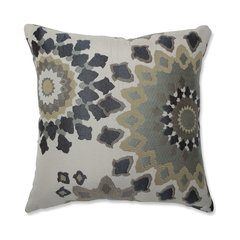 Contemporary Decorative Pillows
Love the colors in this pillow: Although the pattern isn't necessarily as shown in the picture as other reviewers have mentioned, I really like this pillow. It's firm, well made, and very pretty. It's not huge, so be aware of sizing when you order.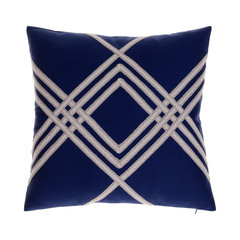 Sandy Throw Pillow, Indigo
Contemporary Decorative Pillows
Nice Pillows: These are beautiful and well made, but unfortunately they did not match my décor as I though they would so I returned them. Both Houzz and the seller were easy to deal with on the return, especially since it was due to an error on my part. If you need pillows of this style and color, I recommend them. They are really quite nice and I wish I could have kept them.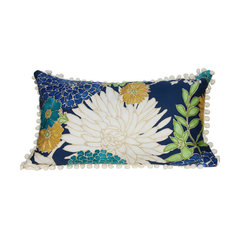 Lumbar Cotton Pillow Cover With Flower Print and Off White PomPom Trim
Contemporary Decorative Pillows
Beautiful Pillows: These pillow covers (3) were beautiful. I say "were" because we had to return them.......our fault because we thought the colors would match our current color scheme; they didn't. This vendor does beautiful work and are recommended highly. Our refund was prompt and very courteous.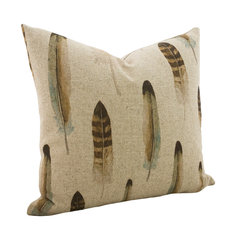 Linen Feather Throw Pillow
Contemporary Decorative Pillows
Lovely decor pillow.: Fluffy feather-filled pillow goes well with neutral pallet. Feathers have a bit more yellow than my computer monitor showed, but not so much yellow as to detract from the overall neutral pallet. Lovely linen, One side of pillow shows feathers, other side is plain linen.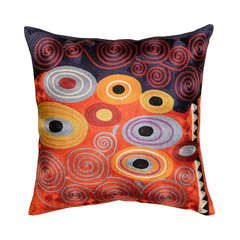 Klimt Fire Orange Red Navy Swirls Pillow Cover Hand Embroidered, 18"x18"
Contemporary Decorative Pillows
hand embroidered, delicate pillow Cover: The hand work is of exceptional quality. The colors are vibrant and interactive. I am going to order two more in a larger size. One cannot find sufficient adjectives to describe this piece of art.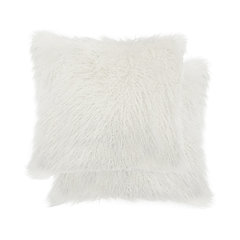 Frisco Mongolian Sheepskin Faux Fur Pillows, Set of 2, Stone White, 20"x20"
Contemporary Decorative Pillows
Decent Pillows: These are great pillows. The color was what I wanted (off white). and they look nice. They do shed a little but not much. I gave 4 stars because it took 7 days for processing! That's ridiculous. So I had to wait over 2 weeks to get them. Also, they came vacuum sealed and flat as a pancake, which I didn't like. Luckily they fluffed back up. Overall, good pillows. I feel like they are a bit pricey though for the size. I found bigger and more attractive pillows locally at my grocery home store for way less.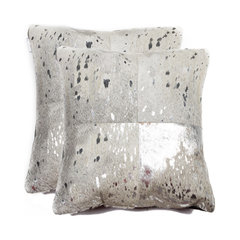 Torino Quatro Pillows, Set of 2, Silver/Gray, 18"x18"
Contemporary Decorative Pillows
Very nice: Was really happy with these, they look more off white than gray in person but the silver metallic is very nice. I did notice a small bit of glitter rubs off but so far not noticeable on my couch. The filler pillows it came with were not full enough! But I swapped it out with another one I had. The back of the pillow is black, which was ok for me since my couch is dark . Overall happy with them , very unique and give some interest to the couch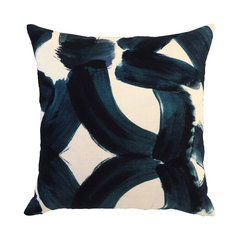 Rilo Printed 22" Throw Pillow by Kosas Home, Indigo
Contemporary Decorative Pillows
Gorgeous!!!: I searched several different websites for these pillows, and was so happy when I found them on Houzz. They are the perfect size, with the perfect amount of "fluff" inside. The navy blue color is seriously gorgeous. Couldn't be happier with them!!