Dish Towels
An easy way to freshen up your kitchen's vibe or add a seasonal flair is with kitchen towels. Often overlooked, at least until you need to dry your hands, dish towels can bring color, character and vibrancy when draped over the sink, displayed on the oven door handle or neatly placed on hooks. Their daintier cousin, the tea towel, can add a feminine touch with lace and embroidery. Despite being a simple addition to your kitchen, there are a few things you should consider before adding a new kitchen towel to your shopping cart:


What kind of material is best for my kitchen towels?

When it comes to working in the kitchen, the best quality your kitchen towel can have is absorbency. You may opt to have a few silk-screened or embroidered towel sets to have out when guests visit, but for the nitty-gritty work, you should follow these tips:
• Cotton is the king of absorbency. Your dish towels will absorb much more water if they're made of cotton. Aim for high-quality Turkish or Egyptian cotton, and don't be distracted by cotton blends.
• Use linen for drying high-end kitchenware. The best part about a linen dishcloth is it won't leave lint, which makes it perfect for drying your glass and fine china. Flour sack towels are also a great choice for their lint-free quality.
• It's all in the weave. A basket or waffle weave will increase the absorbency of your kitchen towel. The raised bumps in the weave can also provide friction for scrubbing those dishes clean.
• Give 'em a wash. Just like bath towels, you'll want to wash your dish towels at least once before you put them to work.


How many dish towels do I need?

While dishcloths typically come in packs of four to eight, you may decide you need more if you cook large meals, have a large family or don't own a dishwasher. You may even decide to aim for a paperless kitchen, in which case you'll need to make sure you have enough backup dishcloths to clean up spills and wash dishes while others are being cleaned. As for decorative kitchen towels, the sky's the limit! Choose some for everyday decoration and don't be afraid to add a few seasonal designs, too.
Sponsored Products
Featured Reviews of Dish Towels
Swedish Dishcloth Garden, Dark Blue
Dish Towels
A cleaner cleaner: These natural-fiber cellulose dishcloths air-dry quickly, reducing opportunities for bacteria to grow. They're machine washable, and compostable when they've worn out. Cleaner in the kitchen, cleaner in the environment. How cool is that?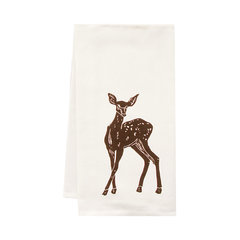 Dish Towels
Dear Deer: This towel is beyond beautiful. You might be surprised at how poignantly this creature tugs at your heart. It's so nice, I think I'd love to just look at it forever. Stunning and elegantly portrayed.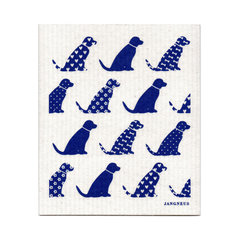 Swedish Dishcloth, Dogs, Blue
Dish Towels
OK: Clearly this is a very bright and colorful item. I love the goldens on it however I was disappointed in the size and how it held up. I think next time I will buy a full size dish towel even if it cost alittle more.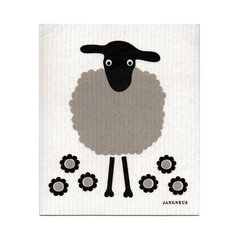 Swedish Dishcloth - Grey Big Sheep
Dish Towels
practical and whimsical: These are light spongy cloths that are easy to use, quick to dry, and convenient to keep clean. They may seem a little so-what (my husband is still warming up to them), but I love them. They are so useful, and feel much more hygienic than a sponge.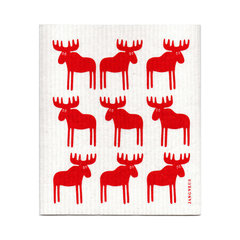 Swedish Dishcloth, Moose, Red
Dish Towels
I really like it!: I got as a gift. It didn't look like much until I used it, Clever. It does make a great dishcloth! Wet, rinse and squeeze out . . Dries and ready for next use. Been using for weeks. Pretty neat idea for in the kitchen clean up! Going to order for myself and stocking stuffers !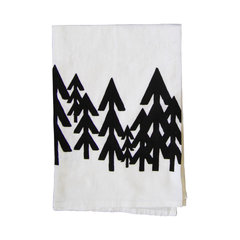 Pine Kitchen Towel, Black
Dish Towels
Awesome: I love the way this towel looks! They even threw in a recipe for biscuits. Very personal touch. The order even arrived on time. I would definitely recommend this seller. Much larger than I expected but it triple folds.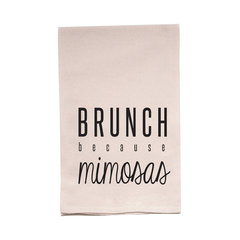 "Brunch Because Mimosas" Flour Sack Tea Towel
Dish Towels
Will Be Buying More - Perfect gift!: This towel is adorable and exactly what I expected. I purchased this as a gift to have on hand and I will be buying more to do the same. (I ended up wrapping it up with a bottle of champagne to take to a friends birthday brunch.) Everyone loved the gift and wondered where they could buy one for themselves!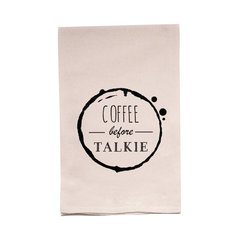 "Coffee Before Talkie" Flour Sack Tea Towel
Dish Towels
Great Message: I bought this towel to give as a Secret Santa gift because I love the message on it. Haven't given it yet so don't have any idea how it will hold up through use and washings, however I think the recipient will love it.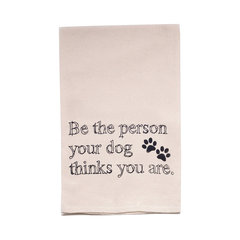 "Be The Person Your Dog Thinks You Are" Flour Sack Tea Towel
Dish Towels
New dog in family: My grandson just got his first dog and this was a gift for his mom - she makes sure grandpa is totally invoked in his grandsons life - over 2,000 miles apart. She gets most of Houzz items as gifts from me.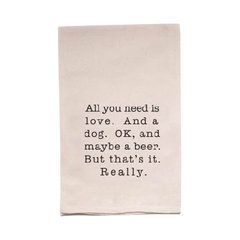 "All You Need Is Love And A Dog Ok, And Maybe A Beer" Flour Sack Tea Towel
Dish Towels
Great Quality and Super Cute!: I bought this for my daughter as a Christmas stocking stuffer. The saying is perfect for her and her boyfriend. The quality was better than I expected and it arrived within three days. Overall, great purchase.