Loft Beds
In some locations space is at a premium. While a small home bustling with the activity of energetic toddlers or outgoing teenagers is a blessing, finding space for all their needed items and accessories can be a headache. One way you can double up on space in a child's or teen's bedroom is with loft beds. Similar to bunk beds but lacking the bottom bunk, a loft bed usually features a built-in desk or storage in the open space beneath. This is the perfect solution for adding a homework station or clothes dresser to a bedroom already filled to the brim with a bed, toys, clothes and band posters.

While your young child may be perfectly content with a twin loft bed, your teen or young adult headed off to college will more than likely appreciate a full-size loft bed. If there's space, you might even be able to max out with a queen-size loft bed. Whatever size you decide on, you'll find plenty of loft beds for every age right here on Houzz.
Featured Reviews of Loft Beds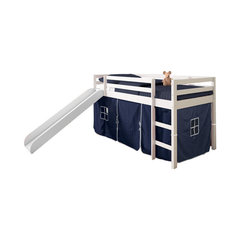 Horner Kids Twin Loft Bed With Slide and Tent, White and Blue, Blue
Loft Beds
Pretty nice for the money: Overall, I am happy with the bed. My son hasn't tried it yet, but I'm sure he'll love it. As non-assembled furniture goes, it was pretty easy to put together, though it took a little while doing it by myself. It seems sturdy, and looks good despite the exposed hardware. Only disappointment is that the tent only covers 3 sides of the bed: headboard, footboard and slide/ladder side. So to really make it a "fort", you have to put the side without the slide against a wall. One tip: Do not try to install the screws using an impact driver to speed things up. The metal is apparently very soft, and my impact driver quickly stripped the screw despite having exactly the right bit and having it tight in the screw head. Just use the allen wrench that comes with the bed.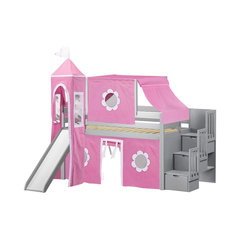 Jackpot Princess Twin Low Loft Gray Stairway Bed, Pink and White Tent and Slide
Loft Beds
Love it: The bed came quickly and is adorable. Our daughter loves it. Definitely need two people and an afternoon to put it together. The bed was easy and straightforward to put together but the stair case was mis labeled so that took a little longer, but all in all great buy.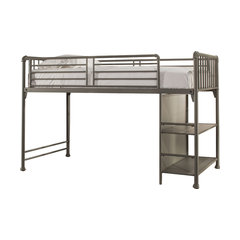 Brandi Junior Loft, Stone
Loft Beds
Great bed!: Great bed very sturdy! Pretty easy to put together. Love the bookshelves, will come to great use especially since my sons room on the smaller side. My son loves his bed! Planning on placing a comfy rug and a bean bag for some chill time.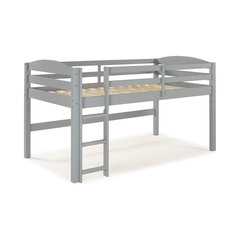 Solid Wood Low Loft Twin Bed - Grey
Loft Beds
The perfect loft bed: We received the bed only three days after ordering it. The bed was easy to put together and the design is not bulky looking for a small room. It sturdy and a great low height. Our daughter could not be happier.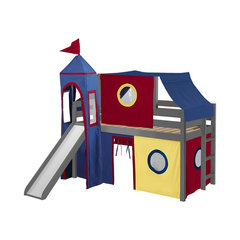 Jackpot Castle Low Loft Bed, Gray With Slide, Red and Blue Tent and Tower
Loft Beds
My son Loves this bed: My package arrived on time and I was able to tack it online. I opened the two large boxes to count the pieces and begin assembly and found I was missing 2 of the required 44 screws and cross dowels. I panicked assuming it would be a real hassle to have to contact the seller and wait for replacement parts. I checked 3 hardware stores and was able to find the size screw at last but no one had that size cross dowel. I learned more about screws then I ever wanted to know. Left without a choice I contacted the seller per the instructions on one of the boxes. I emailed my issue and found that they responded quickly and efficiently. I was able to track the package online and it should be arriving today. I wish I had saved myself the hassle and contacted them first. I was still able to assemble the bed without them and my 4 year old absolutely loves it. He plays in the top tent, under the bottom and loves the slide. I put the bed together myself and if I can do it anyone can. I was at times a little confused as the instructions are just pictures but still made it even missing 2 screws. Attaching the latter to the bed for me was the most difficult part. My son loves this bed so much it's difficult to get him to leave his room. It feels sturdy and solid and I feel my son is able to play safely in and around the bed. The beds frame is a painted wood but there wasn't any harsh smells. The joy and excitement on my sons face as he cheered and jumped up and down when he saw this bed was enough for a million stars.