Sponsored Products
Featured Reviews of Traditional Ottomans and Footstools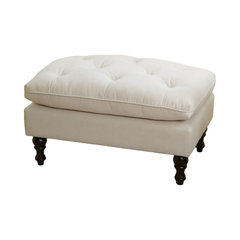 Cordoba Royal Design Ottoman Footstool, Ivory White
Traditional Ottomans and Footstools
This is definitely a must-have if you need a stool: I'm really impressed with this Ivory white footstool. They are big and they are so comfortable. They also look classic so no matter what your furniture style is or your color of your furniture they blend in beautifully. I bought two of them and I'm glad I did. If you're looking for a footstool for the right price and the right color and the comfort and style these are the ones for you. I'm very satisfied with this purchase. They are so nice and soft but yet firm enough to sit on.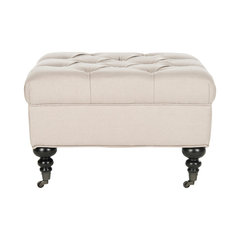 Traditional Ottomans and Footstools
Upholstered ottoman: I had been searching for just the right ottoman on casters to be able to share between two chairs in my sunroom. This one is beautiful, only had to screw on the legs. The price was affordable and it arrived quick.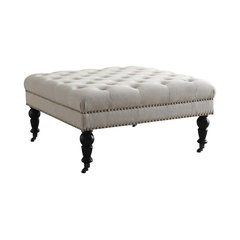 Isabelle Square Tufted Ottoman, Natural
Traditional Ottomans and Footstools
Delayed delivery but worth the wait!: My item was on back order extending the delivery twice. However, it is of great quality and value. Easy assembly! Well worth the wait. This was my first purchase through HOUZZ.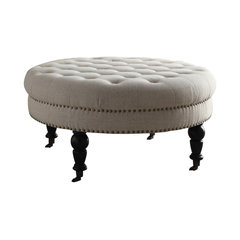 Isabelle Round Tufted Ottoman, Natural
Traditional Ottomans and Footstools
came on time and was all i hoped for: I am very happy with the ottoman... it servers as a coffee table, seat for extra guests and moves easily on the wheels.... my grandkids can trip over it and not need stitches like a wooden table...would like to get another one for the cabin with brown leather... Jn.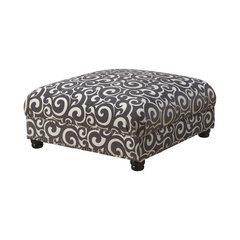 Hutton II Cocktail Ottoman Reston Smoke
Traditional Ottomans and Footstools
ottoman to match my sofa and loveseat cushions: I am really excited to have this piece as well as the other two pieces of living room furniture, as they all go together so nicely. This ottoman not only is very functional to "put up your feet" and relax, but can be used as a seat for those wanting a temporary "perch". Very nice.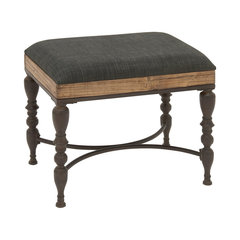 Traditional Ottomans and Footstools
Country French ottoman: Overall, the design and quality was as expected based on pictures and description. Getting the final fasteners to align and tighten down was hard. It took a lot of force to bring them into alignment.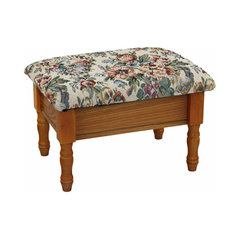 Footstool with Storage, Oak
Traditional Ottomans and Footstools
Love the storage: I have hip problems and cannot use a higher footstool when watching TV. This footstool is the perfect height and it even has storage--great for the magazines I want to look at while watching TV in the evening.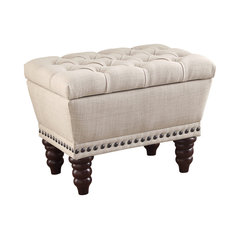 Tufted Fabric Storage Ottoman, Beige, 22x17x17.75
Traditional Ottomans and Footstools
Very nice!: The quality is very nice and the size is perfect for sitting in my closet and putting on shoes. Not big enough to become a clothes collector though! The grey is darker than I expected but an attractive color. And there's storage...an added bonus.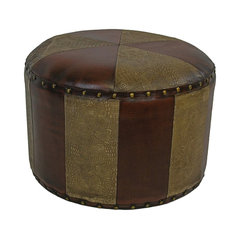 Mini Round Faux Leather Stool, Mixed Patch Work
Traditional Ottomans and Footstools
Exactly what I was looking for: It is just what I needed for a smaller chair. Not too tall or wide. I love the look and color. The brass nail heads match the ones in the chair I bought this for. I couldn't be happier with my purchase!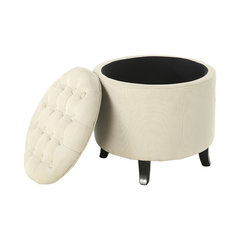 Storage Ottoman With Button Tufted Accents, Beige
Traditional Ottomans and Footstools
Great little ottoman: I really like this ottoman and I'm glad I found it. Great price! Arrived within a few days of order. Perfect size. Love the storage. The color was slightly darker than the picture and I like it better. The legs were a little bit long and made the ottoman too high for me to put my feet up on. I switched them out for a set of casters I had left over from a plastic file cabinet and now it is the perfect height! This may not be a problem for you because your furniture may sit higher than mine. The taller height made it work for a stool a bit better but I plan to use it as an ottoman most of the time. Highly recommend this!