Outdoor Pizza Ovens
With a golden brown crust, rich sauce and layers of cheese and toppings, it's hard to resist a pizza. You can make your own at home, but nothing gives you that authentic taste quite like an outdoor pizza oven. When it comes to doing things right, pizza ovens are unmatched ­— there's a reason why these haven't changed much over the past 2,000 years! If you think a wood-fired oven would be a delightful addition to your outdoor space, take a quick peek at these hints to get a head start on the road to pizza perfection:


What kinds of pizza ovens are there?

Most professionals agree that a masonry oven is the optimal choice for cooking pizzas, thanks to its ability to cook in three different ways simultaneously. These ovens use reflective and conductive heat along with convection to create the perfect pizza: crispy on the outside and moist on the inside. Don't forget to look for a model that includes insulation, which helps keep the heat inside the oven. In terms of installation, you can build yours on-site, however a modular or pre-assembled design works just as well and may be more affordable, plus it requires less time for construction.
• Modular: In terms of construction, a modular pizza oven can reduce the hassle, risk and expense of installation. It will feature interlocking pieces that may not require mortar to fully assemble, however you will still need to build a base.
• Pre-assembled: This style simply has to be placed in the location you want it, finished with the materials of your choice and then fired. You will again still need to construct a base.


What shapes and styles can I choose for my wood-fired pizza oven?

When it comes to putting the finishing touches on your wood-fired oven, both modular and pre-assembled models should be ready to accommodate tiles, bricks, stone or anything else you'd like to decorate your oven's exterior with. This extra layer is not only aesthetically pleasing but functional as well, since it helps hold in the insulation and protects the oven dome and cooking surface. If you're planning on finishing your outdoor pizza oven, here are some of the more common designs:
• Wall: This style is placed in a wall and makes a great addition to an outdoor kitchen. It can be finished with stucco, tile or stone.
• Igloo: Following the shape of the dome and flue, this style resembles an igloo. These ovens are usually covered with stucco and have a terra-cotta or brick arch over their opening.
• Gabled house: This design features four walls that form an enclosure and a gabled or sloped roof on top. They're typically finished with brick, stone and stucco or even less traditional materials like slate, marble, travertine and granite.
Sponsored Products
Featured Reviews of Outdoor Pizza Ovens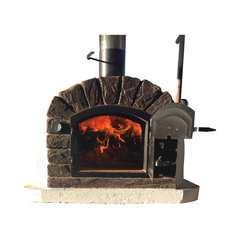 Authentic Pizza Ovens Traditional Famosi
Outdoor Pizza Ovens
Excellent!: We tried our first pizza yesterday after curing oven for five days. Slight cracking but that is expected. The oven retains heat perfectly and the pizza rival any restaurants! Love this oven!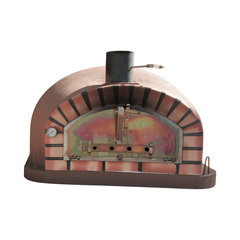 Wood Fire Pizzaioli Authentic Pizza Oven
Outdoor Pizza Ovens
Wood Fire Pizza and so much more!!: We have been having a great time cooking fabulous pizza in our wood fire oven, but the best part has been trying everything else, too. The sizzling steaks were amazing! Love cooking everything from appetizers to desserts in our oven. We used an engine hoist to lift this very heavy and well-built oven on top of the granite base. We followed the easy instructions to cure it with a series of small fires over a few days and have been cooking in it at least twice a week.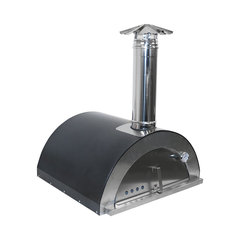 Necessories Nonno Peppe Wood-fired Outdoor Oven
Outdoor Pizza Ovens
Excellent portable wood fire pizza oven: This is well worth it. Two people can easily pick this up and put it into the back of a truck. I've brought it to the beach and to a recent deck party. We had a blast and cooked pizza right out of the back of our truck. It's an excellent fun time and makes great food.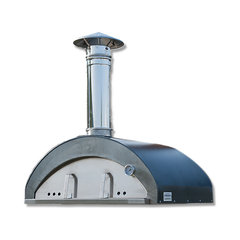 Antonie Outdoor Wood-Fired Oven
Outdoor Pizza Ovens
Eay Use and maintainance: Oven heats rapidly, easy to control temperature. Cooks in minutes. Easy to clean when completely cooled down. Exterior of dome not too hot to the touch. Not too heavy for two people to lift and place on cooking counter. Very happy with product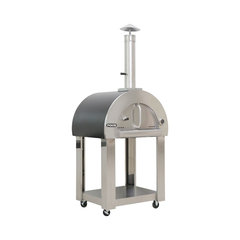 NXR Wood Fired Pizza Oven and Cart
Outdoor Pizza Ovens
Great little oven: Wow! Like most, I was skeptical, but man, this is really nice. I did find the cover on another web site for an additional $80.00. We made our first pizzas and they turned out great.