Paintings
Art is one of the most expressive decorative elements you can add to your home, and paintings can infuse your décor with rich, vibrant colors and even a dash of texture. There are dozens of styles and mediums featured in paintings, so it's easy to select a few pieces that match your personality and interior décor. For a softer look, choose a watercolor painting. This medium features visible layers of color, and can range from life-like to abstract painting styles. For more contrast or detailed shading, look for an acrylic or oil painting. These feature colors that are mixed together on a palette to create a wide range of hues, and some even have a bit of texture where a palette knife has been used.

As for subjects, you can find almost anything in the world featured in a wall painting. Flower paintings are popular, as are landscape paintings and abstract paintings. You may even be able to find artwork featuring traditional and cultural elements, such as in a Chinese painting. Beach paintings and still life paintings are also popular choices.

Whatever medium and subject you prefer, you can find dozens of inspiring and colorful paintings for sale here on Houzz.
1 - 36 of 25,447 products
Sponsored Products
Featured Reviews of Paintings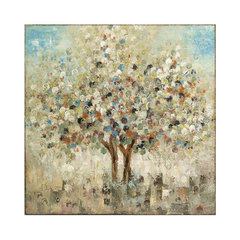 Imax Seasons Hand Painted Oil Canvas Tree Painting Blue Beige 36" x 36"
Paintings
Fine: This is the second picture I've ordered from Houzz. I loved the first painting because it exactly met expectations. In this one the colors were just right, but the texture of the painting was less pronounced than I thought it would be.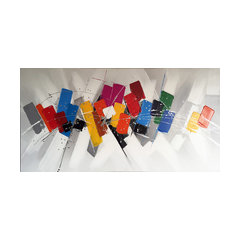 Wall Decor Painting Saturday Morning Abstract
Paintings
perfect decor: I looked around for other abstract paintings but was not able to get the price range I needed and the design I was looking for. The Saturday Morning Abstract was the perfect design and price range I needed. Looks great on our wall.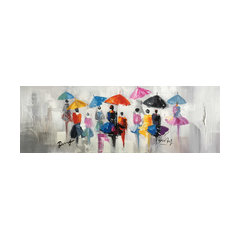 Wall Decor Painting Crosswalk in Seattle I
Paintings
Simply Beautiful: I never submit reviews but I have to this time. What a wonderful surprise receiving this painting and finding it was even more beautiful than the picture can show on the website. I would definitely recommend this artwork. It came in perfect condition ordering through Houzz!!!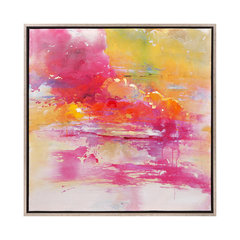 Alexa Wall Art With Frame 11503
Paintings
Great purchase: Very happy with my purchase. Better than expected. I was looking for art with these colors. When I opened yet package it looked like an original work. And with the frame included. Great purchase.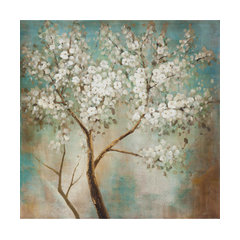 Tree, Bloom Original Hand Painted Wall Art
Paintings
STUNNING: This print is even prettier in person...the colors are vivid and rich and compliment my color scheme so beautifully. The frame is well constructed and it is ready to hang. I am so delighted with this purchase.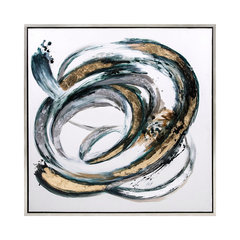 Capricious Framed Oil Painting, 41.75"x41.75"
Paintings
Great bang for your buck!: I was renovating a guest room and needed a piece of art that had a white background with blues, and grays that would sit against a dark gray/blue accent wall. I was nervous when I ordered the piece but was beyond excited to see it in person. Great quality and looks expensive.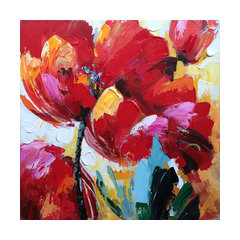 Hand Painted Flowers Wall Decor Artwork IV
Paintings
Very Attractive Piece: The actual art is more vibrant than the image (which is pretty vibrant, imo). I haven't hanged it yet, but it's better in a spot that you look at the art from a distance rather than close-up.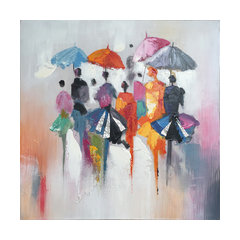 "Rain in Memory" Oil on Canvas Wall Art, 24"x24"
Paintings
Pretty, but foil bits are a little funky: At first, when I took this out of the box, I thought some silver packing tape fell on the picture, but then I realized it is attached to the picture. You kind of have to look closely to see that those are strips of aluminum foil tape highlighting the back of the skirts. In th picture, I zoomed and now I see it, but I just wasn't expecting it and my strips weren't cut too much and looked more like aluminum tape stripping than highlights. Fortunately, they were easy to remove and I cut them up a bit and reapplied so they appear a bit more "abstract". Now I'm pretty happy with it.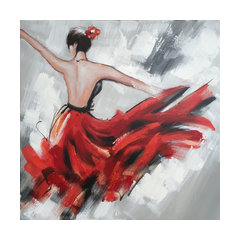 Abstract Hand Painted Dancing Girl in Red Dress I Oil Painting
Paintings
Dancing girl oil painting: Delivery expedient, product was excellently packaged. Appears as a high quality painting, I expected the red to be a deeper red less orange red, regardless it is a quality piece and arrived ready to hang. I would recommend this product.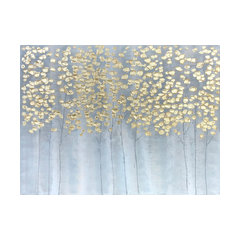 "Golden Forest" Hand Painted Oil Canvas Art
Paintings
Simple, but big impact!: I ordered this canvas for my mostly monochromatic dining room. I love that it's simple and neutral, so I can easily add seasonal pops of color to the centerpiece. We've already had a lot of compliments on this piece!