Sponsored Products
Featured Reviews of Plug-In Chandeliers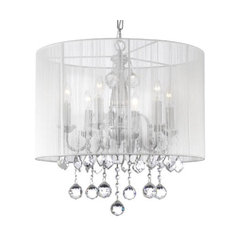 Crystal Chandelier With Large White Shades and 40 mm Crystal Balls
Plug-In Chandeliers
Great: I was very surprised with the chandelier. It was prettier than I thought, the size was great, the quality was better than I had expected. I bought this chandelier to go over my breakfast bar in the kitchen, I wanted 2 of them. So now that I have seen this chandelier, I have purchased another one.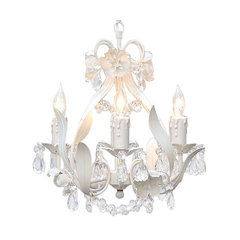 Swarovski Crystal Trimmed Wrought Iron Floral Chandelier Crystal
Plug-In Chandeliers
Very Nice!: We bought this chandelier for my daughter's bedroom, and it looks absolutely great! It's perfect for a little girl's bedroom. On Houzz the seller had the option to buy the swarovski crystals, which we did, and they added an elegant touch. The original crystals weren't so shiny, but the swarvoskis made it look very elegant.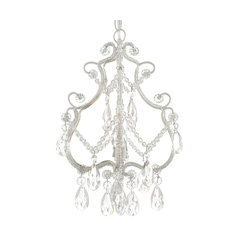 Wrought Iron and Crystal 1-Light White Chandelier
Plug-In Chandeliers
A pretty Chandelier: I purchased this chandelier to hang above a claw foot tub in our new home we're building. It has one light to set the mood and to be used as a night light as well. Can hardly wait to have it installed, it's going to look beautiful in the space.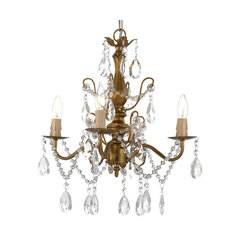 Wrought Iron and Crystal 4-Light Gold Chandelier 14"x15" Pendant Fixture
Plug-In Chandeliers
Very Pleased!: Bought this chandelier to sparkle up our bedroom. Both my husband and I love it. Sparkles so beautiful at night. We could only do a swag type fixture and this one was perfect. No problems.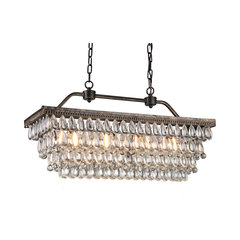 Amanda Antique-Style Copper 4-Light Rectangular Crystal Chandelier
Plug-In Chandeliers
in love!: I had my eye on a chandelier very similar to this one at Lowe's. I was thrilled when I found this one that was exactly the same size for almost $100 less! It was wonderfully packaged with all the glass bobs individually wrapped and a few extra included. You do have to assemble the glass bobs on the frame, but I found it fairly simple once the frame was installed and hanging. Oh... and shipping was super fast. Over all I LOVE this light fixture and am definitely not disappointed. I would highly recommend this product especially if you are a fan of the one sold at Lowe's. The difference in the two is not enough to even notice.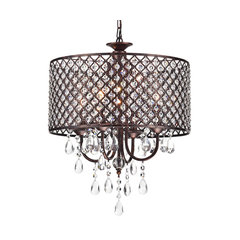 Mariella 4-Light Crystal Drum Shade Chandelier, Antique Copper
Plug-In Chandeliers
great piece: it took two people to hang this fixture. the instructions were tough to decipher. but when the piece was installed we were thrilled with the look. don't get confused by the extra pieces, which the instructions don't mention.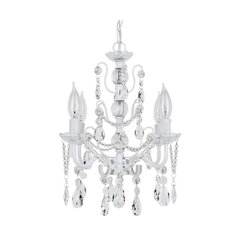 Madeleine 4-Light Chic Glass Crystal Chandelier, White
Plug-In Chandeliers
Perfect touch for my daughter's room: This is a great chandelier for the price. I was pleasantly surprised. The crystal like beads and flowers make this chandelier a pretty and elegant touch for a little girls room.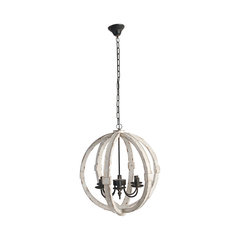 Wood-Metal Globe Chandelier, 22.5", Cream
Plug-In Chandeliers
Just as pretty in person: We bought this for our house we are buying in Florida and can't wait to hang this beauty over our dining room table! Worth every penny and was a much better deal than similar ones I saw.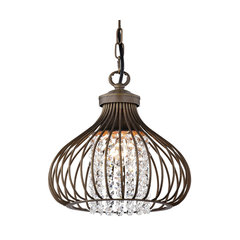 Belford 1-Light Foyer Pendant
Plug-In Chandeliers
Prettier than It's Picture!: We purchased this for a secondary location in our new build home but when we saw it and realized just how pretty it was, we moved it to a more prominent location. I absolutely love it!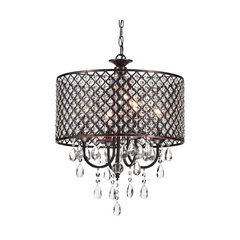 Mariella 4-Light Crystal Drum Shade Chandelier
Plug-In Chandeliers
Love it!!!!!: I was looking for chandelier not to small and not to big this one is the perfect size for our dinning room and since its notto big it also easy to clean. It bring so beauty to the room. Can't be more happy with this one. The delivery was fast, packed well with no damage. It took us less than an hr to put it together. This is The Best buying for my new dinning room.