Outdoor Structures
Where's the fun in having a yard if you can't enjoy it? Often a little light rain or scorching sun can ruin an otherwise perfect day, but by incorporating outdoor structures into your landscape you can get much more use from your yard. Whether you should put up a pergola, gazebo or garden shed depends on your intended activities and local climate. Learn the differences below to help decide which outdoor structure is right for you.
Pergolas, Arbors and Trellises:
The criss-cross style construction of these particular outdoor structures provides partial shade, so it can be either functional or decorative. For a functional use, place one close to the side of your house to create a semi-protected outdoor living space. To enhance your landscaping, try framing pathways and yard entrances, or weave climbing plants in and out of their beams.
Learn the differences between pergolas, arbors and trellises
Gazebos, Canopies and Awnings:
If you're looking for full shade and sun protection, try one of these outdoor structures. They come in a variety of sizes and materials, including wood, metal and canvas fabric. Most will have a solid roof, and some are designed with short surrounding walls or optional curtains for additional privacy or shade. Their large size makes them ideal for midday outdoor entertaining or family meals on warm summer nights.
Studios, Sheds and Greenhouses:
These outdoor structures provide full weather protection and offer up a variety of uses. Stash your garden tools in a shed, or use it for storing bikes and outdoor toys. Grow plants in a small or large protected greenhouse for fresh food and flowers year-round. If you have the extra space in your yard, put up a studio and use it for visiting guests or as a home office. Don't forget to throw a lock on these structures if you have anything valuable stored inside!
Browse our outdoor structure section to find the products you love.
Featured Reviews of Outdoor Structures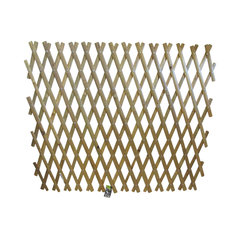 Expandable Bamboo Trellis with aluminum rivets
Outdoor Structures
Although this is a little big for my project, It can easily be cut to fit...: Although this is a little big for my project, It can easily be cut to fit... Other than that, it will be perfect for me. I can think of several things I could do with this as well as the perfect trellis..I am so happy I found this on your site.. I'll be back.!!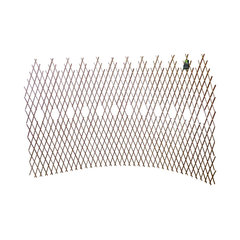 Set of 2 Pcs Peeled Willow Picket Pattern Lattice Trellis Fence, 72"L x 48"H
Outdoor Structures
Great for a pet gate too!: I bought one of these several years ago and use it in doorways to keep my dogs in a particular room. Very effective deterrent be'c they are afraid of it...lol...and also be'c it can be easily removed when not needed. Light weight, durable and attractive.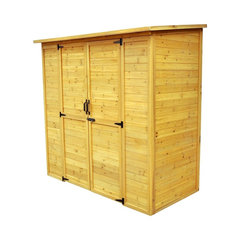 Austin Extra Large Wooden Storage Shed
Outdoor Structures
Great Product poor packaging: I ordered two of these units to organize my garage and had two of the four shipping boxes contain broken pieces. I salvaged one good unit from the lot and put it together rather quickly. The pieces fit perfectly and the doors swing and close perfectly. They need better packing materials.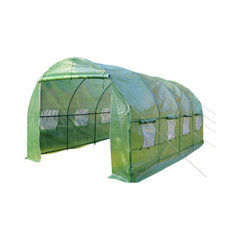 Greenhouse 20'x10'x7' Larger Walk In Tunnel Green House Garden Plant
Outdoor Structures
20 Foot Green House: I start thousands of plants a year. I realized I needed some extra space fast. While on line I saw this Green House. I purchased the Green House, shipping was fast. Very easy to assemble but you'll need two people. This is not a heavy duty green house but for the money. It will do the job I wanted it to do. Easy to dismantle and store away and the cover should give me a couple years of service. For the money I couldn't have built something with half the space. I'm very happy with the purchase.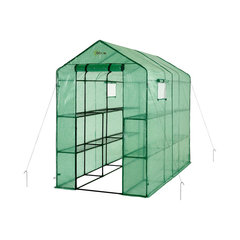 Extra Large Heavy Duty Walk-In 2-Tier 12-Shelf Portable Lawn, Garden Greenhouse
Outdoor Structures
great!: Have been using this for 2 winters now. construction is somewhat of a puzzle, but we've been able to take it down and reuse it. The plastic is very strong. it has outlasted sever storms and wind.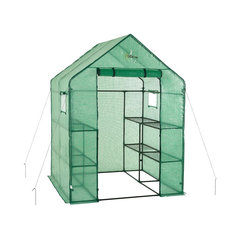 Walkin 2-Tier 8-Shelf Portable Lawn, Garden Greenhouse, Heavy Duty Anchor
Outdoor Structures
Functionality and aesthetics: It's a very nice greenhouse for someone who does not have an overabundance of plants. Also, the strength of the shelving needs improvement, we doubled up the grating and will put plywood on for strengthening. Also the ties provided to connect get the shelves are not adequate. We put bags of stones on the cross bars to hold the entire structure down in the wind.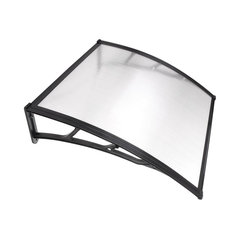 Polycarbonate Hollow Sheet Window Awing, Clear With Black Trim, 1 -Piece
Outdoor Structures
Good Cheap Awning: Bought this awning to go over my porch entry to stop rain. Put it up temporarily and wife didn't like it. So put it up at my shed entrance. Looks good and I might buy the other longer one. Great price! Won't be able to tell if the plastic supports will hold up for a couple of years. Definitely not for high wind locations ( like tornado country)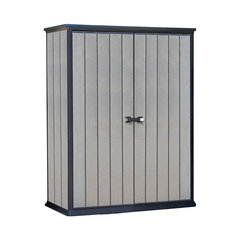 Keter Duotech High Store Vertical Storage Shed
Outdoor Structures
The box containing shed components came in a timely manner. Although the box appeared a little ripped and torn, everything inside was fine because it all was well packed. My son had the shed put together in a couple of hours. It looks great! I cannot: Pro's - Size, available storage space, relatively easy to assemble, sturdy and lockable Con's - a slight flaw in the closing edge of one of the front panels. Overall grade of a B+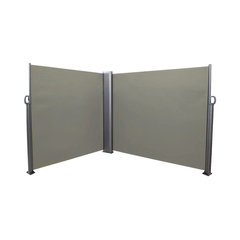 Sunnydaze Indoor/Outdoor Retractable Privacy Wall Side Awning
Outdoor Structures
Privacy panel: This product was as advertised. Does exactly what I thought it would. Installed pretty easily as long as you can drill into cement. Instructions could have been clearer. I wish it was a little taller for my Lanai. It keeps out the rain, dries quickly, opens & closes easily, & holds up to the wind.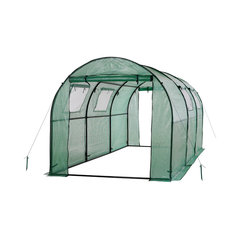 Ogrow 2 Door Walk-In Tunnel Greenhouse, Ventilation Windows, Steel Frame, Green
Outdoor Structures
greenhouse: The greenhouse came early and we put it up right away. It was so easy to put together and you really did not need the directions. When the nights get a little cooler we will put the tomato babies in it and see how it does.